We at TransitScreen love all things commuter benefits. We've covered this topic for quite some time — everything from bikeshare, scooters, pre-tax benefits, and more (even which podcasts to check out during your trip).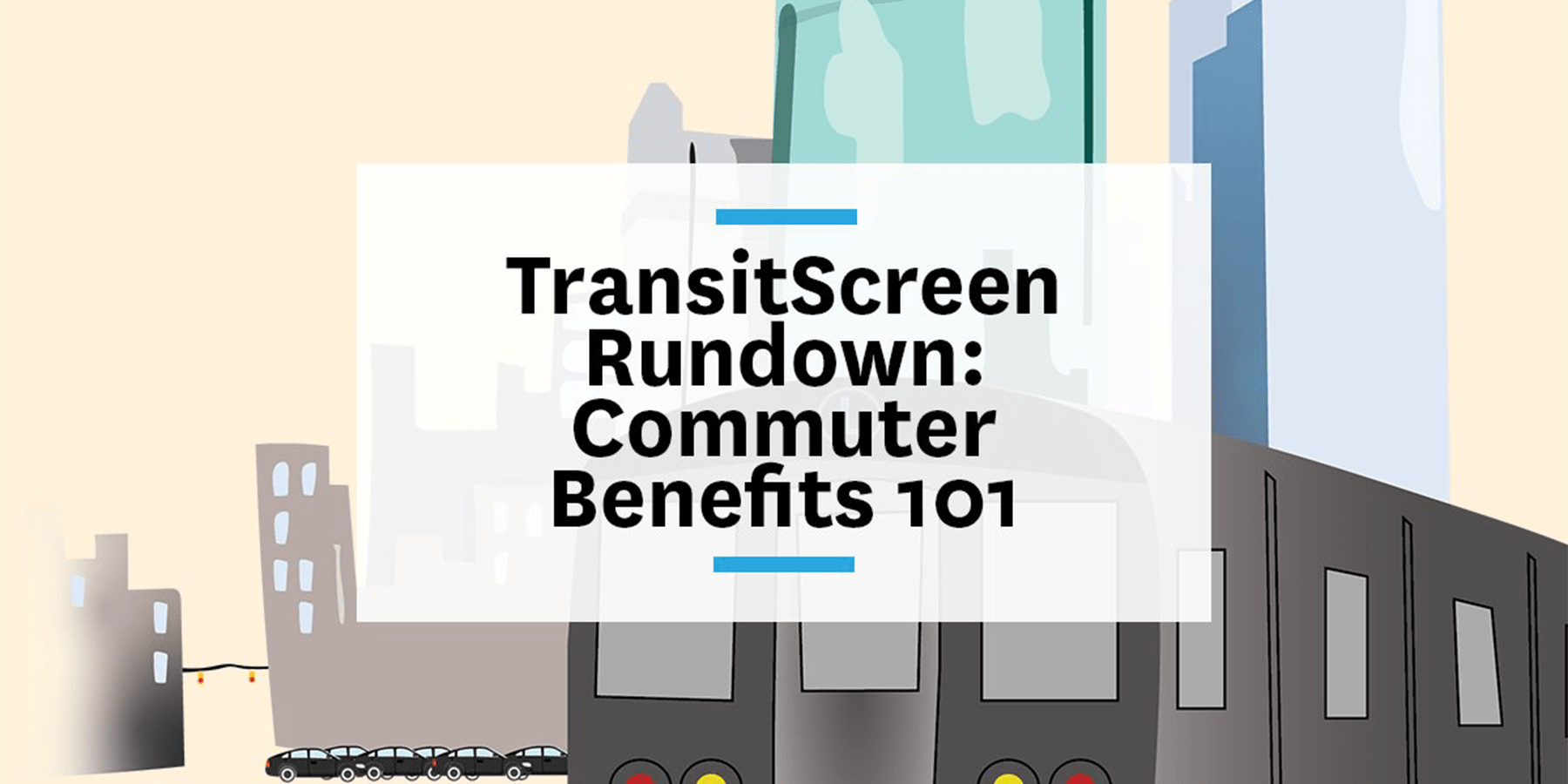 With so much information out there, it can be difficult to find exactly what you're looking for. So, we've created your online bible to commuter benefits. Step into our breakdown of everything you need to know for your company — no matter the size or industry of your business, we've got you covered!
ENHANCE THE EMPLOYEE EXPERIENCE With COMMUTER BENEFITS.
The Basics

Pre-tax benefits
Vanpool/ carpool discounts
Bikeshare memberships
Flexible work hours

The Next Level

Parking cash-out
Transit subsidies
Company-provided shuttles
On-site bike amenities

The Best of the Best

Chicago, IL
New York, NY
Atlanta, GA
The Basics
Let's begin with somethings that you've likely heard of — maybe you're currently offering some of these options or are looking to get started. Currently, New Jersey is the only state to require companies of 20 or more employees to offer commuter benefits. This law became effective March 1, 2019, making the Garden State the first one of 50 to write commuter benefits into state law.
Washington, DC, New York City, and San Francisco are the three cities also requiring companies with 20 or more employees to offer commuter benefits. Seattle joined this list in the beginning of 2020. 
It's not surprising that the cities with some of the most developed public transit systems are the only ones to make commuter benefits a requirement, but will more start to follow in their footsteps as the transportation landscape continues to grow?
PRE-TAX BENEFITS
Enough policy chat, though — let's talk about what pre-tax benefits are. They're the baseline of any employee commute program, and setting up pre-tax benefits allows employees to take money out of their paychecks before taxes to be added directly to a card from the city's main transit system. The IRS mandates the upper limit; as of 2020, the maximum allowed is $270/month.
VANPOOL/CARPOOL DISCOUNTS
The larger a company becomes, the more likely employees are to live near each other. Help those employees take advantage of their proximity by offering a vanpooling program. Free up more parking spaces, save on carbon emissions, and give employees the opportunity to connect outside of the office.
BIKESHARE MEMBERSHIPS
Bikes may seem like a new craze to some, but they've been a reliable form of transportation for decades now. Pretty much all major cities (and a lot of smaller ones!) have a public bikesharing system in place. Many of these systems offer partnerships with corporate workplaces to provide memberships at a discounted rate to employees.
FLEXIBLE WORK HOURS
Your entire staff doesn't live in the same building, have the same commute, or the same personal life. Offering flexible work hours lets your employees know you value their time in and out office. 
The Next Level
PARKING CASH-OUT
The most powerful incentive to offer your employees is simple: more money in their pockets. Employees can either keep a free parking space at work or give it up for a cash payment. This is not a legal requirement in the same way pre-tax benefits are, but it's a popular option many businesses choose to offer in order to stay competitive.
TRANSIT SUBSIDIES
Step up your transit game by offering your employees more than just pre-tax benefits. You can actually provide money to employees specifically meant for taking greener modes of transit. Build your program out how you want — finding what makes the most sense for you and your employees!
COMPANY-PROVIDED SHUTTLE
If your office is large enough, you might want to consider more elaborate measures for ensuring a smooth commute. One way is to provide a shuttle for company employees, whether it's during commute hours or on an emergency ride home basis.
ON-SITE BIKE AMENITIES
It's one thing to provide bikesharing memberships or safe bike parking on-premises. It's another to make it possible for employees to seriously consider making the switch by having access to shower facilities in the workplace.
E-SCOOTERS AND BIKES: THE DOCKLESS REVOLUTION
The summer of 2018 might as well have been called the summer of the scooter… at least we called it that! Almost overnight scooters appeared on street corners in multiple major cities and came with some mixed reviews. A year later and you can find multiple scooter companies operating in nearly every state.
The Best of the Best
CHICAGO, IL
Major corporations have been changing up their HQs in the past couple of years. Why? Some have been moving across the country to be closer to the talent they seek, while others, like McDonald's, have made more local changes.
In 2018, the hamburger-selling megacorp ditched its suburban home for downtown Chicago. Close to 90% of McDonald's corporate employees didn't want to drive to work, but were very limited in the suburbs. When they began looking for a new home, McD's made the conscious decision to be transit- and health-oriented to provide the best employee experience possible. 
A report from Transportation for America's Capital Ideas found that about 1/3 of McDonald's employees expected to take public transit to the new urban office, but more 90% of their 2,500 employees get to work via public transit. Additionally, the people behind some of the best fries in the world only planned to offer fewer 300 parking spaces where employees have to pay to park.
With the HQ having major train, bus, and rail stations right around the corner, it just made sense to get TransitScreen set up for their employees and visitors!
NEW YORK CITY, NY
Segment's opening statement on their website reads: "We make customer data simple." The company is also making their employees commutes simple, too. We had the pleasure to speak with Laylee Asgari, Workplace Operations Manager at Segment, who handles teams with flexible work schedules. That means employees are coming in and out of the office at different times. Segment isn't exactly a small operation — that's a lot of moving parts. 
Laylee wanted to find a way to truly benefit employees stationed in major cities like NYC. A city with such an expansive transportation landscape has pretty much all the options you need: bikeshare, metro, commuter rail, rideshare, public bus routes, shuttles, vanpool, and ferry! The problem is helping people use them. With there being so many options, things can get confusing and not every choice is super intuitive.
Laylee brought in TransitScreen so that the employees could always be up-to-date on the best to get around no matter the time or location."TransitScreen started off as a nice amenity, but it quickly became a great value add for our staff," said Laylee. You can now find TransitScreen in Segment's San Francisco, Vancouver, and Dublin offices as well .
ATLANTA, GA
Georgia and public transportation may not seem like they go hand in hand, but Atlanta is actually bustling with transit. Livable Buckhead is a nonprofit organization that works to make Buckhead (a popular district in Atlanta) greener, cleaner, and a place that people will want to call home. 
They currently offer a free shuttle service, promote and provide clean parks, and work with businesses to build out custom commute programs for their employees needs. One of their biggest partners, Georgia Commute Options, works to offer free support services as well as financial incentives to help companies encourage more sustainable transit options like carpooling, vanpooling, biking, walking, scootering, and even flexible work hours. 
You'll be able to spot a TransitScreen at some of Livable Buckhead's building, too. With so many transit possibilities to choose from, it's helpful to have a tool with all the information you need in one place.
Commuter benefits
As you can see from all of the information above, a lot. Commuter benefits aren't required for a majority of companies across the US, but yet commuting remains one of the biggest pain points for your employees (and probably for you, too).
Doing more for your employees now will help save you from the millions of dollars that companies spend on turnover every year. Save you and your team from the headache and give your employees the benefits they actually care about.