The Original TransitScreen® Upgraded
The standard in real-time transportation information displays, modernized for today's needs.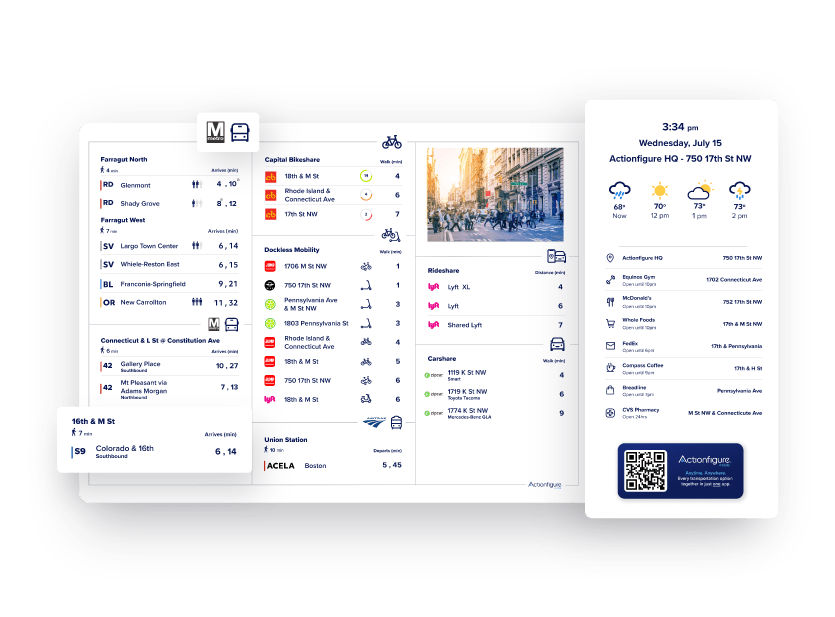 TransitScreen® is now Actionfigure Screen
Nearby transportation choices in one glance, including buses, subways, ferries, and shared cars, bikes, scooters, mopeds, and more. Tested for maximum usability, and designed to delight.
Travel and Commute Information
Residents and employees choose where they live and work with their commute in mind. Screen makes your location's transportation choices more attractive, and builds confidence in using them.
Your Screen is Your Transit Display
Your Screen means your logo, your messages, your video, and your content. Keep your people up to date on the same screen they'll use to get where they're going, consistent with your brand.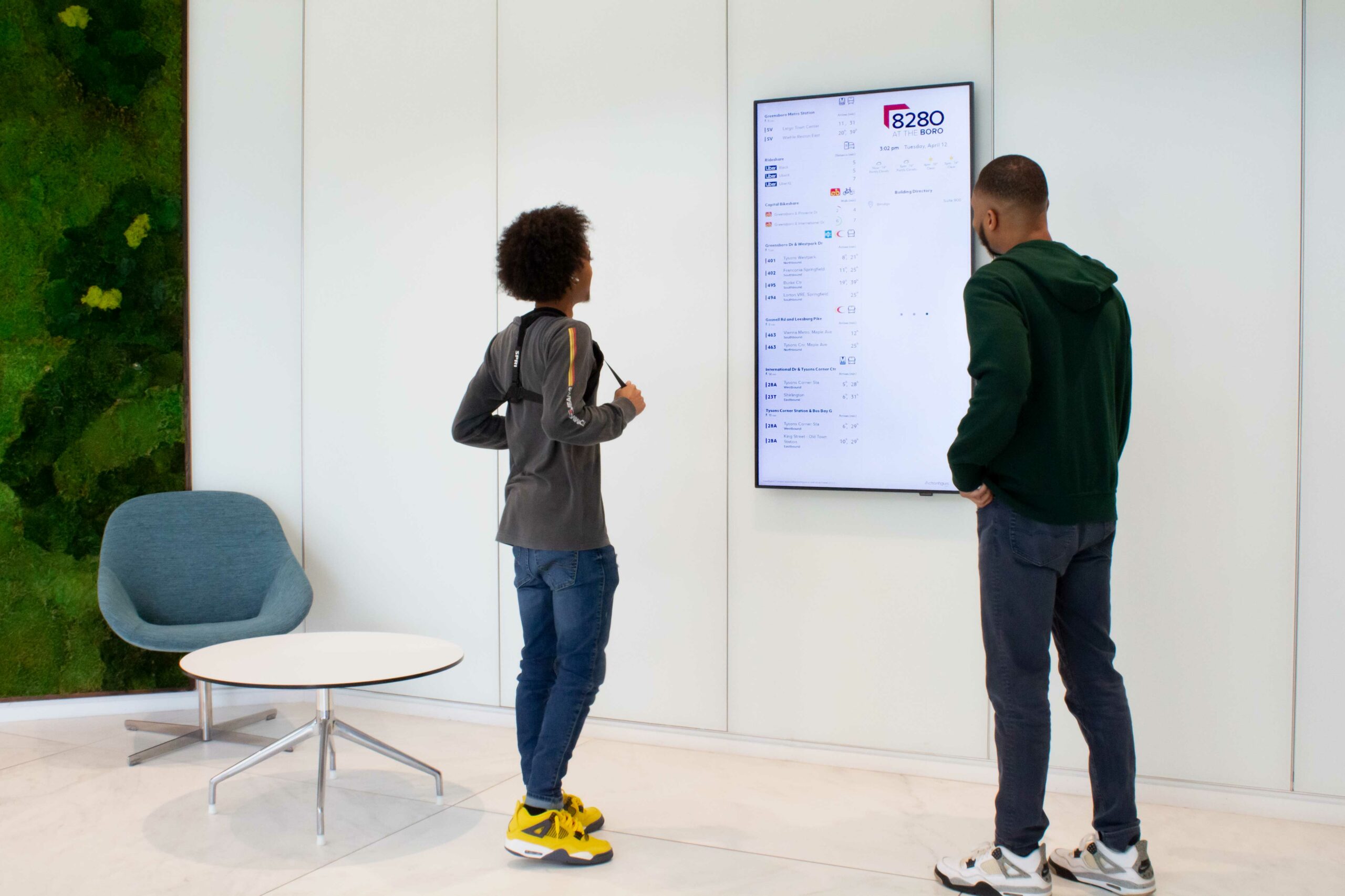 Reliable Real-Time Information
Used by transit agencies, stadiums, Fortune 500 companies, and by leaders in commercial real estate – you can rely on Actionfigure for data you can trust.
Planes, trains, mopeds, taxis, Uber, Lyft, private shuttles, upcoming concerts, nearby restaurants, sports schedules, and more.
Transportation Demand Management (TDM) and LEED
When sustainability is a goal, Actionfigure Screen is designed to exceeds TDM requirements for real time transportation information displays, and helps achieve LEED points.
An Amenity People Actually Use
Actionfigure Screen is a tool people will continue to use every day.
When new transportation choices and features come on line in your community, your Screen gets them too, so you'll always stay up-to-date.
You don't need to be a transportation expert. Your questions and changes are handled by our in-house, dedicated customer support team.
Actionfigure Screen is trusted by leaders in commercial real estate, Fortune 500 companies, transit agencies, stadiums and arenas, prominent locations, and organizations of all sizes.
Getting Started With Actionfigure Screen
Let's talk! We'd love to hear about your needs, and to show you what we can do.
In addition to the local transportation choices, we can add private transportation and other options relevant to your location.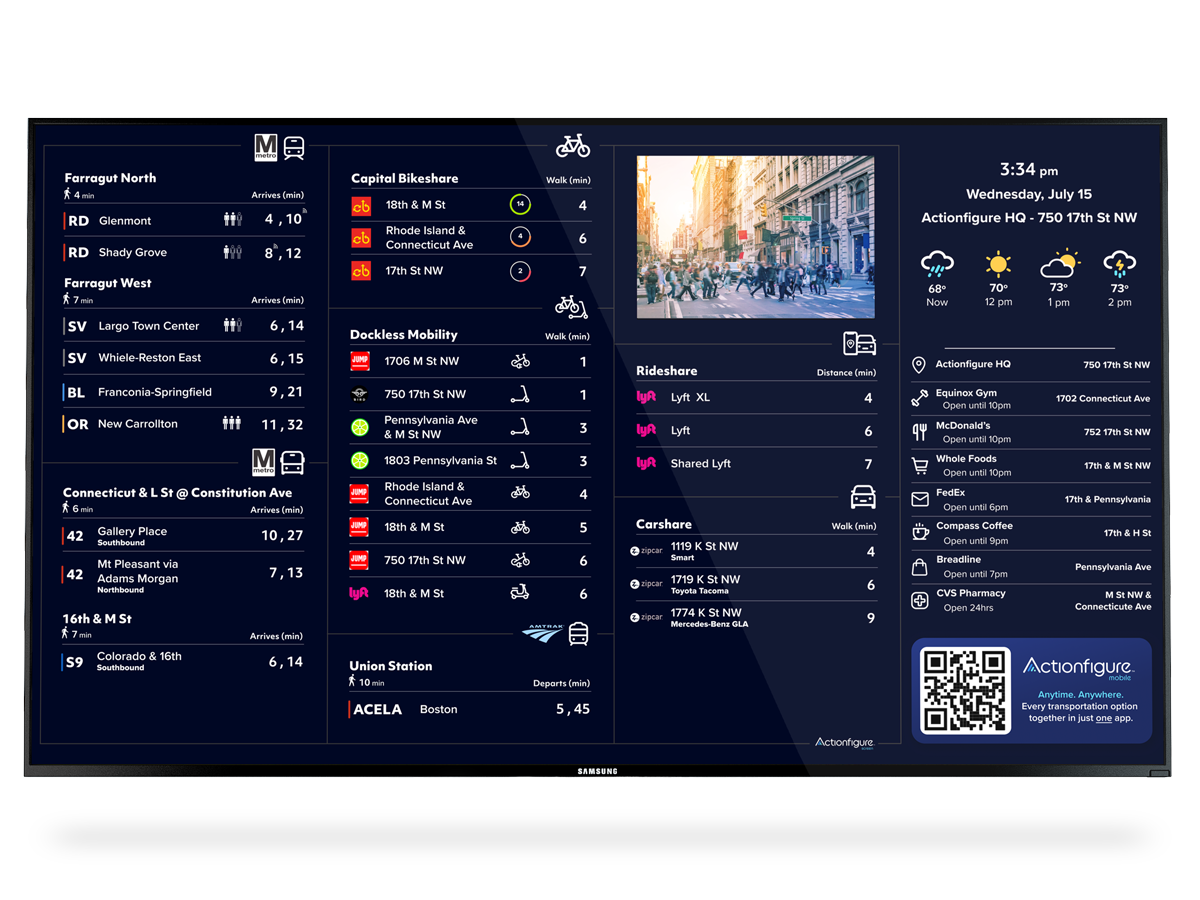 Nearby Amenities and Messaging
We'll work with you on highlighting nearby amenities, and showing how messaging works to keep your people informed on the same screen.
In most situations, you'll get a box shipped to you and you plug it in and go! We'll guide you through the installation.
Would you like a demo? Have any questions on how Screen could work for you?
Let's get in touch!