Cities have seen firsthand how scooters can change the way people get around and improve the mobility landscape. Residents zip around on these two-wheeled electric vehicles. From executives in suits to young professionals in jeans and t-shirts, more and more people are opting for this new wave of transportation.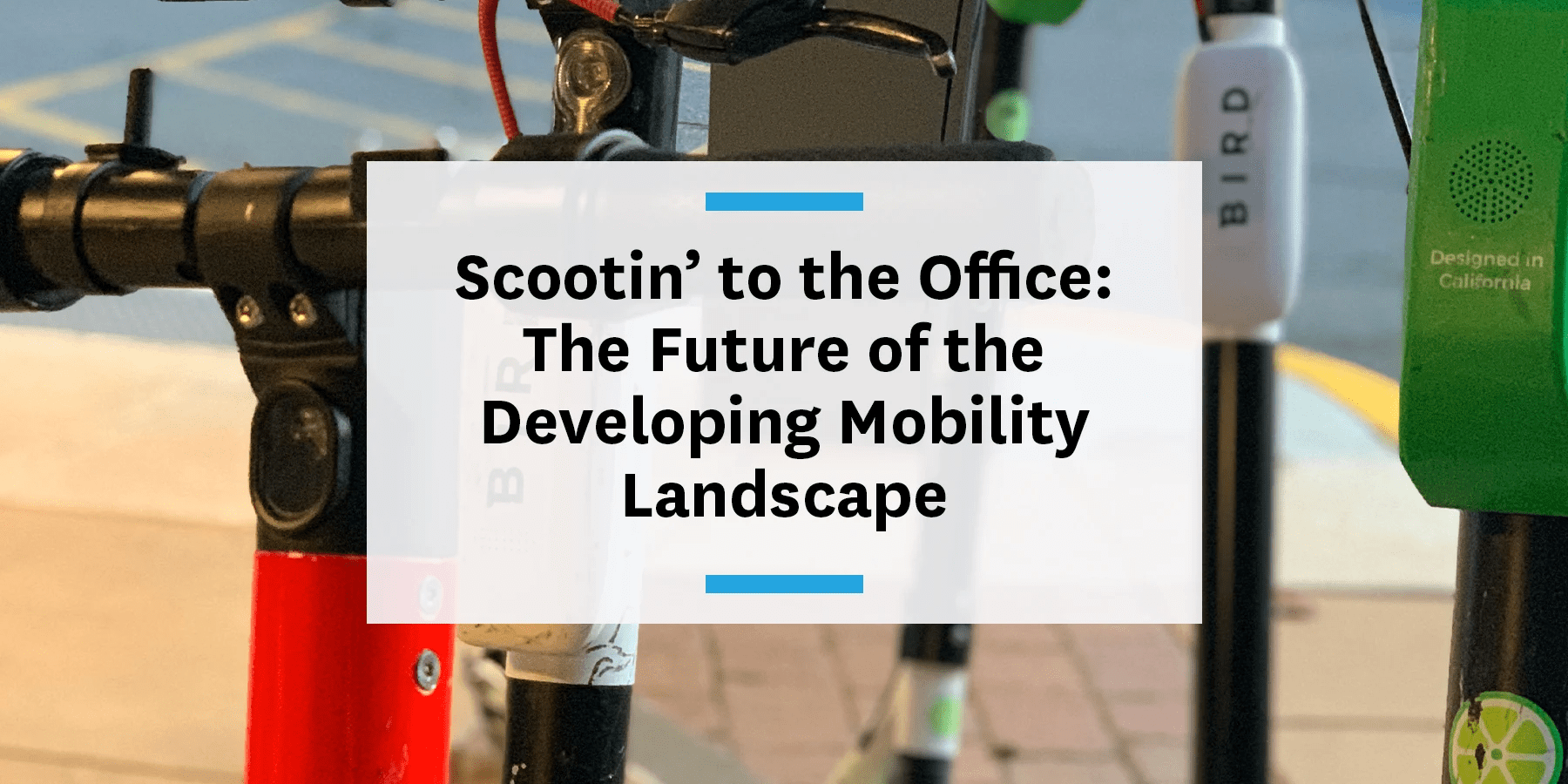 Once seen as a childish recreational toy, electric scooters are now a popular, viable form of commuting. Lined up in residential neighborhoods in the morning and in formation in bustling business districts in the afternoon, scooters are everywhere. While (largely imagined) clutter is a widely-used argument against them, the level of upside for urban commuters is tremendous, and developers and property managers should take note.
Commuting help
We've talked before about the first- and last-mile problem commuters face getting from their house to their transit stop, and vise versa. Commuters often face that same obstacle once they get off the bus or metro. Even with strategically-located stops, public transit almost never delivers a commuter to the front door of their office. Micromobility options can fill that gap. Bike docks are often placed at transit stops to make them more accessible, and scooters can do the same.
Even for employees who live in the city, deciding how to get to and from the office can be a daily struggle. Sometimes walking is fine, but weather can be a deterrent in the summer and winter months. For those who live just a mile or two from the office, the metro probably won't save them time. It's also proven that being outside during your commute can lower stress, improve mental health, and increase creativity. Scooters can be a happy medium for these commuters to get the best of both worlds.
Another reality is that people don't just go directly from home to the office, and from the office straight home. Errands are run, dinner plans are made, and life happens outside of traditional commuting. Rather than worrying which bus line to follow or which metro stop is the most convenient, taking a scooter can be a direct trip.
Multiple office locations
Sometimes one building isn't sufficient for companies to house all of their employees, even in one city. When employees and departments span several locations, getting from one location to another can be a trip of its own. As office campuses grow in popularity, getting from point A to point B for a meeting can be made easier with the flexibility scooters offer.
Being able to pick up and drop off scooters whenever and wherever makes these inter-office trips that much easier. There's no waiting for an Uber, no standing on the corner attempting to hail a cab, and no traffic to sit in, behind the wheel of a personal car.
Reducing walkway clutter
With the rise of scooters comes the rise of clutter talk. Complaints of irresponsibly parked vehicles float around cities everywhere. (Though strangely, no talk of irresponsibly parked cars?) Companies are placing their trust in riders for now, but a foolproof method for eliminating clutter is still in the works. One company is already making it easier for their riders to safely and easily park their scooters out of the way.
Spin is rolling out its new Spin Hubs to make it easier for riders to stash their scooters once they reach their destination. Not only do these hubs keep scooters from being parked in the middle of the sidewalk, they double as charging stations. By plugging the scooter in and keeping it charged, the need for someone to pick up the scooter to bring it somewhere else to charge is eliminated.
While micromobility docks aren't a new concept, they are for scooters. Right now, Spin has rolled out hubs in Washington, DC; Arlington, VA; and Tampa, FL, with plans to expand to more cities. The company is working with real estate developers and property managers to make scooters more accessible for riders, while also providing designated parking spots to inherently clean up the clutter.
Reducing the need for car parking
Parking is expensive. The average cost of building one parking spot in a garage ranges between $25,000 and $50,000. To recoup that money, the cost gets passed down to the building occupants, AKA the companies. If employers lease these spots then employees have to pay, and that price usually starts around $200 per month.
When employers are able to get employees to commute by means other than driving, the need to lease parking spaces decreases. Employers can also implement parking cash-out programs, where they pay non-driving employees the cost of a monthly parking spot. Although scooters can't replace cars completely, they do make other forms of commuting more accessible.
What we're saying
Scooters aren't going to replace every commute and every trip, but they can change commutes by providing accessibility. Scooters, among other micromobility options, close the gap between the bus stop and home, the metro station and the office, and everywhere in between. With efforts to bring order to scooters and keep them on the streets, commuters get faster, easier, and more efficient.