Update January 2022: D.C.'s "Parking Cash-Out" Law: Your Choices Impact Employees

Parking is expensive. Not just for commuters, but for employers and developers as well. As Donald Shoup says, even when parking seems free, it's never actually free. To attract potential talent, employers will offer free parking, that they're actually paying hundreds of dollars a month for themselves. But what happens when employees don't have to drive and can spend a fraction of the cost of a parking space on alternative forms of commuting – like the metro or bus? Try a parking cash-out program!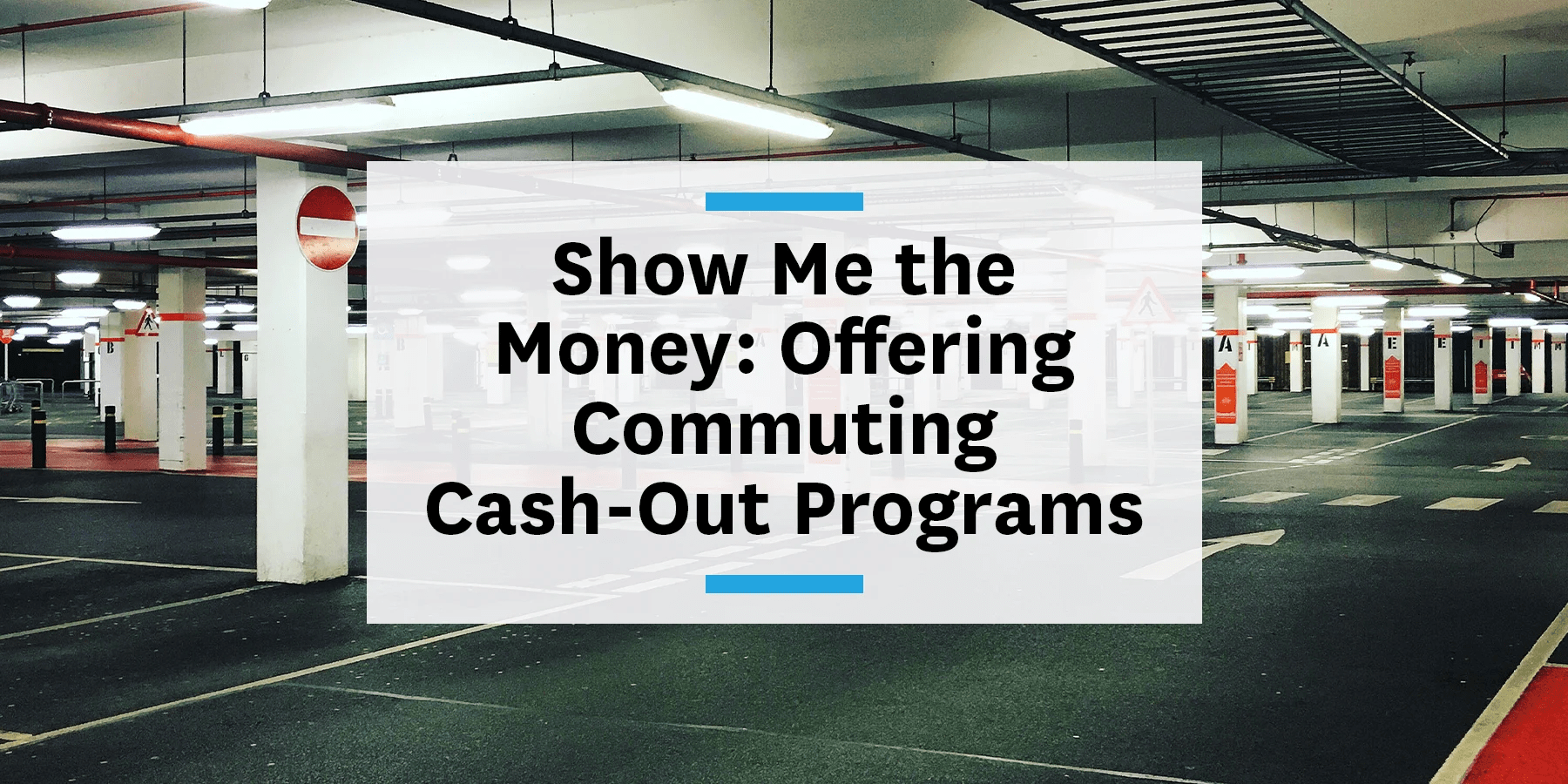 This is an opportunity for employers to cover the full cost of an employee's commute or pay them outright not to drive to work. Paying employees not to drive to work evens the playing field in terms of benefits for all employees, while also encouraging the use of alternative forms of commuting.
Benefits
Paying employees not to drive is usually significantly cheaper for employers — a monthly transit pass is almost always less than a parking spot. The average cost of a monthly pass for New York's subway is $121, compared to the average monthly cost of $732 to rent a parking spot in New York. The difference is undeniable. We're not saying you have to pay for your employee's subway pass and also the difference in the parking spot, but giving them a little extra can be incentive enough.
Not only does a cash-out program save employees and employers time and money, it gets cars off the street. Offering a cash-out program can make a world of difference in the way your employees commute by eliminating the need for companies to rent parking spaces. When someone has extra incentive to do something, most of the time, they are going to do it.
Examples of parking cash-out programs
California: Employers in California can be subject to offer a parking cash-out program to their employees. Under the California Parking Cash-out Law, companies with 50 or more employees who offer subsidized parking are required to offer parking cash-out allowances.
Washington, DC: DC is looking into requiring companies to offer parking cash-out to their employees who don't drive to work. While the policy never went into effect, city officials are still encouraging employers offer some sort of benefit rewarding employees for not driving. The IRS parking limit is increasing to $270 per month in 2020, the average cost for monthly pass for the DC Metro is only about $85, depending on distance, meaning bigger savings for employees and employers.
Employers should still offer cash-out programs, even if they're not required by law. These programs clear streets, lower employee stress, and improve commute times.
Successful Programs
Seattle Children's Hospital has one of the most comprehensive TDM strategies we've ever seen. Tasked by the city to reduce its employee drive-alone rate, the hospital made some major changes and has seen some amazing results. As part of their plan, they offer employees a $4 bonus every day they don't drive to work. In addition to a bonus on their paycheck, employees who agree to bike two or more days per week are given a free bike from the hospital. As a result, 9% of hospital workers biked to work, doubling the city average.
Universities are also implementing cash-out programs to change the way both students and staff get to campus. The University of Maryland has implemented a parking cash-out program for staff members and graduate students. The first 75 staff members who agreed to give up their parking pass for the entire 2019/2020 academic year received a $450 bonus. The first 25 graduate students who gave up their parking permit for the full academic year received a $300 bonus. Although this seems like a small number of people who can receive this benefit, the program promotes the use of alternative methods of commuting nevertheless.
Boston University has a variety of commuter benefits for both their staff and students. Although not directly paying their commuters for not driving, they will pay as much as $300 for bike-related purchases made by their staff members per year.
Cash-out offerings
Cash-out programs are not a one-size-fits-all solution. Depending on the size and stage of your company, some measures are more realistic than others. But we have listed a few favorites!
Paying employees to walk to work: We mentioned this above when we discussed the Seattle Children's Hospital. While most companies can't afford to pay employees $4 per day to walk to work, a variation of this practice is possible. Whether it's paying employees a different amount based on the distance they walk, or implementing pay-to-walk certain days a week, opting for this tactic leaves room for creative liberties.
Buy bikes for employees: Although bikeshare companies are everywhere, it's not a guarantee that you'll always score a ride. Buying bikes for employees who commit to biking to work – even if it's two or three days a week – gives them the means to get to work other than driving.
Cash bonuses: Everyone loves getting free money, especially when they don't have to sit in miles of bumper-to-bumper traffic. It doesn't have to be $250 a month, but something is better than nothing. A bonus to get employees out of their cars not only gives them money, it actively saves them money as well. They don't have to pay for gas, there's less wear and tear on their cars, and they don't have the stress of traffic – it's a win-win.
The final stop
Like we said, cash-out programs are not a one-size-fits-all solution for employers, but they are a significant effort companies can make. Paying employees on a daily basis to walk to work or reimbursing them for a bike are equally effective, as long as the effort is being made. Getting employees to switch their commuting habits isn't an overnight change, but when there are efforts made by employers to make the change easier, that's when real progress will be made
UPDATE
Washington, D.C. recently passed a parking cash-out bill for employers with 20 or more employees. The law requires covered employers to make up the difference of cost between their monthly parking spots and commuter benefits for non-drivers.
Employers can make up the difference by offering clean air transportation fringe benefits, paying a clean air compliance fee, or implementing a transportation demand management (TDM) plan. Follow the link below to read more about the Transportation Benefits Equity Amendment Act of 2019.
BLOG: Washington, D.C. Passes Parking Cash-Out Bill
Do you want to offer a more robust commuter benefits package, but aren't quite sure how? Have no fear, TransitScreen is here, with our resources page!