Having a commute as short and pain-free as possible is the goal of most professionals. Commuters want to walk through parks, breathing fresh air on their way to and from the office — not stare at miles of red brake lights. Unfortunately, living and working in locations close enough to each other to allow for that type of commute usually only happens in cities, so developers are trying to change that. How? A Mixed-use development.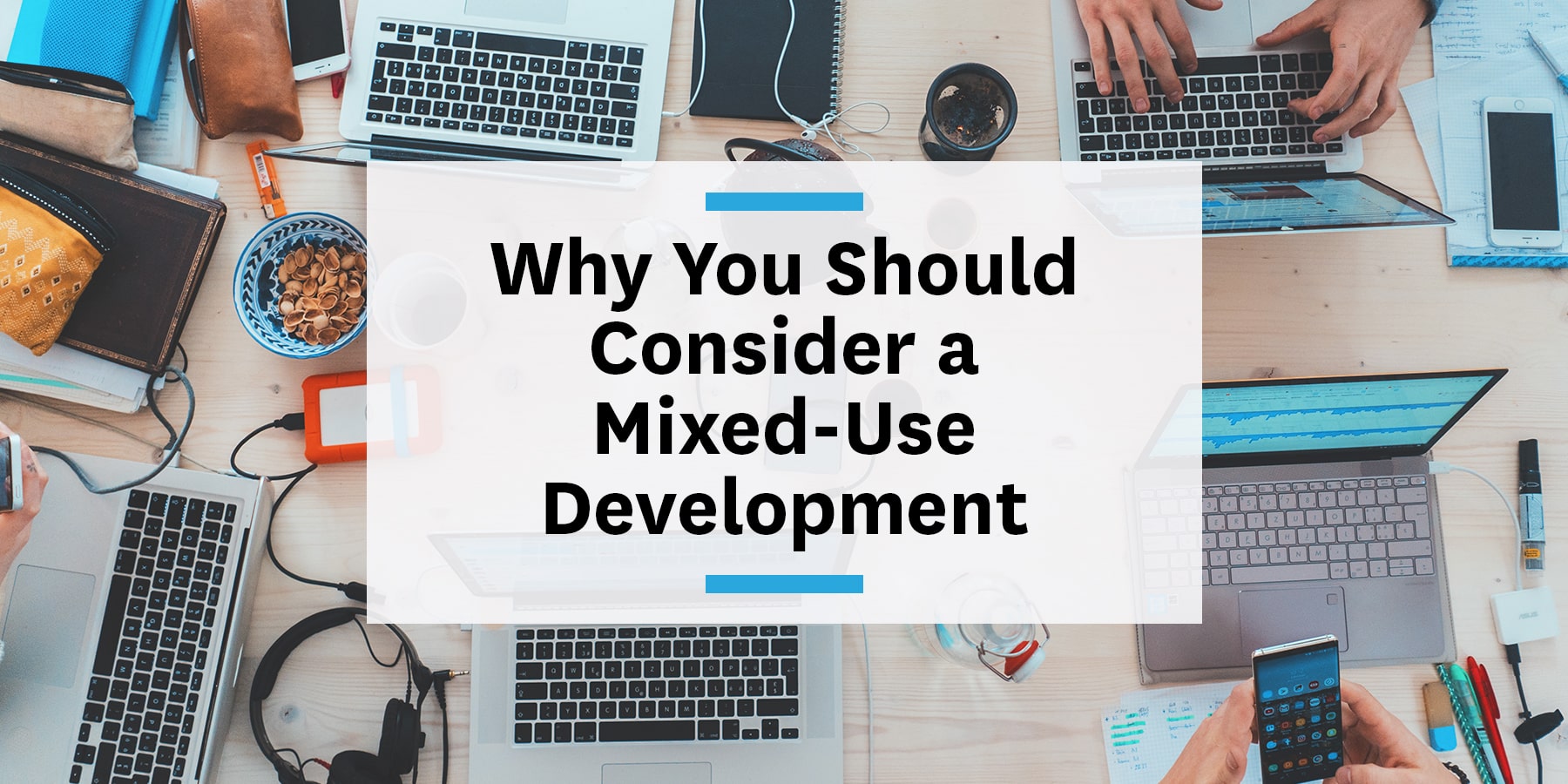 These mini-cities aim to bring work-life balance to professionals who don't live downtown, and companies should take notice. With nearly a quarter of employees leaving their jobs because of a bad commute, employers should take extended measures to help relieve this pain point.
Live here, work here
Mixed-use developments are areas that combine residential, corporate, and social spaces in a centralized location. These can include single-family homes, apartment buildings, office spaces, and retail. These developments aim to provide everything someone could need, all within a walkable or bikeable area – including commutes. Once they don't need a car, employees can easily adopt alternative, more sustainable forms of commuting, whether that's walking, biking, or even the local bus.
No transit, no problem
One of the most significant benefits that can come from moving into or opening an office at a mixed-use development is bridging the transit gap. Commuters who don't work or live in a downtown area face a lack of access to public transit. While most suburban cities have bus systems, it's usually only metropolises and their immediate suburbs that have reliable metro systems.
Mixed-use developments are inherently set up for micromobility and bus systems to thrive. Electric scooters and bikes can replace cars because of the sheer proximity between the office, home, and social areas. This isn't just for commuting; being close to lunch destinations, shopping, and grocery stores means being able to run errands without driving.
There's also an opportunity for companies to provide a private shuttle service for their employees. A shuttle could serve employees who live in a surrounding area, or even in the development itself. Another option for running a shuttle in a mixed-use development would be to transport employees to and from different areas of the community. Even though everything is in close proximity, some destinations might be far enough that not everyone would want to walk.
These developments also serve as perfect situations for a local bus system. When individual stops are so close to each other, buses can run faster and more frequently with shorter, more efficient routes. Buses provide transit for most residents living in a suburban environment and connect different areas of a county, city, or town.
A Urban sprawling problem
Suburbs usually provide more luxuries than their city center counterparts. More property, a quieter setting, and lower crime rates are just a few. While these comforts are nice, they're also a catalyst for the sprawl problem plaguing the US cities. If you're unfamiliar with sprawl or urban sprawl, it's the expansion of the city's geography to accommodate a growth in population. In this scenario, there's an inescapable need for more roads and more cars because of the sheer distance between destinations, leading to the traffic issues we see today.
With mixed-use developments, companies and residents experience the best of both worlds. These developments bring living, working, and social events to a centralized location. While people moved to the suburbs to escape the activity of city life, industry didn't necessarily follow – meaning workers still need to get into the city for work. Mixed-use developments offer an opportunity for new and existing companies to open offices closer to the suburban workforce, while providing luxuries mainly found in major cities. Paired with the rise of coworking spaces, these developments offer city conditions in suburban settings.
Some notable mixed-use developments
Some of these developments have more features and amenities than others, but they all serve the same purpose. A perfect example of a mixed-use development is Frisco Station in Frisco, TX. As an extension of The Star development (home to the Dallas Cowboys world headquarters), Frisco Station aims to bring more housing and office space to the area. Featuring luxury apartment buildings, a startup-style campus, top-of-the-line office space, and parks and wellness areas, it's really the definition of a one-stop shop.
Just south of the Nation's capital is Tysons Corner, a regional shopping mecca quickly turning into a city in its own right. Joining the high end shopping malls is The Boro, a new mixed-use development boasting state-of-the-art living, dining, and office spaces.
This new project will have five modern office buildings, three luxury residential towers, and a neighborhood area anchored by a brand new Whole Foods and ICON movie theater. To make this project even more attractive for potential residents and employers, it's located right on top of a metro station, connecting it to Washington, DC.
One and done
Easing the stress of commuting should be a focus for almost every employer, and office location is a major consideration when new and existing employees. Mixed-use developments provide a lot of benefits for employers and employees alike. Although they aren't a fix for everyone, they can be a happy medium for companies looking to make a change and employees looking to keep away from big city life.