Transit, infrastructure, and policies are constantly changing. That also goes for transportation demand management, especially in the current commuting climate. Employees aren't commuting in the same way – if at all – right now, and city infrastructure is changing to keep up.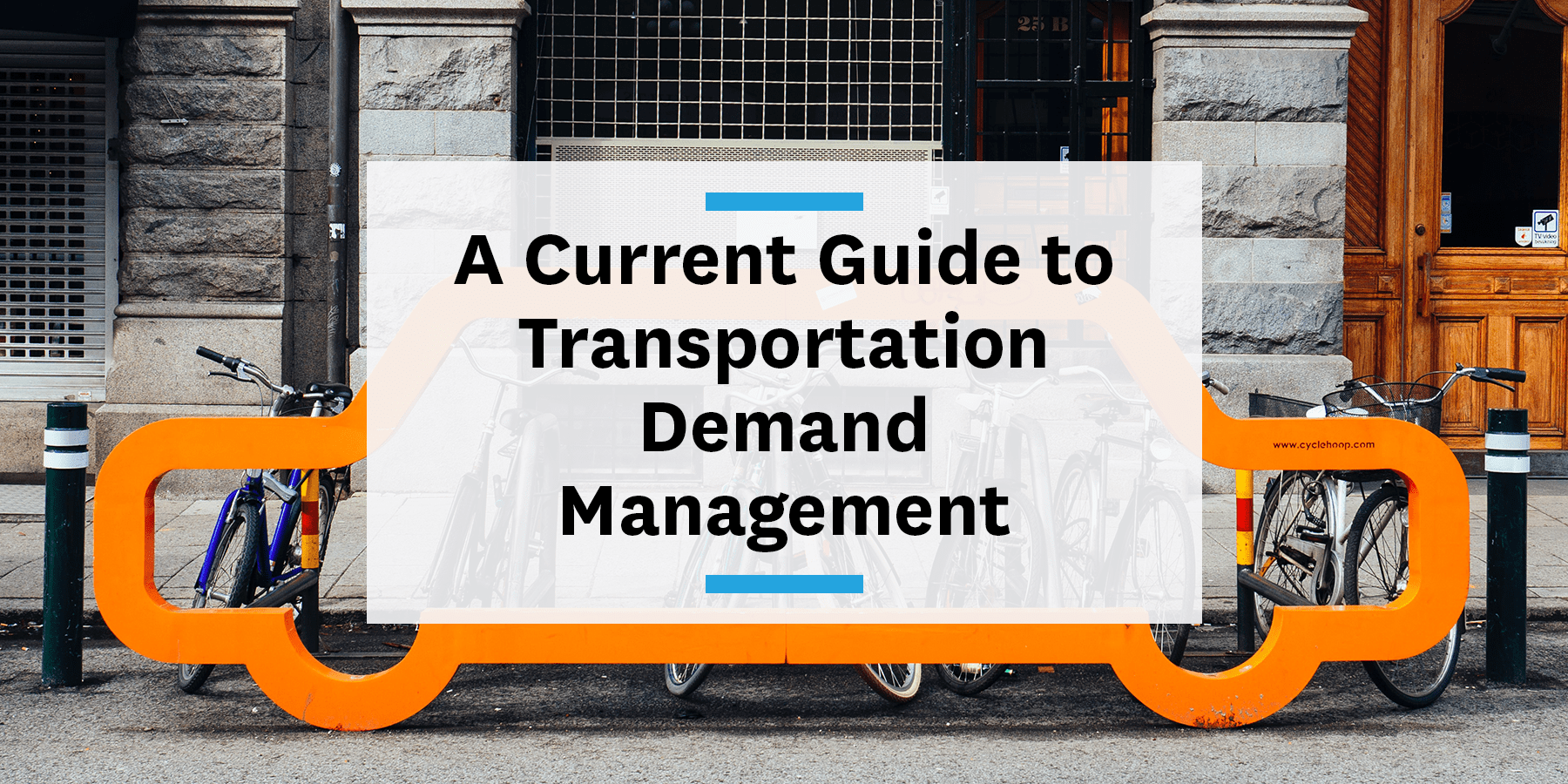 To help you stay on top of everything happening, we've put together a TDM guide and overview so you know what you can do with the resources and options available.
TDM overview
Transportation demand management, or TDM, is a set of strategies employers and commercial real estate put in place to create a behavioral change in commuting habits. Essentially, it's the efforts made to help people adopt more sustainable commutes to lower drive-alone trips.
Now that you know what TDM is, we're going to tell you what TDM is not. Your local government increases the number of protected bike lanes? That is a change to infrastructure, not TDM. Building a secure bike room for your employees, on the other hand, as a way to encourage your employees to use those new bike lanes to get to work, is TDM. So it's not what is available to you, but how you encourage the use of city infrastructure.
Developer requirements
Now that you know the basics of TDM, we're going to cover the cities that require employers and developers to implement these strategies.
San Francisco has some of the most developer-required TDM strategies. This means that when new buildings are being built, or existing buildings are being modified, the developers need to make sure their building is accessible by means other than driving.
As part of the SHIFT Initiative, developers need to reach certain TDM requirements in order to receive project approval. These requirements are a part of the SHIFT Initiative. Different projects need to meet different requirements as part of the Transportation Sustainability Program. Because the process can become confusing, the San Francisco government has put together two very useful tools.
The first is a TDM calculator where developers can plug in different information and see how many points they need for project approval. The second tool is a literal menu of TDM strategies with corresponding point values for developers to choose. Atlanta is using the SHIFT Initiative as a guide for their mobility goals and plans as well.
Portland, Oregon, is another city putting the TDM responsibilities on the shoulders of developers more than employers. Any development project in a commercial or mixed-use zone with 10 or more dwellings needs to submit a TDM plan to receive a building permit. Developers have the option to submit a pre-approved TDM plan or create a customized plan.
Employer requirements
Seattle, for example, has made great strides in lowering its drive-alone commute rate, while continuing to grow in population and workforce. Between 2007 and 2017, the city added more than 260,000 jobs to its workforce. Meanwhile, the drive-alone commute rate went down to around 25% in the same time period. This success is due largely to long-term effects of the Commute Trip Reduction Law. 
The Commute Trip Reduction Law, which went into effect in 1991, requires companies with 100 or more employees to follow certain regulations. This means hiring or appointing an Employee Transportation Coordinator, submitting a program report every two years, and conducting a commuter survey every two years. The reason there needs to be this continued effort is because transportation demand management isn't a one-and-done fix. You need to continue building and adapting your programs and efforts to the changing mobility landscape.
Forced behavior change
The purpose of transportation demand management is to create a permanent commuting behavior change — meaning, getting employees to choose sustainable options on a consistent basis. Recently, employees across the country have been forced into new behaviors due to COVID-19. On the whole, a largely tech-based workforce stopped commuting completely and had to adapt to working from home essentially overnight.
While you may be thinking working from home isn't a commuting change, it's actually one of the most effective ways to make a sustainable impact on your employees' habits. We know work-from-home orders won't be permanent forever. But employees and employers alike have learned that working from home is a viable option and something that can be done moving forward – even if it's only two days per week.
Another point in behavior change will be when commutes do begin again. The temptation to drive alone will initially be strong due to the isolation cars provide and overall concerns around safety in crowds. But cities and roads can't handle a dramatic influx in new drive-alone commuters. That means employers need to help their employees adopt – or maintain – sustainable commuting methods.
Encourage "commuting" now
Employees have a lot of time back in their day at the current moment from not commuting. That extra time is perfect for learning a new commute, or relearning their commute – especially if it's via bicycle! With clearer roads and improved bike infrastructure (in some cities), learning a new bike commute is as safe as can be.
End-of-trip experience
Two of the best ways to encourage your employees to bike to work are having secure bike storage and having a private place to shower and change. Now employers need to think about how to improve the safety of employees in those areas. Because of COVID-19, employees won't want to be in a locker room with several other people at a time. The same goes for bike parking. Confined spaces of any kind are out.
That means safety and communication need to be a major feature of your end-of-trip TDM strategies. Posting signage around your bike parking and hygiene areas is essential. Employees need to know what the precautions are to ensure everyone's safety so they'll feel comfortable using the facilities. You can also store this information on your company intranet, company app, or the appropriate information hub for everyone to access.
You may also need to create a shower/locker room schedule for your employees, depending on how many people hope to use it. Opening time slots for every 15 to 30 minutes allows you employees enough time to get ready for work. It also allows for employees to know when they need to get to the office in order to freshen up after their commute. Creating a schedule of this nature means you will need to allow flexible schedules for your employees – but we'll touch on that later.
What you can offer
Returning to the office is going to be a critical time for companies. Employees are going to be wary of their surroundings during their commute, and at every point in the office. Employers will have more control of the office environment than commuting environments, but that doesn't mean they can't do their best to help. There are several ways employers can help with commuting to ensure their employees don't drive alone.
Carpool
Carpooling isn't a new concept, but it is one of the easiest ways to keep your employees from driving alone. Carpooling provides benefits for both employers and employees. Employers gain the benefit of fewer cars coming to the office daily, thus reducing the need for parking. With the cost of parking nowadays, reducing the number of spots even just by a small amount can save employers a lot of money.
Employees will also save money! Gas can cost an individual driver up to $1,400 per year. If you divide that by two or three instead, that's far less for each person.
Setting up a program may seem a little daunting, but there are companies that work with employers to create such programs. Scoop, a company based in San Francisco, works with both individuals who want to carpool to work, and also provides enterprise solutions to companies.
Bicycling
There has recently been a bike boom in the United States, for both ebikes and traditional pedal bikes. We believe there are many factors that have led to this, including the distance from others and efficiency bikes provide. People are going to be cautious of Uber, Lyft, and even public transit for a little while. Bikes provide a level of safety and convenience for individuals.
When thinking about the return to work and your TDM plans, there are several strategies you can implement. A simple benefit is offering subsidized bikeshare passes. Most bikeshare companies provide tiered corporate accounts for employers to ease some of the financial burden from their employees.
Another bicycle strategy we've heard about is an employer-run bike rental program. This kind of programs eases the financial burden from employees, while adding more safety due to the limited exposure of the bikes.
Modified work schedules
With so much uncertainty surrounding commuting and return-to-the-office plans, accommodating employees is as important as ever. Employees will proceed with caution and it's necessary to make them feel comfortable.
Allowing employees to come to work when they feel most comfortable commuting will be necessary – especially if they use public transit. There may not be a traditional rush hour on transit, but allowing off-hour commuting means more favorable conditions. We're not saying letting them take the morning off everyday, but allowing them to work from home in the morning and coming into the office after lunch, or vice versa.
You can also set more flexible work-from-home schedules for employees. During this time, employees were forced to work from home, and now they may have become partial to keeping it going. That puts some burden on you as the employers to make sure they have the resources to be successful when working from home. Providing a work-from-home stipend for an office chair or second monitor can make a world of difference.Are you looking to create a more comprehensive TDM program for your return to the office? Download our new ebook for some inspiration!