San Francisco and the surrounding Bay Area is a hotspot for new technology, state-of-the art offices, and advanced city planning initiatives. Companies like Facebook and Google are trailblazers when it comes to employee amenities such as company bikes, bike repair shops, and corporate shuttle programs.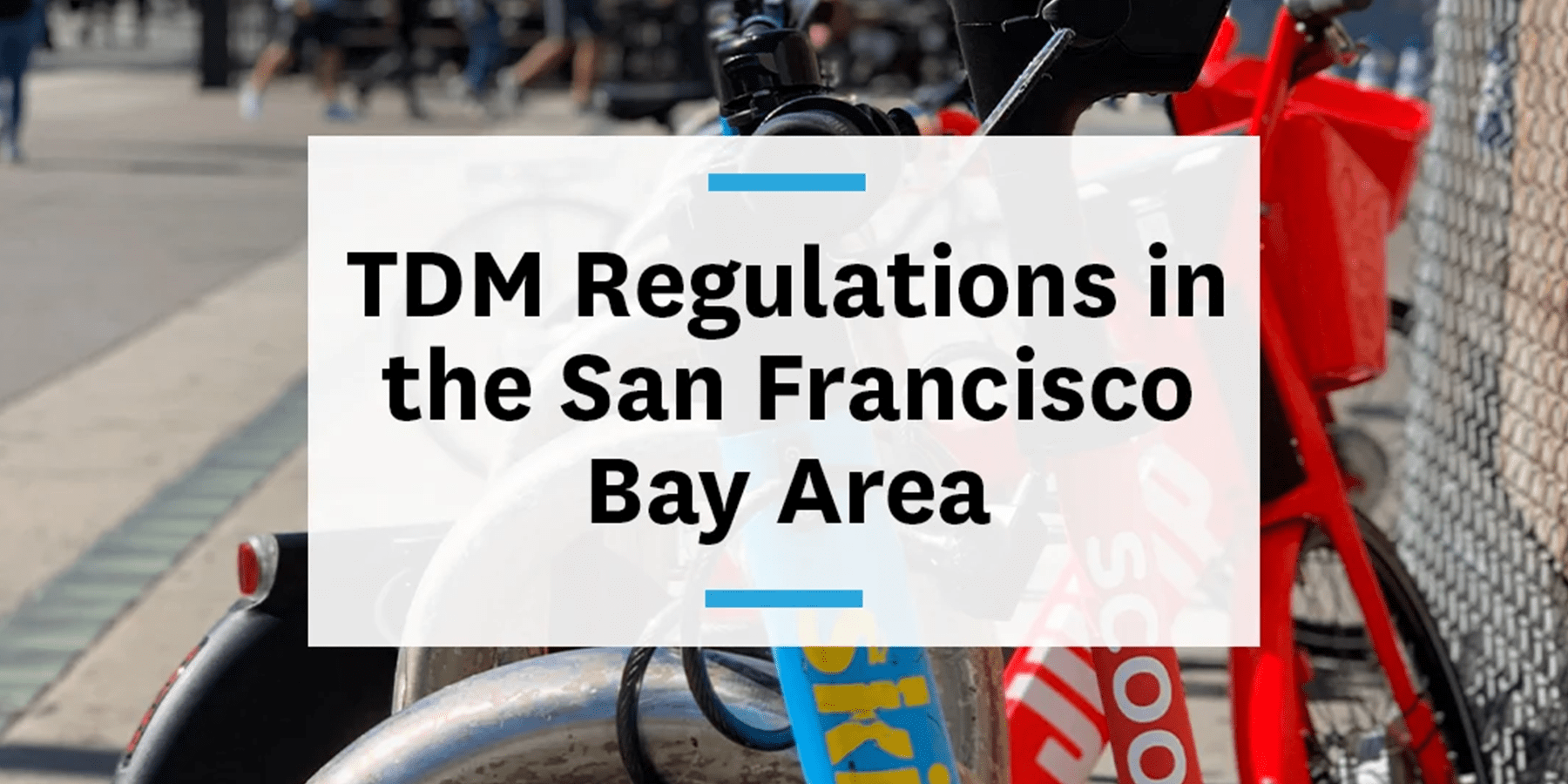 To keep up with the growing population, San Francisco has implemented transportation demand management (TDM) requirements for new developments. With a plethora of mobility and transit options in the area, getting residents out of their cars should be a simple shift in commuting behavior – they may just need a little push!
Transportation demand management (TDM) background
Let's first start with a quick refresher on what transportation demand management (TDM) is. TDM is a set of strategies put in place by governments, developers, property managers, and employers to lower drive-alone rates. A perfect example of a TDM effort is installing a shower(s) in the office so employees can freshen up after biking to work.
While local governments are involved in TDM efforts, their roles are more on the regulation and infrastructure side of the planning. For example, installing bike lanes for commuters is a change to infrastructure rather than a TDM effort.
The SHIFT Intiative
While TDM efforts fall on the shoulders of many different stakeholders, developers are responsible for some of the most crucial efforts in San Francisco. In order to get a new project approved, developers must submit a TDM plan at the beginning of the process. This process is included in the "SHIFT" initiative, which is a component of the Transportation Sustainability Program, encouraging the use of more sustainable forms of transportation.
New developments required to submit a TDM plan will have ten or more housing units, have 10,000 or more square feet of occupied floor area, or a change of use building with 25,000 or more square feet of occupied floor space. This is technical and a bit confusing, which is why the city has made a TDM point calculator so everyone knows what needs to be done. 
Depending on the factors above – among a few others – each development needs to hit their given point total to be approved. These point totals dictate how many separate TDM features need to be included in a new development. To assist with how many points each component is worth, San Francisco has laid out a menu of options with corresponding point totals. The greater the impact a feature makes or the more effort a feature requires will receive a higher point value than those that aren't as effective.
Complete Process
Getting the TDM plan approved isn't the end of the process. Once the building is occupied, the property owner must submit an Ongoing Monitoring and Reporting Statement on an annual basis. This keeps property owners and property managers from becoming complacent, while also encouraging them to keep up with new technology and improved infrastructure. TDM isn't a one-time effort, but rather a continued push to better communities and cities.
Commuter Benefits
Although the strictest TDM regulations hit developers, that doesn't mean employers are free from the challenge of changing the way employees get to and from work. Offering commuter benefits is mandatory for a majority of companies – both in San Francisco proper and the greater Bay Area.
The Commuter Benefits Ordinance applies to companies with an office in San Francisco – it doesn't have to be the company's headquarters – and 20 or more employees nationwide, with at least one employee working in San Francisco. In order to be compliant, employers must submit an SF Commuter Benefit Compliance Reporting Form, after that, no annual reporting is required.
For companies with 50 or more employees in the greater Bay Area, more effort has to be made. To be in compliance with the Bay Area Air Quality Management District's Commuter Benefits Program, there are five mandatory actions that need to be taken. These actions include an initial registration, the appointment of a Commuter Benefits Coordinator, pre-approved commuter benefit offerings, notifying employees on a regular basis, and an annual registration update.
The Golden State Warriors TDM Efforts
The Golden State Warriors have not only been one of the NBA's best teams for the past decade, they have been one of the best teams of all time. To build keep up their success on the court, the organization is making a huge impact off the court.
In a city riddled with traffic and plush with mobility options, the Warriors recognized their newly-built Chase Center needed to maximize transit for their guests. With a seating capacity of just over 18,000, there are only 900 parking spots – that's for players, arena staff, and guests. Needless to say, driving to the arena is pretty much not an option.
With such limited parking available, the Warriors have gone above and beyond to ensure guests can get to and from the arena as easily as possible. But how will public transit handle upwards of 18,000 people for every event? Buy-in from all available agencies.
Muni
Muni will be temporarily running express buses before and after each game while the construction of a new light-rail stop is being completed. In addition to more shuttles, guests will also enjoy free rides on the day of their event with proof of purchase – like their ticket to the event.
BART
Although the closest BART station is a little more than a mile away, it's still an option for event goers who don't mind getting a few extra steps in!
Ferry
During the time a permanent terminal is built, a temporary loading and unloading dock is available for guests who decide that traveling by water is the best option.
Bikes
Biking may be the easiest way to get in and out of the arena, and the city and developers have made major accommodations for cyclists. A new, two-way bike path has been installed near the stadium, as well as multiple bikesharing docks.
For guests who want front row parking, they can have their bikes valet parked at the arena. If that sounds like a little too much, over 50 bike racks have been installed around the property for individuals who choose to rather self park.
Caltrain
With a stop just under a mile from the Chase Center, guests can hop off and walk to the arena, or snuggle up on the next Muni train.
Scooters
For guests who opt for an electric scooter ride, they can enjoy most of the same accommodations as their bicycling counter parts.
Real-time transit information
With mass transit being the focus of getting guests to and from the stadium, the task of providing up-to-date information of all available options was a big one. To get this information to the majority of guests after games and events, the Warriors have three TransitScreens around the arena to make life on the guests easier while heading home.
Bringing it Home
Although San Francisco ranks higher than most cities in the US when it comes to transit, there's always work to be done. Promoting the use of alternate mobility options at the ground floor will make residents more likely to change the way they get around. With continued buy-in from all parties involved in this new mobility movement, drive-alone rates will be lowered.We made becoming a commuter benefit expert as easy as one click of the mouse. Click here to visit our resources page!