San Francisco and its surrounding areas, dubbed the Bay Area, is made up of nine counties, over 100 cities, and is home to about 7.5 million people. Since it's such a vast area with people commuting from all over, governing the companies that have settled in the area is no easy task.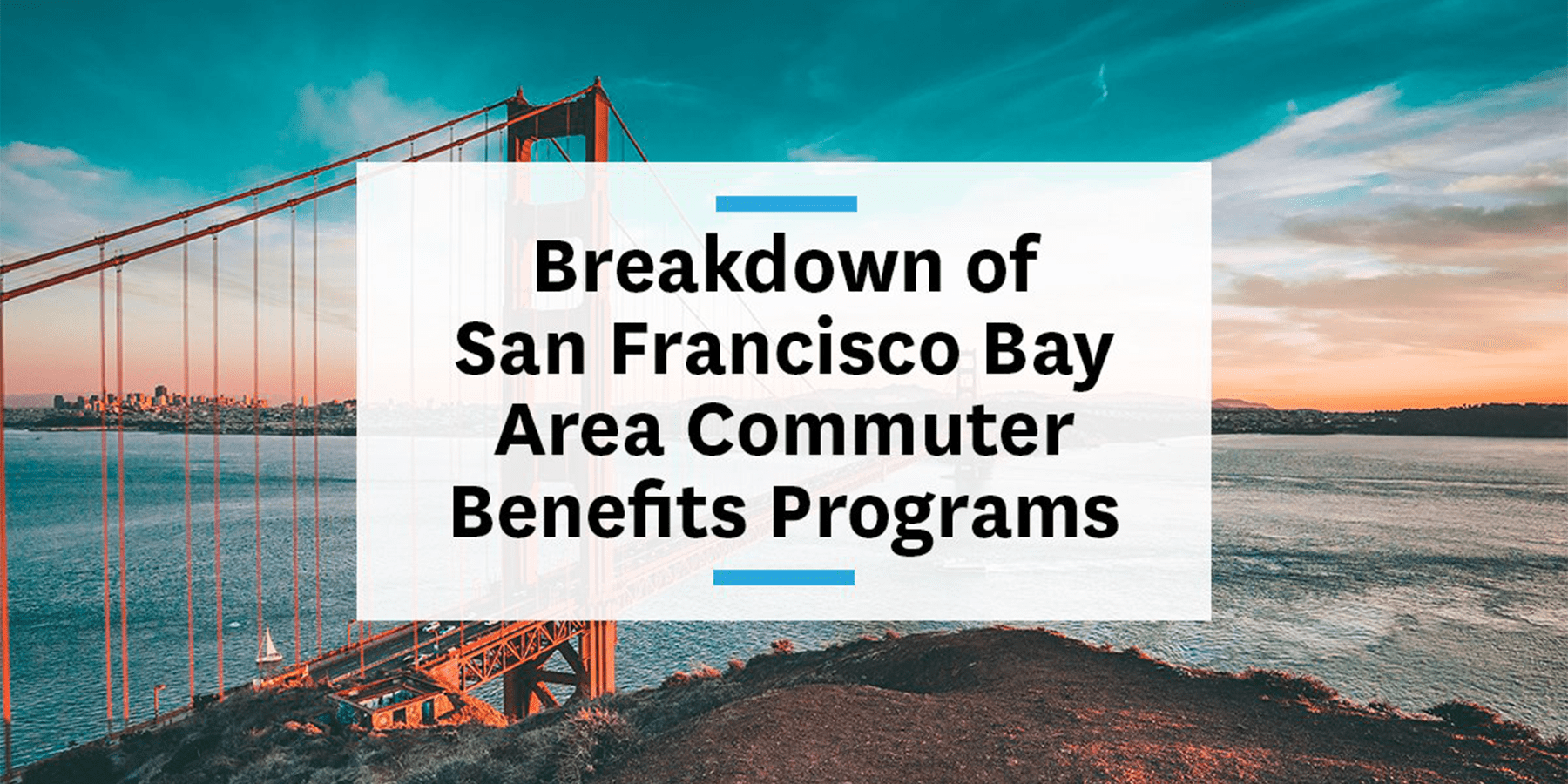 With big companies, comes big traffic problems. Even with employers providing commuting solutions for their employees, San Francisco commuters still spend an average of 166 hours sitting in traffic annually. That's almost a full week spent just sitting in a car! To help alleviate the pain, the region put into place regulations for employers to ensure fewer commuters are choosing the single-occupancy vehicle route. If your company has more than 50 employees, you're subject to the Bay Area Air Quality Management District's Commuter Benefits Program. (If you have fewer and are located in San Francisco, you can learn more about the Commuter Benefits Ordinance in our other post.)
Commuter benefits
Commuter benefits encompass a range of measures. Employees can set aside pre-tax money per month to pay for their commuting needs. Companies can provide subsidized transit passes or vehicle services. Whichever option(s) you end up selecting, the goal is to limit the number of single-occupancy vehicles coming to the office on a daily basis. 
What needs to be done to comply
There are quite a few things you'll have to do in order to make sure you're fully compliant with the Bay Area's program. We'll run you through them step by step.
Initial Registration
Employers must register by providing their company information, including employer ID, location information, contact information of the Commuter Benefits Coordinator, and employee count.
Commuter Benefits Coordinator
You'll select this person to implement and monitor the commuter benefits program. You don't need to hire someone specific if you don't want to — feel free to designate a current employee to take on this role and all its responsibilities.
Benefits options
Employers must offer pre-approved benefits options, including:
Employee pre-tax option
Pre-tax options allow employees to deduct up to $270 per month of pre-tax money starting in 2020, which can go toward the cost of their daily commutes.
Employer-provided subsidies
Employers can cover up to $75 per month of their employees' monthly commutes. This includes transit passes, employer-provided transit, or vanpool services. You can do any or all of those options.
Employer-provided transit
Employers can provide free or low-cost options to employees for their commutes. This includes a bus, shuttle, or vanpool from an employee's community to the office and vice versa. If employers choose to charge employees a fare for this service, the amount is dependent on the distance of the trip.
Alternative options
If an employer doesn't offer any of the above options, they must propose alternative options. The proposed offerings must be submitted to and approved by the Air Pollution Control Officer (APCO). To qualify, employers must offer both a primary option and a secondary option.
Notify employees
Employers must notify their employees of the benefits being offered and walk them through how to use them. This is not a one-and-done situation, though. Current employees must be kept informed of the benefits options offered on an annual basis. New employees must be informed of commuter benefits offered during their onboarding process or orientation. The company also has to keep records of when and how they notified employees.
Annual registration update
The Commuter Benefits Coordinator must update their company's registration status annually. The required information is similar to the initial registration process, but it does have to be done once a year.
Implementing your benefits
There are so many options to choose from, and deciding which benefits are best for your workforce can be a challenge. The first step in the process is figuring out what your employees want, something you could do through either an employee survey or committee. Then, figure out what your company can afford to offer.
If your company chooses to let employees deduct pre-tax money from their paycheck, the commuting decision is up to them, and so is figuring out how to efficiently use their funds. Luckily, the Clipper card is accepted on all major Bay Area transit providers, including BART, Muni (buses and metro), the San Francisco Bay Ferry, and more. Users can add value to their cards on a recurring basis, a one-time add, or directly through their company's transit benefit program. This allows employees to be flexible with how they get around, as well as where and how they decide to use their pre-tax money.
Offering vanpooling or carpooling subsidies can be perfect for companies that aren't quite big enough for a full employee shuttle program, but still want to provide commuting relief for their employees. Both options come with great benefits — reduced tolls, HOV-lane use, and preferential parking in designated areas. Overall, employees save time and money on their commutes. Let's not forget, offering a vanpool or carpool options also checks the box of an employer-provided subsidy or full employer-paid benefit.
If your company has the funds and ability, consider offering your employees a fully or partially subsidized shuttle service. Employer-provided shuttle services completely eliminate the stress of getting to work. Employees can catch up on some sleep, use their commute as personal time, or get work done. They also save money on gas and maintenance costs that inevitably come with owning a car. If you need some inspiration on how to successfully implement a shuttle service, Google set the bar pretty high.
Encourage your employees to use the benefits
Offering these benefits is required by law, but employees enrolling and taking advantage of these benefits is not. Getting your employees to change their commuting habits can be a huge challenge. Driving to work allows employees to arrive and leave whenever they want and change plans on the fly.
But with the freedom comes the burden of paying for the car — not to mention the emotional stress of sitting in traffic. Getting an employee to change their commute habits can necessitate some hand-holding. A step as small as walking employees through the process of setting up their Clipper card can go a long way. 
To really make an impact, though, will mean going above the minimum requirements from the city. Getting employees to change their commute means offering them the solutions to make it not only possible, but preferable. Investing in ensuring your office is bike-friendly can make all the difference. Adding a repair station, a secure bike room, or shower facilities is a great step to converting employees into bike commuters.
It's the employers responsibility
The Bay Area Commuter Benefits Program is a comprehensive guideline for companies to implement these benefits. It's up to you, though, to build up the minimum requirements to keep the employees from driving to work alone.