Congestion pricing is making its way into cities around the world. This commuting toll charges people to drive on the busiest streets, at the busiest times, in some of the busiest cities. Although this charge is a major change to what people have become accustomed to in our car-centric society, the benefits that have come from existing programs have proven it a worthy investment.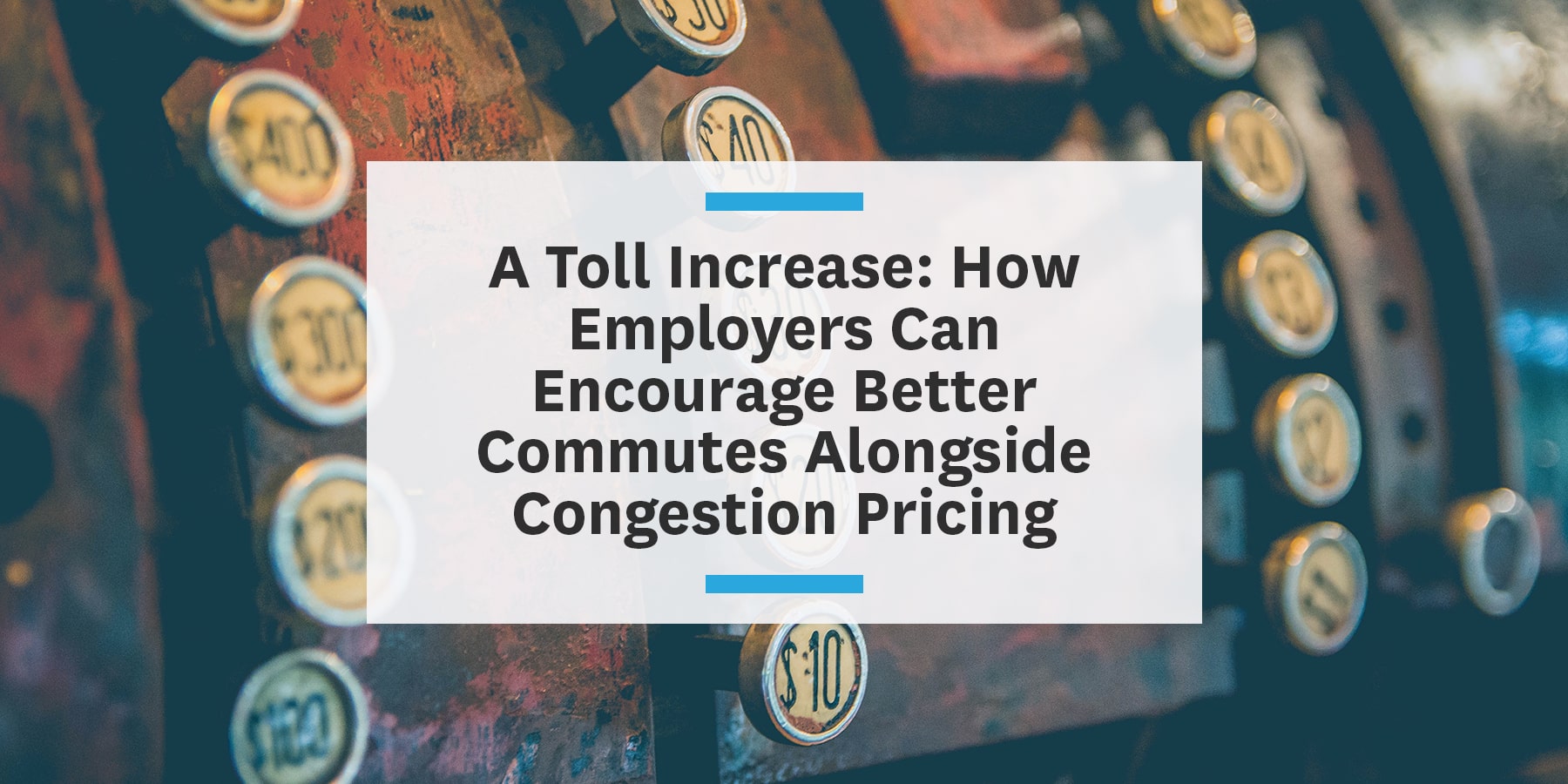 Although the bulk of the impact is on the individual commuter, employers need to do their part to make the transition as easy as possible. Why? We've said it before, employees are leaving their jobs due to dreadful commutes, and with buy-in from everyone, the benefits of congestion pricing heavily outweigh the costs.
Background
Congestion pricing is a toll charged to commuters to drive on certain streets in a city during peak commuting hours. Singapore was the first major city to implement such a charge and has been followed by London, Stockholm, Milan, and soon to be New York.
The results from congestion pricing in these cities is argument enough for every major city in the world to implement this practice:
London's vehicle emissions have gone down 12 percent while bicycle ridership increased 210 percent in areas subject to congestion pricing.
Stockholm has seen a 20 percent decrease in congestion in areas where pricing is enforced.
Employer benefits
Not only does congestion pricing benefit commuters — it benefits employers as well. With nearly a quarter of employees leaving jobs because of a terrible commute, employers have a responsibility (and incentive) to help with their employees daily trek.
Commutes can play a significant role in an employee's decision-making process during the job search. If employers are willing to help employees get to work by means other than driving alone, there's a greater chance they can attract and retain the talent they want.
What can be offered
In order to ease your employees into a new form of commuting, offering them help is a must. By creating or improving your commuter benefits package is an easy and quick way to help with the transition.
Carpooling
The goal of congestion pricing is to lower the amount of single-occupancy vehicles during peak commuting times, but not every person can reasonably get to work without a personal vehicle. This is where you can encourage carpooling for employees who need to drive. Offering preferred parking spots for carpooling employees can encourage them to save time and money on their way to the office. This cuts the cost an individual has to pay for the daily toll, as well as money on gas and parking. It also grants drivers access to HOV lanes and bypassing traffic.
Bicycling
In addition to decreasing the number of cars on the road, congestion pricing has led to an increase in bicyclists. As we mentioned, London saw a huge increase in bicyclists where congestion tolls are charged. To keep up with the increase in cyclists, there's a need for more bike parking, especially at offices.
Employees who make the change need to know they have a secure place to keep their bike during the workday. The most secure form of bike parking is a dedicated room for storing bikes, if you can swing it. If that's not feasible, another secure way is designating an area of the building's garage to bike parking. This works especially well if employees stop driving to avoid the congestion pricing!
Subsidized transit passes
Another way for employers to assist their employees in the change from driving to an alternative form of commuting is through offering subsidized transit passes. New York has set a goal of a $15 billion investment into public transit from its upcoming congestion pricing.
With this level of commitment to improve public transit, there needs to be an increase in ridership. When employees only have to pay a portion – or none – of their monthly transit costs, they will be more willing to swap the freeway for the railway.
Beyond the toll
Congestion pricing forces employers' hands, but you shouldn't wait until your employees have to pay more to drive to work to help with their commutes. You can offer a variety of different commuter benefits, and even the smallest contribution can go a long way. As more and more cities begin to implement these types of driving tolls, the earlier employers get in front of the change, the better it will be for all parties.
Want to know which other benefits you can offer to help your employees' commutes? Click here to visit our resources page and become a commuter benefits expert!