The process of commuting is rarely an amazing experience. Sitting through multiple stops before reaching your destination adds a lot of time to an already-long commute, not to mention the hiccups that come with traffic and congestion. But for employees who get to work by way of public transit, the heart of the commute isn't always the problem. Getting to and from the bus stop or metro station is a challenge – also known as the first- and last-mile problem.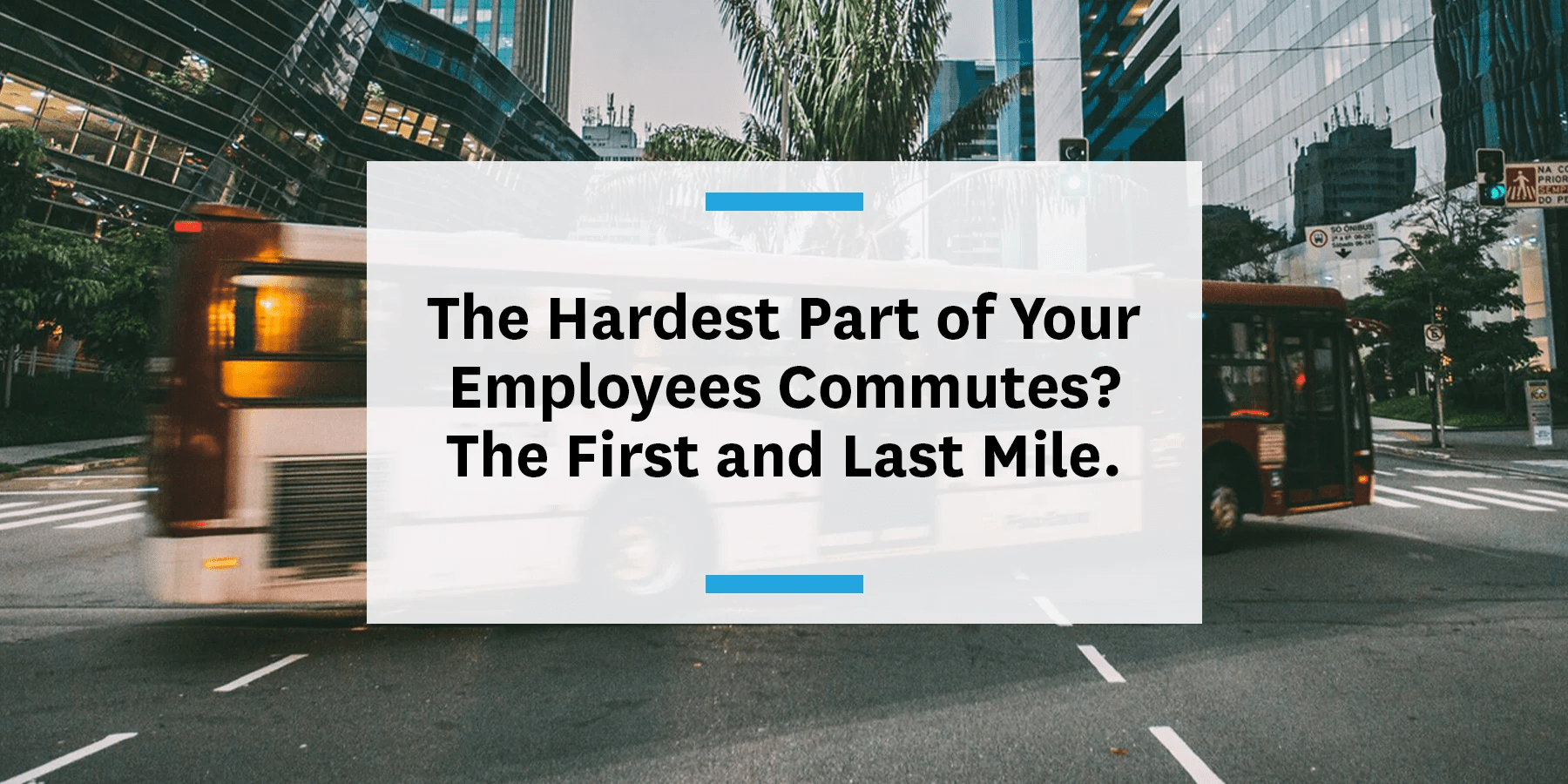 The first and last miles of someone's commute can often be the most stressful leg of their journey. With housing and rent prices of properties near transit stops on the rise, professionals have to move further away to save money on rent or mortgages. This distance adds extra miles to commutes — and extra headaches. With the rise of mobility options and employee benefits, employers have an opportunity and a duty to go above and beyond in helping their workforce manage this problem.
Using micromobility
New mobility options like docked and dockless bikesharing companies and electric scooters have been hitting sidewalks for the last few years. Although they don't come without their faults, micromobility vehicles do aid tremendously with short-distance travel. This can be especially helpful to get employees home after a long day of work and commuting.
One option is to set up corporate bikeshare accounts so employees can ride at discounted rates. Having the company pay for these memberships takes a lot of the financial burden off of the employees, and can make them more likely to use an alternative option to driving all the way to work. Bikesharing companies also allow users to suggest new docking stations, which means employers can look into adding such an option closer to the office.
To eliminate needing to find a dock for the bike, companies can also set up corporate accounts through Lime. By offering the option of both dockless bikes and scooters, Lime users can park their vehicles anywhere when their ride is done. Although bike docks are pretty abundant in downtown areas, they can be scarce in the outer limits of cities and suburbs. The flexibility of dockless vehicles means commuters can ride directly to their final destination without walking any further.
Corporate ridehailing account
To ensure employees are using corporate accounts responsibly, your account admin can set specific times when employees can use the corporate account, as well as which employees have access. This is perfect for employers who want to help their employees get to or from transit stops at the beginning or end of normal commuting times.Sometimes micromobility options aren't readily available for employees who commute from outside the city. This is where corporate ridehailing accounts can help fill the gap. Companies can open corporate Lyft, Uber, or Via accounts to pay for employee rides. Employees then have the option to toggle between their personal and corporate accounts when hailing a ride through the apps.
Paying for employees to use company money everyday, even for a short ride, can add up – especially for smaller companies. Through a prepaid commuter benefits debit card, employees can use their pre-tax dollars directly in their ridehailing accounts. Although on the whole we believe in improving access to public transit as the best path forward for most people, we also have to recognize that it's not going to happen overnight. In the meantime, Uber and Lyft can be used as an extension of the city bus or metro line in the absence of such infrastructure.
Employee housing assistance
Offering commuting assistance can make a huge difference, but some employers go one step beyond that to lessen their employees' daily travel time. In order to attract talent, employers are taking it upon themselves to help employees afford housing near transit stops or the office – and not just tech giants like Facebook and Google.
As part of their Employer-Assisted Housing Program, the University of Chicago wants to make sure their faculty members can live comfortably and close to work. Some benefits from this program include down payment assistance up to $10,000 for employees looking to buy a house in a nearby neighborhood. For faculty members who aren't quite ready to take the plunge into homeownership, the school offers up to $2,400 in rental assistance to employees willing to move to a nearby neighborhood. Not only does this help employees find a place to live, but it eliminates a large portion of the commute.
The last mile
At the end of the day, the goal of each of these benefits is to keep employees from driving to work alone. The first- and last-mile problem encourages people to drive because it simply seems more convenient to do so rather than to walk 30 minutes to the train station. When employers recognize this road block and can provide assistance, that's when employees will opt for an alternative form of commuting.
Considering the current job market, keeping your employees happy is more important than ever. To ensure employees stay happy, companies are offering perks for every aspect of work-life balance. While commuter benefits are a growing trend, it's important for companies to cover every aspect of their employees' commutes, not just one leg of it. Offering benefits to assist with the last mile can go a long way.
Want to know which other benefits you can offer to help your employees' commutes? Click here to check out our resources page and become a commuter benefits expert!