With a population of about 2.7 million, Chicago is not only the biggest city in the midwest, but the third largest city in the United States overall. Despite being plagued with bitter winters, Chicago continues to be a hotspot for employers and job seekers alike.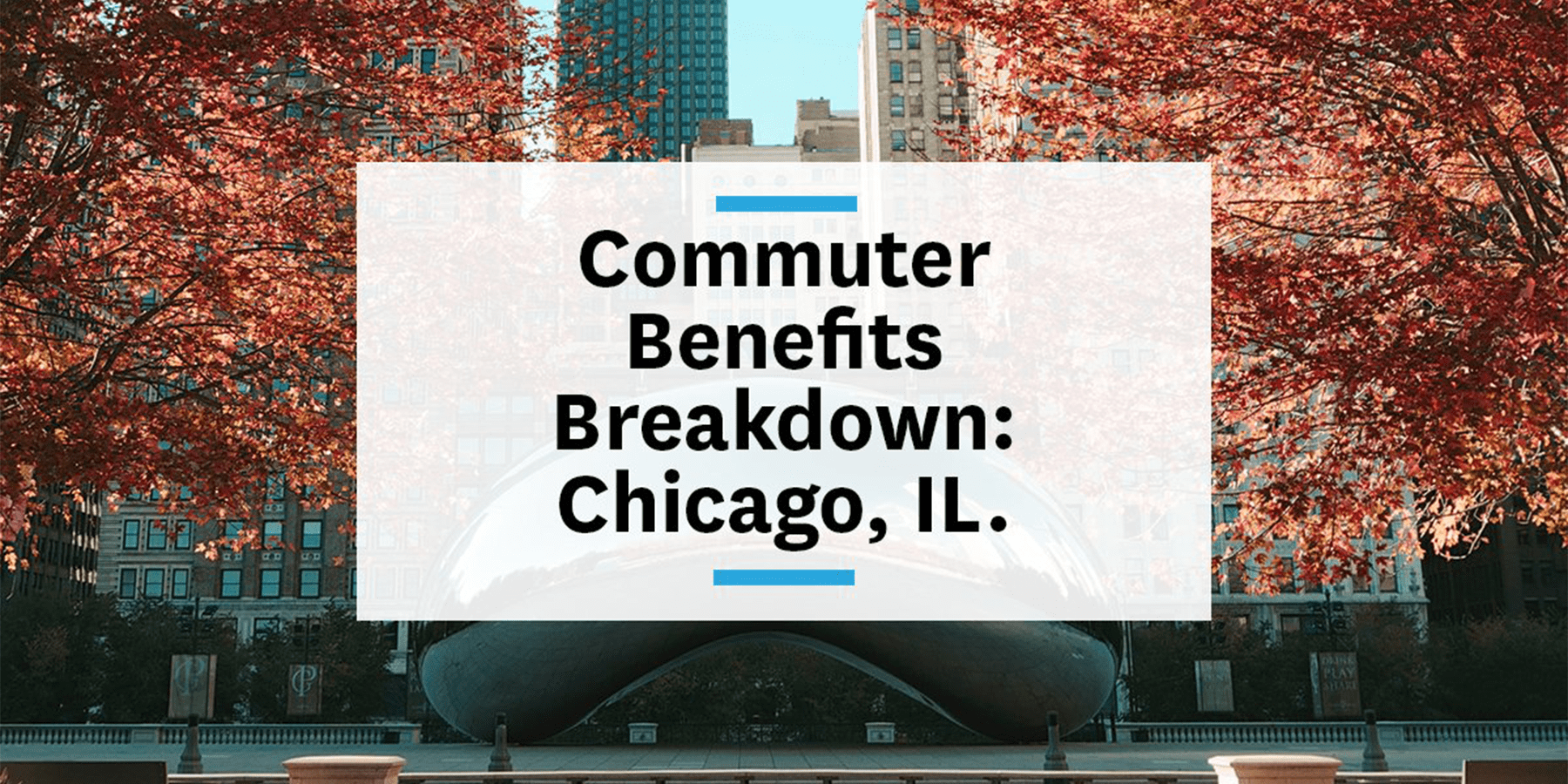 With growing popularity comes growing commute concerns for both the city and the people who have to make the daily trek. With daily commutes being a major reason people are leaving jobs, mixed with Chicago having some of the worst traffic in the US, commuter benefits are becoming more important than ever for companies and employees alike. However, the city doesn't directly require them for any size of company. So why should you still offer them?
Background on commuter benefits
Need a refresher? Pre-tax offerings allow employees to save money on daily commute options, while easing the stress of sitting in bumper-to-bumper traffic. The IRS increased the monthly commuter benefits allowance to $270/month in 2020, which allows for more savings.
It's a really great deal for both sides of the equation. Employers can save up to 8% on FICA and unemployment taxes, while employees can save up to $1000 a year on commuting costs.
Another reason it's in the best interest of employers to offer commuter benefits is to attract better talent. Companies like McDonalds, Kraft Heinz, and Motorola (among many more) are either in the process of or have already moved their workforces to downtown Chicago, meaning attracting the best talent is only getting more difficult.
Chicago commuter benefit options 
The L – Through the Ventra website or mobile app, employees can set their monthly deduction that will automatically be loaded to their Ventra card and available to use on The L or Pace vehicles.
Metra – Metra tickets can be purchased and managed on the user's account on Ventra's website or mobile app. Metra tickets are available for purchase on a monthly basis.
Pace – Pace offers a variety of options including paratransit vehicles, buses, OnDemand transit options, and vanpooling. Employees can ride on Pace using Ventra cards or passes.
Ridesharing – Pre-tax benefits can used with ridesharing companies using commuter benefit debit cards, depending on your company's benefit plan. Lyft, Uber, and Via allow for these cards to be used to hail their respective shared ride options.
Water Taxi – Although the water taxi does not accept commuter benefits directly, they do offer their Corporate Cruiser Program which allows companies to subsidize employee water taxi passes at discounted rates.
Distributing benefits to employees
These pre-tax benefits can also be set up using your company's HR management provider, such as JustWorks or ADP. These benefits are available depending on the plan your company offers.
If your company does not use a HR management provider or it is not part of your plan, pre-tax benefits is free of charge when you go through Ventra, a transit management company. Setting up a Ventra Transit Benefits Program for your company can be done by filling out the online form. Once your company is signed up, employees set their own monthly deduction and use their funds on CTA (the L or the bus), Metra, and Pace.
Encouraging your employees
It's one thing to offer pre-tax commuter benefits, but it's another to get your employees to actually take advantage of them. Incorporating the options and benefits of alternative commuting methods into your existing company onboarding process plants the seed right away. Changing policies such as charging for parking by the day rather than the month or implementing a commuting task force are other ways to shift how your employees decide to get to work.
Commuter benefits in the winter
Chicago is known for its bone-chilling winters, with temperatures falling well below 0º Fahrenheit. These winters also bring inclement weather that can make car commutes impossible, meaning public transportation could be the only way for employees to get to the office during the winter months.
Cutting down on employee commuting costs can also come in the form of offering flexible work hours. Allowing employees to work from home or a nearby coffee shop and not the office everyday will save them time and money on daily commutes. This option is especially useful in the winter when just the thought of stepping outside will send both literal and figurative chills down your spine.
All-in-all
Chicago-based companies and the city alike are both doing their parts in an effort to alleviate Chicago's significant traffic problem. Even though it's not required by law, companies essentially need to offer commuter benefits in order to stay competitive in Chicago's booming job market. While on the other side of the aisle, the city is doing its part to expand its transportation options by allowing electric scooters and dockless bikes in certain areas of the city.