As a building or property manager, real estate developer, or real estate broker, you're constantly trying to attract residents or tenants to your building. The newest, shiniest amenities are being incorporated into every project, all in the hope of catching the eye of prospective residents or tenants.As nice as these cool, new amenities (for example, a golf simulator) are, making the effort to work with your local business improvement district, or BID, can provide more long-term benefits for residents and tenants.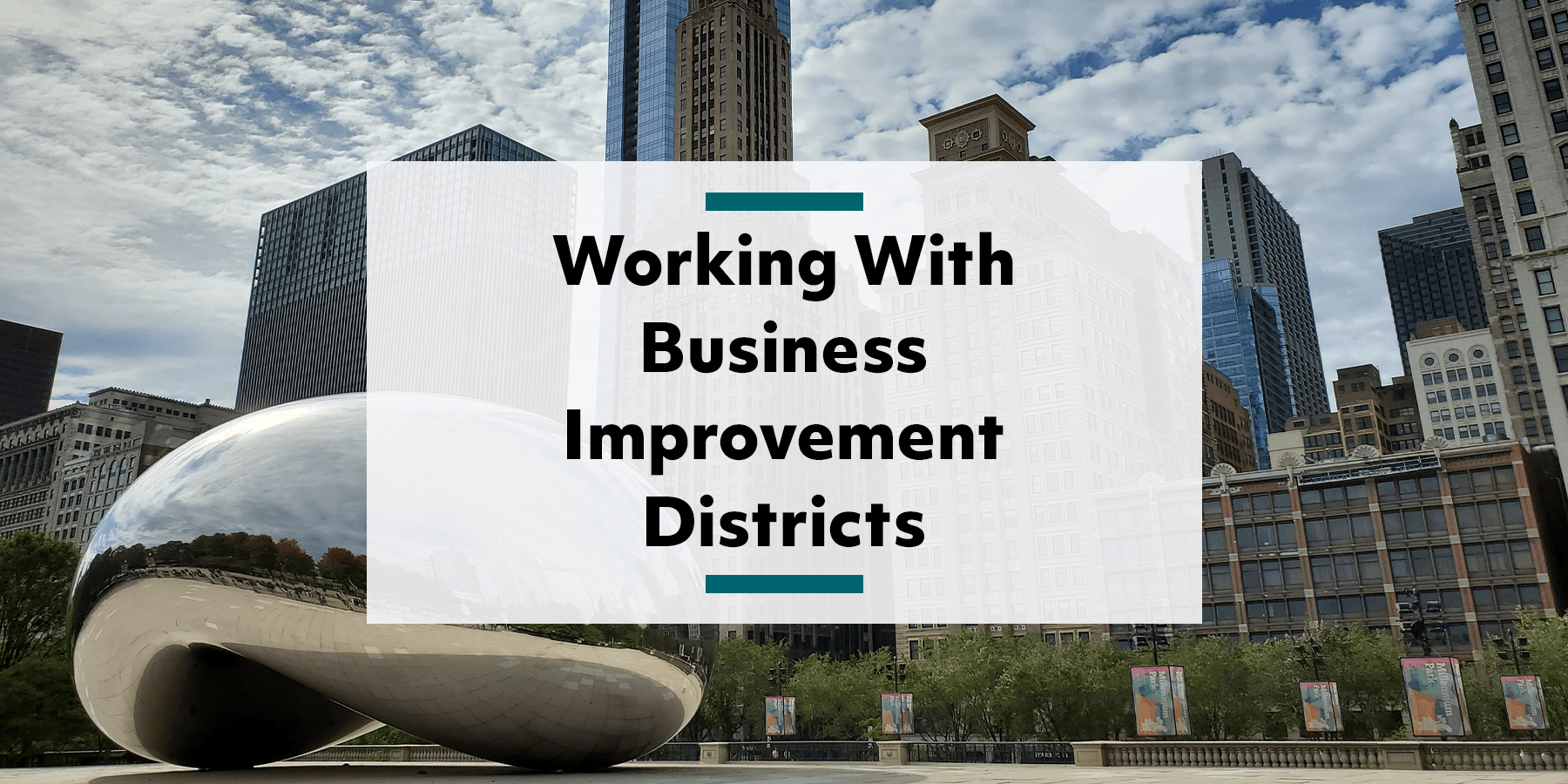 What is a business improvement district?
Though they can go by several different names (see below), business improvement districts are self-taxing districts established by property owners to enhance the economic vitality of a specific commercial area. Once the taxes are collected, those funds then go back into projects to make improvements to the area controlled by the BID.
Since these buildings are paying to improve their surroundings in order to attract businesses and residents, it's highly encouraged that members of the BID get involved in deciding which projects to invest in. In addition to new projects, these organizations ensure streets and sidewalks are clean, they install and maintain public spaces, and contribute to the overall aesthetic of their district.
Business improvement districts and commercial real estate
Employers want to provide the best for their employees. They want clean settings, easier commutes, and access to local restaurants and social settings. This is what business improvement districts work to provide and advertise. They ensure that streets and sidewalks are clean and that buildings are rid of graffiti. As nice as this is for your tenants and their employees, it also provides a nice presentation for future tenants, and even tourists.
 In addition to maintenance, business improvement districts also work to provide social environments for those working in the area. TransitScreen's office, for instance, is located next to a park surrounded by multiple office buildings. During the warmer months, our local BID hosts Outdoor Offices, where they set up outdoor work areas, ping-pong tables, and other activities. When you're working to attract new tenants, and those tenants care about their employees' experiences, these amenities  will go a long way!
Business improvement districts will also work with companies and vendors to provide tools to make life easier for their tenants. This could be something like a tool to provide real-time transit and mobility information (*cough* *cough*) for commuting. They also sometimes provide outdoor WiFi, similar to the Outdoor Offices above, so the employees working in the area can experience the outdoors, while getting their work done.
Business improvement districts and multifamily
Helping people in the commercial real estate space is only one aspect of what BIDs deal with. They also work to make life better for current and potential residents of the area. Meaning, as a property manager of an apartment building, they can be a valuable tool. For starters, BIDs and their employees maintain the communities they are responsible for. Just like we mentioned above, they clean the streets and the buildings in their district. They also provide the upkeep of all local parks, gardens, and public areas, which can be utilized as selling points for future, and even current, residents.
In addition to general neighborhood preservation, BIDs will host events with local businesses for the benefit of local residents. This could be workout classes in a nearby park, outdoor movie nights, farmers markets, or street festivals, just to name a few examples. All of these fun, local events  can be used as selling points for your building. In the current state of resident fluctuation and rental rates, every apartment building needs selling points, in addition to the amenities your building already offers.
Additional names
Community Benefit Districts
Special Service Areas
General Improvement Districts
Business Improvement Areas
Local lists