Last summer we connected with David Allen from Bikes Make Life Better to discuss what employers and employees can do to adopt cycling during COVID and beyond. With companies returning to the office, or at least making plans to, we wanted to renew our information.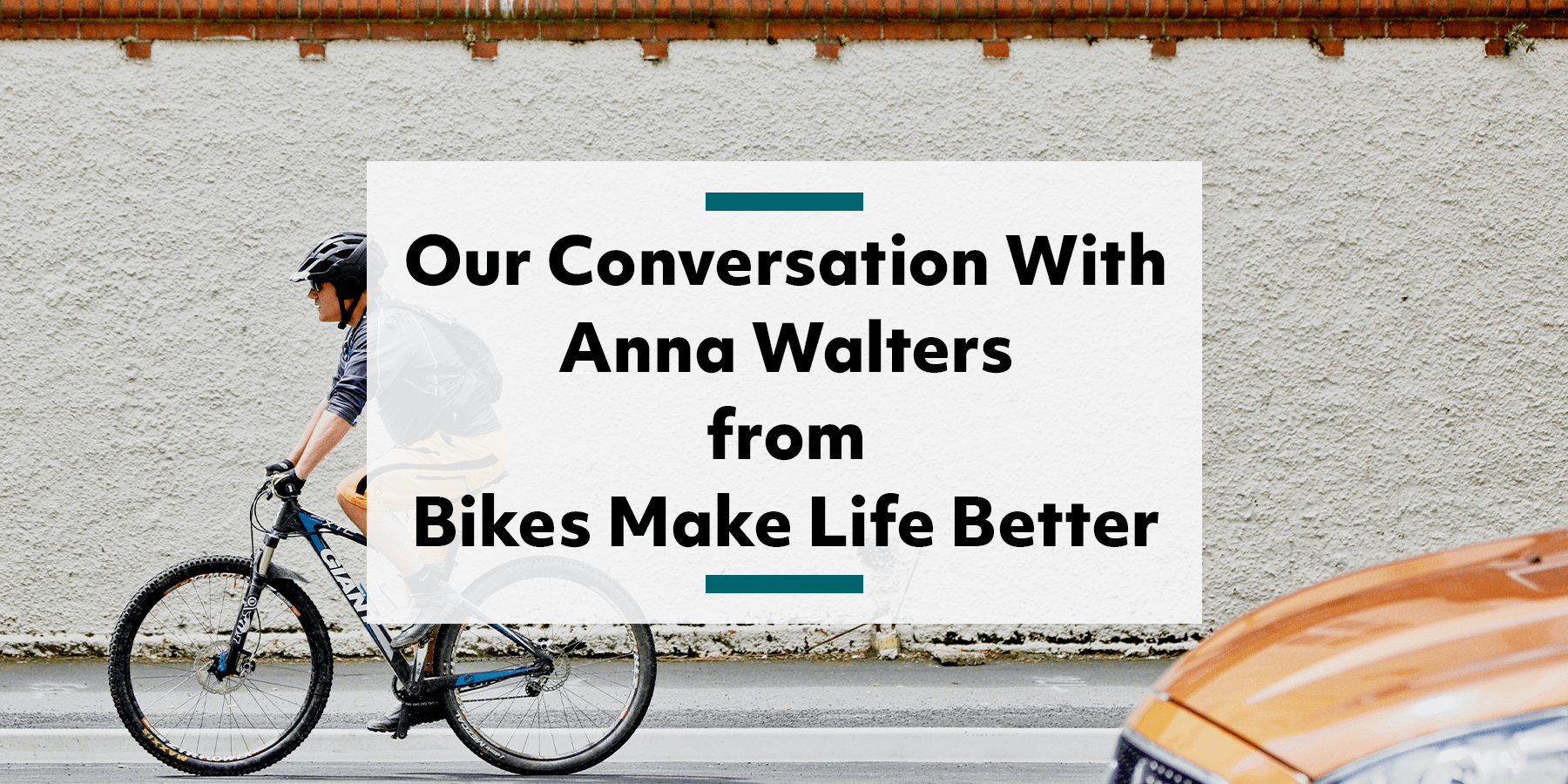 This is why we recently connected with Anna Walters, the Events and Communication Manager at Bikes Make Life Better. She has provided us (and you) with what companies can do now. Programs and policies she has seen, as well as inspiration from other employers!
Here's a quick background on Bikes Make Life Better from their website. Founded in 2010, Bikes Make Life Better promotes biking as healthy, sustainable transportation. Grounded in the belief that bikes truly do improve our lives, we facilitate bike commuting by planning and implementing bike programs for large, influential organizations that share in our conviction.
What do employers need to be doing now to help their employees adopt, or resume, their bike commutes?
Easy: Charge for parking and pay employees to ride their bikes (or take other non SOV-modes). 😉 But barring that…
First, support your employees' bike habits even when they aren't riding for the commute. Some research indicates that recreational riding is a gateway to utility riding. Once employees discover how joyful biking is, many will want to do it more often and in different contexts — so incentivizing employees to ride for whatever purpose increases the likelihood that they'll eventually bike commute. Facebook provides a really good example of how to make a bike program accessible to and inclusive of employees working from home.
Next, beef up your bike program and on-site bike amenities to cater to new riders. The pandemic was, and continues, to be devastating, but shelter in place orders prompted many to discover riding: PeopleForBikes, the national bike advocacy organization, reported survey findings showing that "during the COVID-19 pandemic, 10% of American adults engaged with bicycling in a new way," and that the majority of those new to riding "plan to continue riding at least once per week in the coming year." So make sure these new riders can tap into bike incentives, amenities, and a workplace culture that is friendly to bikes.
Ideas: Offer Bike Commute 101 classes; make sure you have enough secure and safe bike parking; or reward those that commute.
Finally (but importantly), dig deep when looking for barriers to biking among employees, and get creative with solutions. Start by listening to employee concerns or conducting focus groups and be expansive in your thinking. For instance: Does your dress code discourage commuting? Do employees (especially the more vulnerable) feel physically safe when accessing the garage bike cage at night? What structural problems (racism, sexism) contribute to employees driving over riding a bike to work? Then work with employees to address these barriers.
How can employers help soothe safety concerns their employees may have about biking to work?
I like to focus on getting riders more comfortable biking and riding in traffic. This means offering guided group rides, doing 1:1 bike support to identify specific concerns and solutions, and providing great bicycle safety education. The League of American Bicyclists has a certification course that all of our Programs staff complete and may be helpful to have if you're thinking of doing on-bike education.
You should also address safety concerns outside of traffic, or at least listen and be empathetic to employees who have these concerns. This could mean public support of programs or officials who defund the police to address the problem of biking while Black. It could also mean funding light installations on local trails or bike routes to help women and other vulnerable cyclists feel safe when riding after dark.
What is a good starting point for employers to implement a bike-to-work program?
There are many starting places! Here are some ideas:
Have your company participate in May Bike Month and Bike to Work Day, during which LoveToRide, a ride tracking and communication platform is free to use.
Have a dedicated Employee Transportation Coordinator at your workplace; this person can create and implement a bike program and respond to employees' commute questions.
Create a Bike Resources page on your company intranet.
Create a Slack channel, email group, or other way for cyclists across your workplace to connect and communicate.
Organize a program kick-off event or bike ride.
Get your CEO or other prominent leader at your workplace to champion a bike program or initiative. Better yet, ask them to lead a bike ride!
What can individual employees do to successfully adopt a bike commute?
When employees shift back to working from their offices (or start working at offices for the first time if they've been hired within the last ~18 months), they can tap into the "fresh start effect." Research shows that times of disruption or change (like a global pandemic) are the best time to form habits (like a daily bike commute).
Another way is to start small. Check out a method developed by B.J. Fogg, a behavior scientist and researcher at Stanford University. To create a lifelong habit, Fogg suggests making small, easily-achievable adjustments and gaining confidence so that the behavior eventually becomes automatic.
Lastly, get a bike buddy. Having someone counting on you to ride is motivating!
Are there any new initiatives you've been seeing or hearing about that employers are doing to encourage bike commutes?
I was overjoyed to see that one of the biggest companies on the planet, Amazon, will begin to offer its 60,000 corporate and tech employees $170/month to bike to work! We need more employers paying workers not to drive.
What are concerns you've been hearing when it comes to biking to work? Both from individuals and organizations.
Generally, employers are concerned about keeping their employees safe once they arrive at the office. That means making sure COVID-protocols are in place even in bike rooms or access points. Employees themselves are also concerned with safety, and many would like to have continued flexibility to work from home.
Another major employer concern is that employees may not want to take mass transit, vanpools, or carpools any more because they feel like they're risking exposure to COVID-19. In which case, the fear is that more will drive alone (although, I hope many will shift to bikes!).
What organizations are doing a good job to help their employees bike to the office?
There are so many great examples out there, although no single employer is doing everything. Here's a list of employers who offer bike benefits and perks that are worth emulating.
The organization I think that has done the most to reduce SOV trips, including offering some generous bike benefits, is Seattle Children's Hospital. Seattle Children's decided to pay employees $4.50/day to not drive to work, and as a result reduced their drive-alone rate from 73% in 1994 to 34% in 2015. What an amazing feat!
In your opinion, what end-of-trip feature is the most useful?
The most useful is just a secure indoor place for an employee to put their bike. I once worked at a company that allowed employees to park their bikes by their desks. That was my favorite arrangement, because I never worried about my bike getting stolen (the facility was badge-access and we had an open floor plan, so my colleagues were generally around even if I was in a meeting). So even if you don't have a secure space for employees to collectively park bikes (like an indoor bike room), if you allow employees to bring their bikes inside or set up ad hoc hanging racks near desk clusters that is usually just as good.
My favorite end of trip feature is a marine-quality industrial drying room that we installed at Facebook's offices in Seattle