Earlier this month, we held our first Commute+ Reimagined webinar: A look into the future of commutes. We discussed what the future of commuting will look like. Our panel discussed what employers will need to do and challenges they will face as cities proceed through their phases of reopening. Here are our key takeaways from the webinar.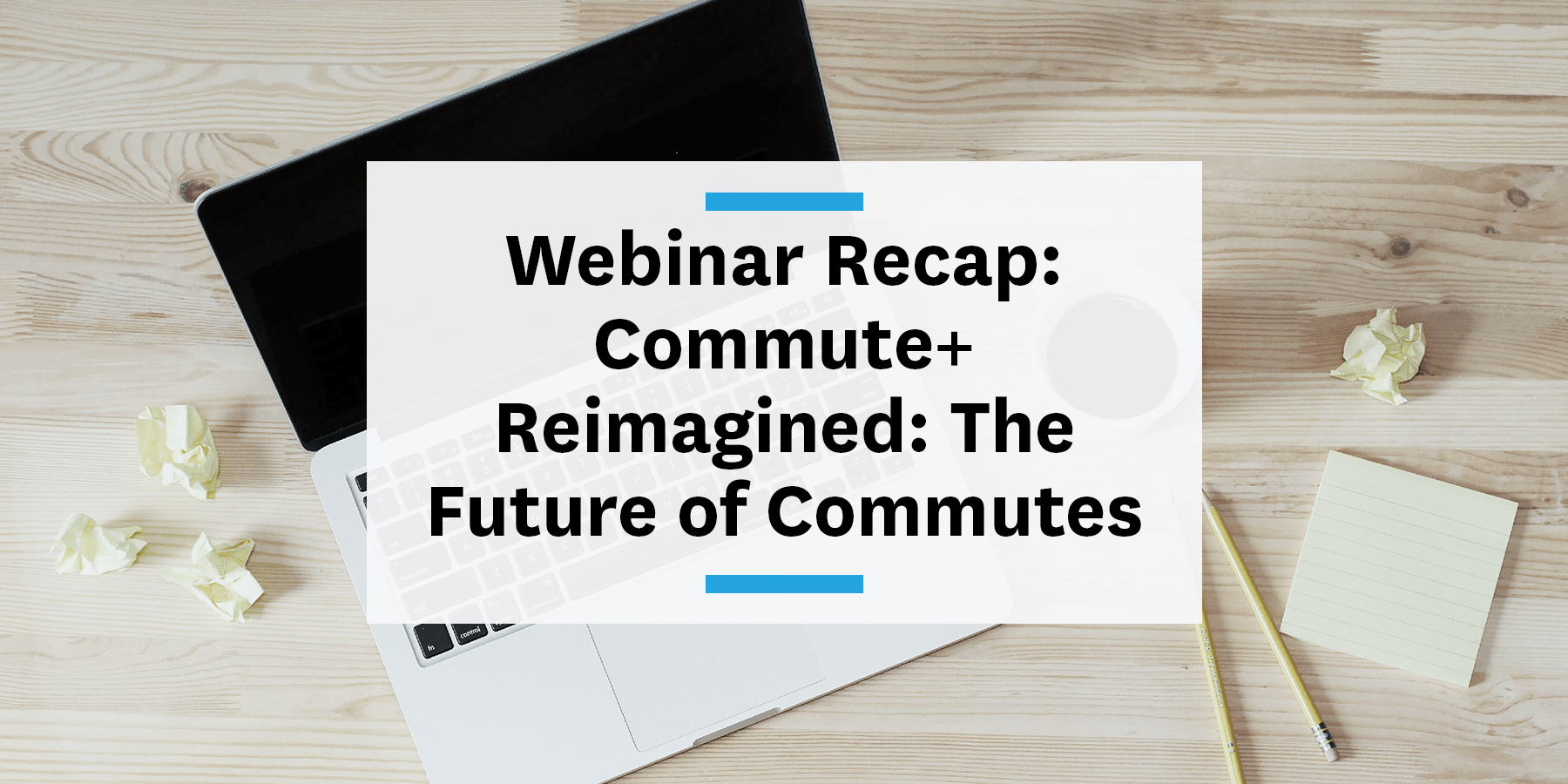 Safety on public transit
This is a huge point to touch on for multiple reasons. Public transit is the main (or only) form of transportation for many city residents. People need to be able to get to work, job interviews, or routine errands safely.
Another reason safe public transit conditions are going to be increasingly crucial is due to the alternative: driving alone. When public transit isn't as readily available and safe, driving will increase. Our current road and parking infrastructure (and the planet) won't be able to handle a major uptick in cars on the road. Luckily, our panelist shared their thoughts and solutions to improve safety (and the perception thereof) on public transit.
Mandatory mask use
As cities and states begin to reopen, face masks or coverings are generally required in public, and certainly for public transit. In order to keep drive-alone rates down when companies return to their offices, public transit needs to help enforce these regulations. In order for riders to feel safe enough to choose transit, face masks coverings need to be worn.
Although public transit is largely used for essential trips right now, there's evidence that clusters or outbreaks are preventable on public transit – if proper safety measures are followed. Tokyo and Paris are two large cities with heavy public transit use. During this pandemic, neither city has seen any increase in cases or clusters (three or more cases) from public transit use. The reason: Riders follow safety guidelines set for them. While this level of containment isn't due to just the use of face masks, they clearly play a significant role in these positive results.
Penalties
On the flip side, riders need to be held accountable while riding. Transit agencies can clean and clean and clean, but those efforts aren't effective when riders don't follow safety protocols. In order to hold riders accountable, there should be penalties. In London, riders who fail to wear a face mask or covering can be subject to loss of riding privileges and up to a £100 ($123) fine.
Riding penalties aren't a one-size-fits-all solution, but there needs to be a system in place to hold riders accountable.
Visible cleaning procedures
Right now, there are a lot of safety guidelines for individuals to follow to prevent the spread of COVID – especially for people who ride public transit. Transit workers play an equal, or maybe greater, role – and riders want to see the effort.
Don't get us wrong, we know all transit employees are working hard to make riding environments as safe as possible! What we're saying is riders need to see the effort being made to keep buses and trains clean for added peace of mind. It's easy for these agencies to say they're cleaning and making all this effort, but sometimes it's better to literally show rather than tell. This can go a long way in getting people more comfortable using public transit again.
Leading by example
As we mentioned above, riders want to see words put into action. In addition to cleaning efforts, seeing leaders and celebrities practicing the safety measures put in place holds a lot of weight.
Opportunity for change
Completely overhauling a commute isn't easy for a lot of people. As humans, we're creatures of habit, and that is especially true for things we do every day. During quarantine and through the beginning of reopening processes, employers and employees have an important opportunity to change the way commuting happens.
The fresh start effect
The fresh start effect is when a significant event happens and someone has the opportunity to make a significant change or improvement. Studies have shown that when someone is presented with a fresh start, they're more motivated to achieve new goals and disassociate themselves from their previous performance.
This is especially true for when employees start returning to work after quarantine orders. Combining the time back from not commuting, the additions of bike lanes, and lowered speed limits, employees have the opportunity to give up driving to work – even just a few days a week. This is also a time for employers to encourage more sustainable commutes and set new commuting goals for individuals, as well as a company as a whole.
Employers
As cities begin proceeding through their reopening phases, employers have the opportunity to reevaluate their commute management programs. That includes the commuter benefits they offer and the TDM strategies they employ.
Cities are changing the way streets and sidewalks are used, opening the door for employers to offer benefits to take advantage. That could mean subsidizing bikeshare memberships for employees. Employers can also increase the amount of secure bike parking available to their employees.
In addition to expanding or reworking commute management programs, employers need to communicate changes and updates. What good is making changes for the better if employees don't know about them? Adding guidelines, processes, or return-to-work updates to the company intranet or company app is just as important as the added commuter benefits.
Employees
Employees also have an opportunity to change their commutes. Updates to city streets have created a perfect opportunity to learn bike routes to the office. Employees have also learned that they have the resources and ability to work from home, which means they can continue to work from home a few days a week, even after their company returns to the office (pending approval, of course).
Lead(ership) by example
We touched on local officials or celebrities riding transit and following safety protocols — the same goes for company leadership teams. It's one thing to talk about changing commutes and offering new benefits, but it's another for the leaders of the company to follow the same advice. If employees see their managers driving to work, they might think that they should. But if they see the CEO biking to work or choosing a more sustainable commuting option – even a few days a week – they'll be more likely to adopt the same mentality and effort.
No one-size-fits-all solution
As much as people want the answer to fix everything, no commute management program works for every company. There are so many factors that go into creating commuting solutions, every company needs to do what's best for their organization. This starts with analyzing what options are available, listening to employees, and seeing what's affordable and possible.
Almost every employee at TransitScreen comes to work by means other than driving alone, but employee commutes were a top priority when we moved offices last fall (obviously). Now we are looking at what is possible and realistic for our employees' safety and how we can help employees who may not feel comfortable riding the Metro right away, once we return.
This time, as challenging as it is for many, is also an opportunity for employees and employees alike to make a change for the better. If you missed this past webinar, have no fear, you can rewatch and listen to our panelists' insights first hand. Check out the insights from our other webinar: Commute+ Reimagined webinar!