Commute management is the practice of employers playing an active role in helping employees create an optimal, low-stress commute in order to increase happiness and retention. It's a combination of commuter benefits, transportation demand management, and employee engagement.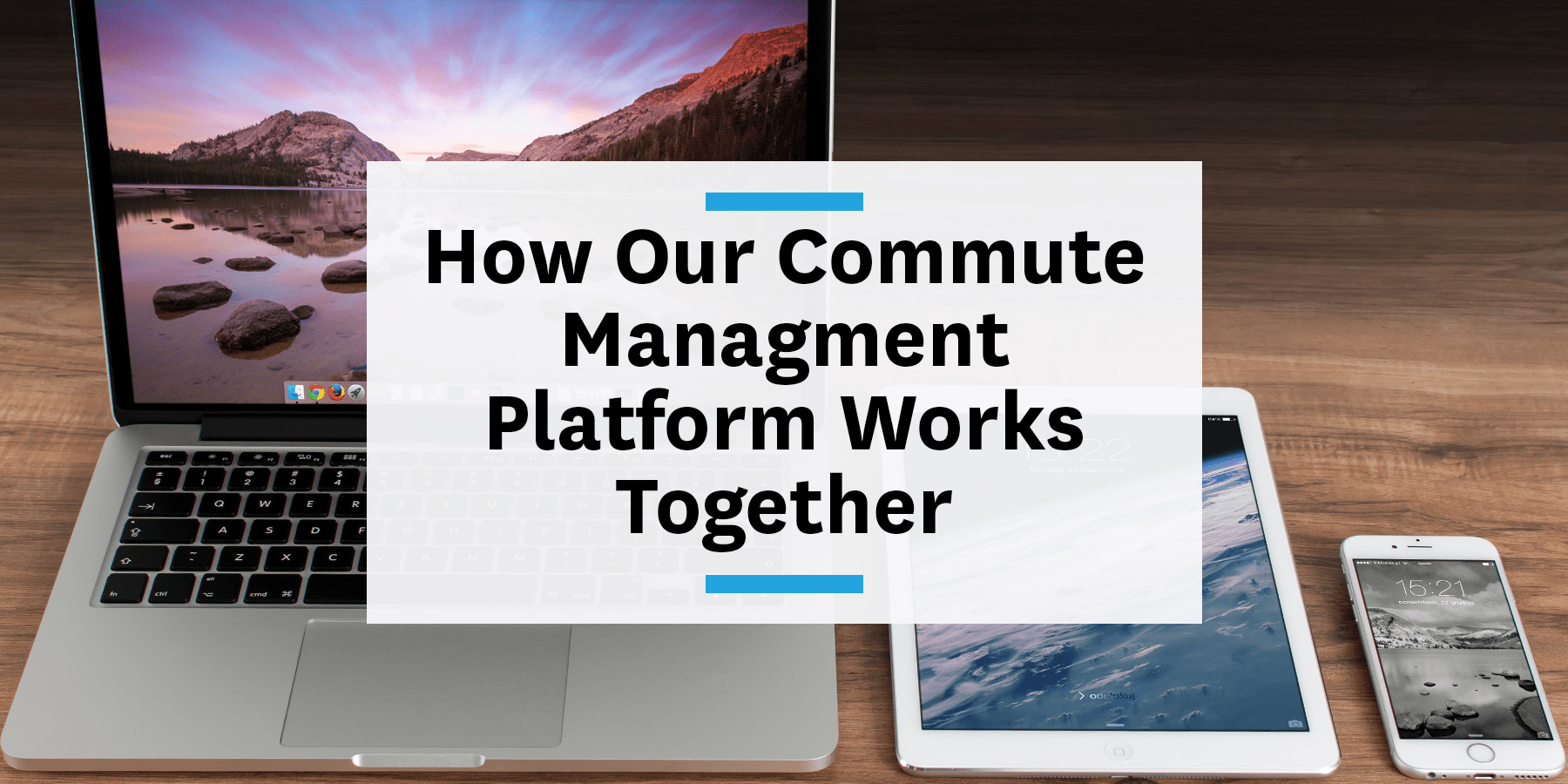 Quarantine orders have disrupted and changed the way companies and employees operate, and commuting will see some of the most significant changes. Creating a comprehensive and succinct commute management plan is a large piece of return-to-the-office plans. Our suite of products can help you do just that – for the initial return, and well beyond.
CommuteWise
The first step in creating a commute management plan is making sure your employees understand their options and create a plan. CommuteWise is built to help your employees make the best commuting decisions based on their preferences and the benefits you're offering them. Here is a step-by-step walkthrough of how this platform works.
Step 1: Get CommuteWise to your employees. You can send them a link, add it to your company Wiki or intranet, or set up an email campaign. The most important thing is making sure you communicate your commitment to helping them with their commutes.
Step 2: Once your employees have access to CommuteWise, your involvement in their individual benefits selection is pretty much over — it's that easy for you. The next steps are up to the employees. They answer questions about their commute, including:
The days of the week they will be commuting to the office
The latest time they want to arrive at the office and when they usually leave for the day
Where they will be commuting from and where they're going
Once they answer those questions, CommuteWise analyzes thousands of data feeds to give an easily digestible view of all available commuting options. It can also include any subsidies offered by your company, and private options – like a shuttle you're providing or local bikeshare.
Employees can sort the options by cheapest, fastest, or your recommended options. Then it just takes one click to sign up for these benefits through direct integration with your providers. If that sounds too easy, it's because it really is.
For a full breakdown and explanation of CommuteWise, you can read our blog, or visit the CommuteWise product page.
CityMotion
However, having a plan is just the beginning. There are plenty of reasons an employee might have to modify their commute on any given day — they're running late, it's raining, office capacity has been reached and they'll need to work from home. Our mobile app, CityMotion, provides the real-time information your employees need to have a seamless commute.
Let's say an employee plans to take the bus to work most days. Through CommuteWise, they decided to take advantage of the public transit subsidy your company offers and are signed up for a monthly pass. When they download CityMotion, their preferences will be saved.
Your employee will receive a CityMotion notification in the morning telling them it's time to leave in order to get to the office by the latest time they selected. They will also be alerted in the afternoon, and can see when their chosen bus will be getting to their stop.
They'll also have access to service alerts for public transit in their area, so they'll know ahead of time if their metro or bus is delayed. Anyone who has taken public transit knows that roadblocks occur (pun intended). This way, they'll be able to come up with an alternative.
The messaging feature in CityMotion allows you as an employer to send important information or notifications to your employees directly through the app. This is an important tool for when your workforce begins to return to the office. You can send information about office capacity, building information, or safety protocols.
TransitScreen
TransitScreen provides a central hub for your entire workforce (and guests) in the office. Your employees have access to curated content, customized specifically for your office. This information includes real-time transit information, nearby attractions and after-work activities, and employer-crafted messaging.
Each TransitScreen is built for each of your office locations – even if the locations are on the same campus. We give you and your employees real-time, curated transit information wherever you are. The information presented on your TransitScreen is also available in CityMotion, and travels with your employees wherever they go. Our goal is to make commuting as pleasant and easy as possible, and with our product suite, we're doing just that!
Our suite of products work together to create a seamless commuting experience, from employee onboarding (or reonboarding), through their entire tenure. Get in touch with our team to learn more about how we can help your return-to-the-office plan!