Getting to and from class can be tough for students. Students who live in on-campus dorms can have just as many issues as their off-campus classmates.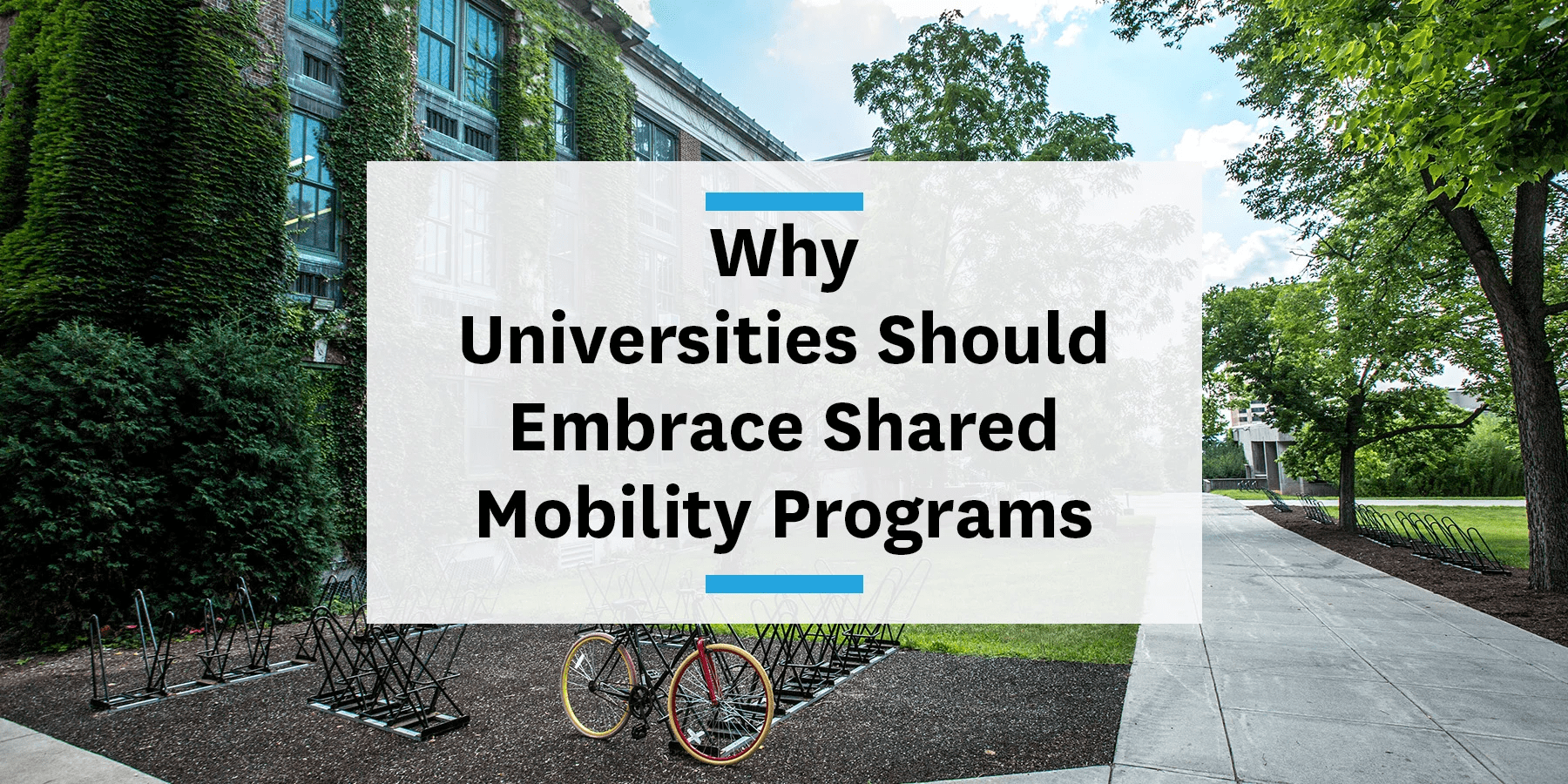 Mobility programs that provide options like electric scooters and bikesharing systems (docked and dockless) not only make campuses more accessible, but they can help resolve the much dreaded parking issues. With increasing amounts of mobility options hitting the streets and sidewalks, campuses shouldn't fall behind.   
Cross campus travel
College campuses can sometimes cover thousands of acres, putting a lot of space between academic buildings, on-campus housing, and off-campus residents. These distances can make getting to and from class a trek for students. While campus shuttles provide a lot of support, every student has a different schedule and may need other options.
Scooters provide a reliable and sustainable method of getting around campus. One of the biggest benefits they provide is in regards to short-distance travel. Even if students have cars, short trips to class aren't always worth the time and money of cars and parking. Unless students are full-time commuters living far from campus, the hassle of driving to campus for every trip simply isn't worth it.
Universities embracing bikes and electric scooters
Parking seems to be an issue for schools everywhere. Students and faculty pulling into a garage and driving around forever looking for a spot isn't ideal for anyone – not to mention the price of parking passes! Depending on a school's location, parking passes can reach as high as a couple thousand dollars per year, on top of tuition, housing, food, and the cost of owning a car.
Some schools are offering commuting cash-out programs in an effort to promote more sustainable forms of getting to and from campus. The University of Maryland is offering graduate students and staff members a cash bonus to give up their parking pass. While faculty members may not live as close to campus, graduate students might have an easier time making the transition to scooters or bikes from a car.
Boston University also provides monetary benefits for employees' bike expenses. Employees can receive as much as $300 per year for bicycle-related purchases. The school also offers discounted bikesharing memberships for employees and students who don't have their own bikes, but are willing to change how they get to campus.
Electric scooter partnerships
Scooters can make university officials nervous. Having students zip around and then park them when they are done riding can create second thoughts – that's why companies want to help. Scooter companies want to make sure riders are considerate, responsible, and safe as much as the schools do.
Scooter companies including Spin and Lime both operate campus programs around the country. These mobility programs aim to teach riders how to be safe while riding and considerate of where they park when they're done. Most scooter companies will send free helmets to riders and have started hosting safety events and rides to get people more accustomed to riding and parking safely.
Scooter companies are also implementing parking stations to clean up sidewalk clutter and keep scooters charged without needing to be picked up. While they aren't currently widespread, these stations could be easily implemented at universities. Similar to bike racks, scooter docks reduce clutter, while also charging scooters to increase their reliability. Also, as part of Spin's campus program, they cover operations, equipment, marketing, and work with the school on custom deployment areas.
More mobility programs for students
Bikesharing has been around longer than electric scooters, so some universities have their own systems or offer discounted memberships for staff and students. Scooters aren't meant to take riders away from biking, but rather to give more options for sustainable commuting.
As we mentioned earlier, scooters and bikes also make up for where campus shuttle might be lacking. Most, if not all, campus shuttles run on set schedules throughout the day, helping students and staff get to, from, and around campus. This is perfect, except when life doesn't go according to plan. Since not every day is the same for everyone, sometimes campus shuttles aren't the best options. This is where adding scooters and bikesharing systems to your mobility program can fill in the gap — when schedules don't go according to plan.
Helping campus shuttles
Schools in downtown areas have additional access to mobility, with transit systems like subways and bus systems in place. Offering free or discounted transit passes to students can be a huge perk, but it can get expensive and may not be as convenient for short trips. Having scooters on or around campus helps make up the short-distance gap and takes some of the financial burden off the school.
Class dismissed
The mobility landscape is constantly changing. Scooters are being replaced with newer, more efficient models, cities are putting in more bike lanes, and buses are going electric. Short trips to, from, and around campus should never be taken by car. Mobility programs which provide options like bikes and scooters can and should be used, and it's up to universities to allow these changes to happen.