A resurgence of ferries in Boston Harbor is responsive to growing real estate development and employment opportunities in the Seaport District, East Boston, and surrounding areas. It's a fresh revitalization of one of Boston's oldest ways to get around, and one of the most enjoyable ways to commute.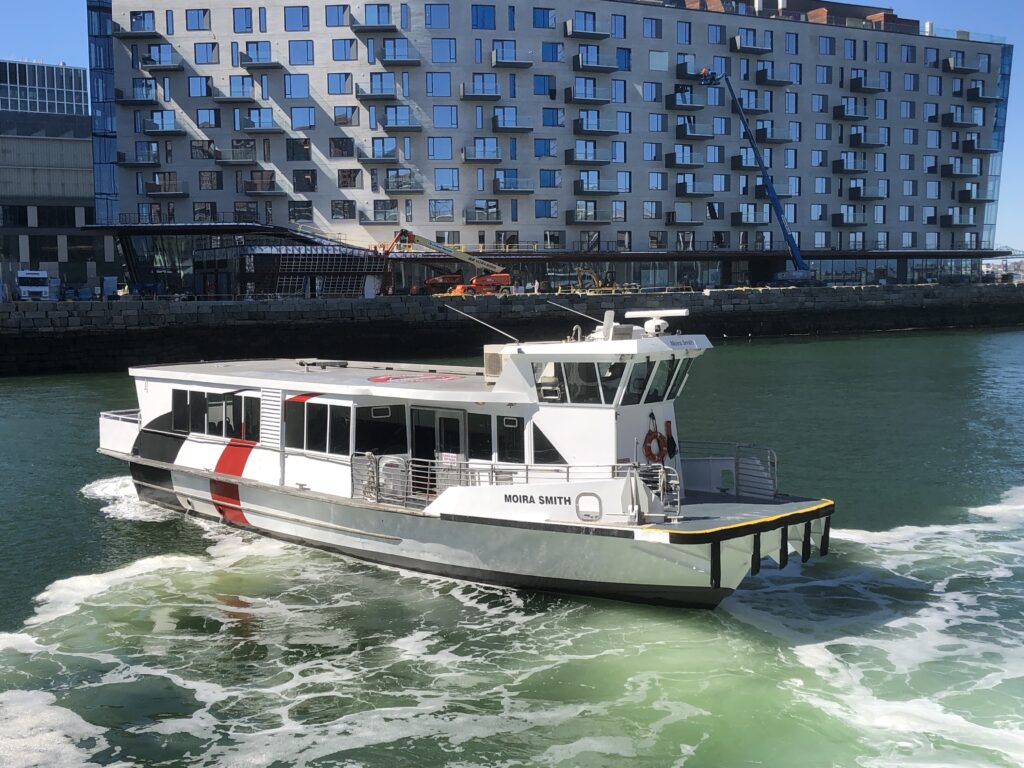 Ferry service has been integral to Boston Harbor for close to two centuries. Compared to subway, bus, and commuter rail, ferries still serve a niche, for many of the businesses, communities, and employers ferries serve, it is becoming more critical. And for those who have multiple choices to get from A to B, using the ferry can be the most convenient and even the fastest way to travel!
With growing areas like East Boston, and with the booming employment center of Seaport District, new and modern ferry services are coming online to connect commuters, visitors, and residents, making those locations even easier to get to.
A Brief History
Ferry service in Boston started in 1834 connecting Boston's downtown waterfront to East Boston. Routes were started in the inner harbor, North Shore, and South Shore, and riding ferries was a primary mode of transportation for many. In 1904, a streetcar tunnel under Boston Harbor, which is now the MBTA Blue Line, was the start of a decline of ferry usage, as streetcars, trains, and the automobile became more commonplace.
In 1963, a resurgence of ferry service began, starting with service to Hull, on the southern edge of Boston Harbor. Service to Hingham began in 1975. Other routes came and went, and eventually the popular routes, including service to Logan Airport, became part of the MBTA.
Today, MBTA's ferries are critical transportation infrastructure for communities such as Hingham and Hull. Additionally, they fill in gaps where other transit modes may be down. Recent work being done on the MBTA's Blue Line, which goes under Boston Harbor, brought online temporary ferry service to help passengers connect. GBH's Jeremy Siegel interviewed passengers on one of the temporary ferries and came away saying "everyone I talked to wants it permanent."
A Growing New Ferry Service: Seaport Ferry
Prior to the onset of the pandemic, a long-anticipated ferry service between North Station (Lovejoy Wharf) and Seaport (Fan Pier) began in late 2019. This new service was created as a public-private partnership with companies in Seaport with an interest in improving transportation choices. It's managed by the Massachusetts Convention Center Authority (MCCA) which has its own department to provide public transportation services. The service runs every 20 minutes.
Patrick Sullivan, Executive Director of the Seaport TMA, the Seaport District's Transportation Management Association: "You can now get to or from North Station in 14 minutes. For many commuters, the ferry is now the most efficient connection to Seaport."
Expanding Connectivity
Many addresses in the Seaport District have a MobilityScore® in the Excellent range, in large part due to the reliability of the MBTA Silver Line and regular high availability of Bluebikes. However, there is high interest among companies and commercial real estate developers in making Seaport even easier and more enjoyable to get to.
One of those companies investing in the ferries is Vertex Pharmaceuticals, headquartered in the Seaport District, providing free ferry commutes for their staff. This transportation benefit addresses the top reason many do not want to go to the office: bad commutes. The ferry is a great way to avoid crowds, escape traffic, and in Vertex's case, to be dropped off steps from work. In addition to providing this choice for staff, it's a cool way to get to the office!
Then, when Vertex employees are leaving the office, the choice of the ferry can be the fastest connection towards home.
Expanding upon the new Seaport and North Station connection, a route began in September 2021 between Seaport and East Boston. The East Boston connection goes to Lewis Mall Dock, just steps from thousands of new residential units and blocks from the T's Maverick station on the Blue Line. From Boston Magazine: "Eastie is undergoing a real estate renaissance… the neighborhood has become so popular with young professionals due to its (relatively) reasonable prices and proximity to downtown, that investors and developers have capitalized on the area's potential…" The Seaport to East Boston ferry aims to meet the new preferences of professionals in Eastie with growing job opportunities in Seaport.
The Future of Ferries in Boston
Boston Harbor Now, a leading advocacy group for commuter water transportation in Boston Harbor and a supporter of transit-oriented development, conducted a major study on water transportation in Boston Harbor. Draft plans include expanding point to point service on the ferry, including a connection to Pier 10 in Raymond L. Flynn Marine Park, in the South Boston Seaport, which is already progressing through the design phases.
Ferry service is set up for continued growth in Boston Harbor as commercial real estate, employers, and commuters see it as a way to escape traffic, avoid crowds, and for many, the most efficient way to get to work.
Seaport TMA's Patrick Sullivan added, "and who doesn't love riding on a boat, right?"
Resources