When your employees return to the office, things will be different. The way they work is going to change, the environment they're working in will be different, and even their work schedule will be altered. It's going to be up to you to help manage the changes your employees will face upon returning to the office. Implementing change management strategies can help you simplify the process for your employees.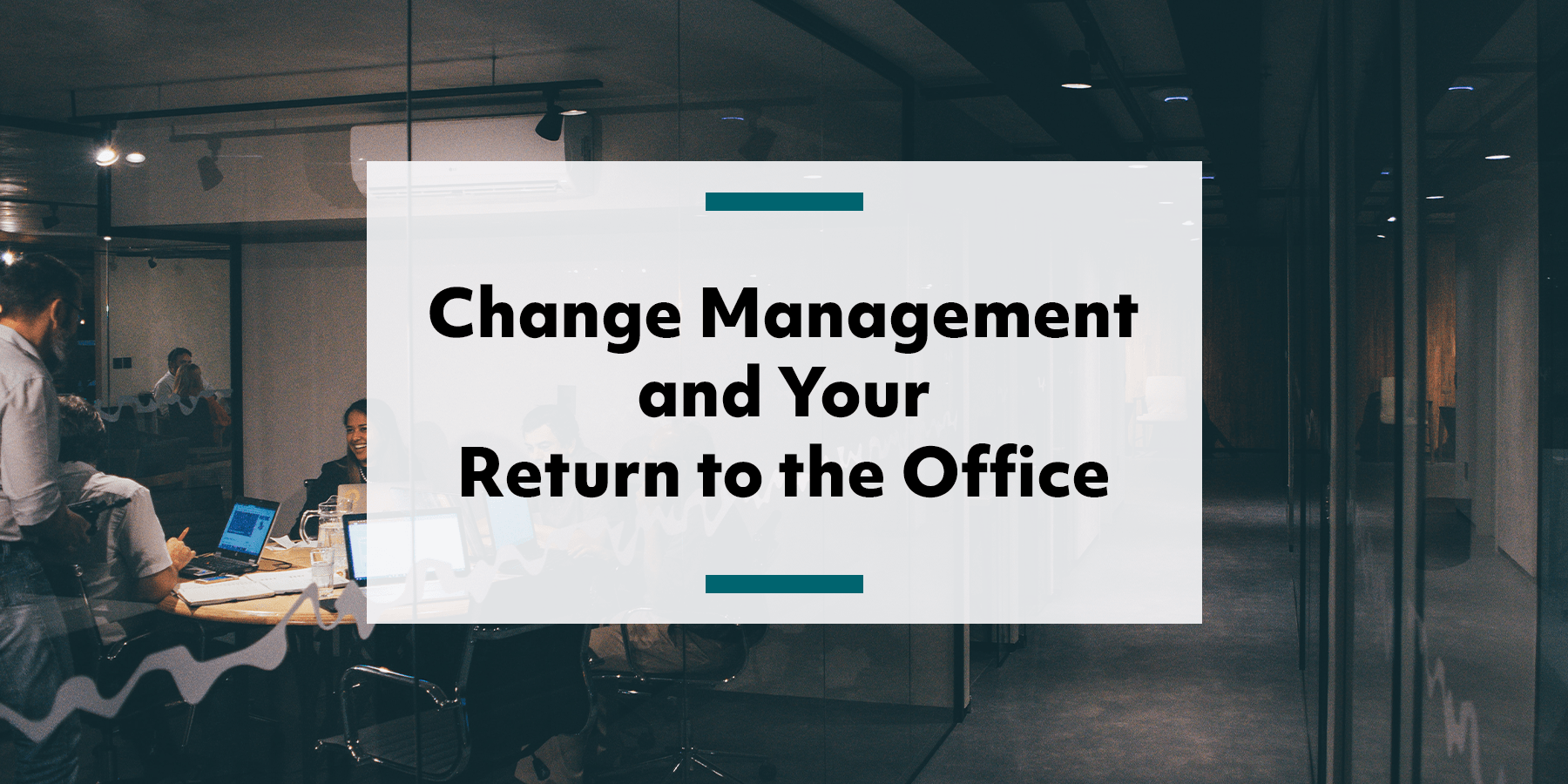 What is change management?
Change management is how you prepare, assist, and help your employees through individual or organizational changes. Your organization's response and process of helping your employees adopt permanent work-from-home schedules during COVID-19 is a perfect example of change management. You provided the resources they needed to be as successful and productive as possible – even if it took a little bit of time.
Change management isn't a new concept. But due to the ever-changing nature of COVID-19 and the restrictions and news that comes with it, there is more change in a short period of time than almost ever before.
Communication
So now that we've covered what change management is, let's talk about how you can work through implementing it. First, think about your communication strategy and efforts. Preparing your employees to work from home a little bit longer and then get ready for the eventual return to the office requires effective communication. Right now, only 42% of employees say their company does a good job of communicating overall. That means you may not be doing as good of a job as you might think. (Or you're doing an amazing job, but you should ask your employees what they think – it can't hurt!)
Helping your employees return to the office needs to start now, and that means effective communication. Your employees don't just need to hear from you, they want to hear from you. The #1 expectation from employees during the COVID-19 crisis is that their employers communicate effectively, according to an Alight study.
They want to know what you're doing to make the office safer. What are employees required to do to return to the office? Is there a return timeline? These are just some of the many questions they want answers to.
Office space
In addition to effective communication, you need to consider the use and layout of your office space in regards to your change management strategy. Your employees have been working from home for nearly a full year. That means the way they work and relax have changed. The biggest change? They are now working in the same space where they used to escape from work. There once used to be a barrier between home and the office, which has now all but vanished.
To help them cope, you gave them resources to make their home into a viable workspace. You might have given them a workplace or productivity stipend to solve their internet connectivity issues, or provided them with a second screen for their home office. You helped them manage the change of working from the office to working from home. Now it's time to do the opposite.
Now you will have to make your office into a home – kind of! At home, working on the couch is normal. Hosting a Zoom meeting at the kitchen table is normal. Once your company returns to the office, you need to maintain some of that normalcy. How? A hybrid office design.
A hybrid office provides both private and personal workspaces, as well as open, collaborative spots for interaction. That could be couches for your employees to use while working, or cafe-style seating (space permitting, of course!) One of the largest downsides to working from home has been the need to collaborate through computers and cameras, so your employees will want to be in the same room as each other when they return. You need to manage their expectations and needs with a more welcoming and collaborative workspace.
Updating your office space will allow your employees to fully embrace being back in the office. They will need time and resources to help with the change and a comfortable workplace will play a major role in their transition back.
Commutes
We've been hearing and reading stories about people who were maintaining their schedule by simulating their commutes with walks or bike rides for the same duration of their commute. Why? Because they want to separate work and home, not because they miss the effort and stress of a real commute.
What does that mean for you? Helping your employees relearn or just learn a new commute. If you're going to go through the effort of making your office safe and more conducive to collaboration, you need to help your employees get there! In fact, only 12% of people will continue to work from home full-time once their company goes back, according to a study by Gensler. That means you should anticipate that the majority of your workforce will begin commuting again in some capacity.
So what can you do? First, start planning now. Survey your employees and get a read on their thoughts and feelings about returning to the office. From there, ask about their commutes and anticipated in-office schedule. These may not provide concrete numbers, but a general idea is perfect for the time being. How can you help your employees with this change if you don't have a grasp on their mentality?
We've just thrown a lot of information at you about communication, improving your workspaces, and employees commutes. It sounds overwhelming, but there's time and resources to help. Conveniently, we just released our new return-to-the-office toolkit! We help you with timelines, checklists, and even email templates. Click here to download!