Boston, the birthplace of public transit in America, has a rich 300+ year transportation history including ferries, horsecars, omnibuses, electric streetcars, and having the country's first subway tunnels.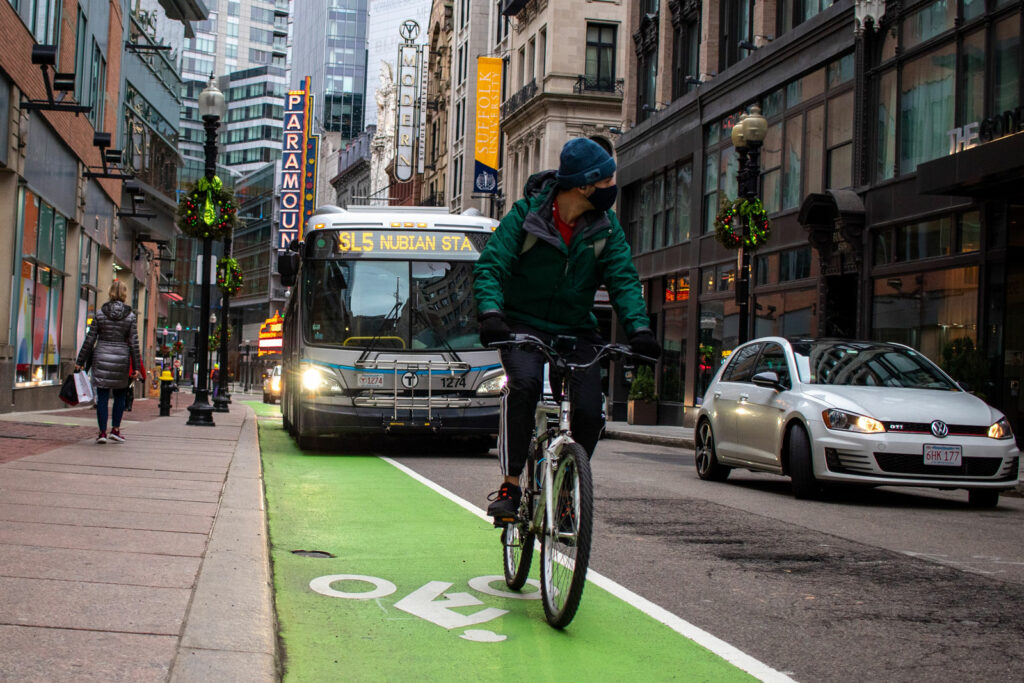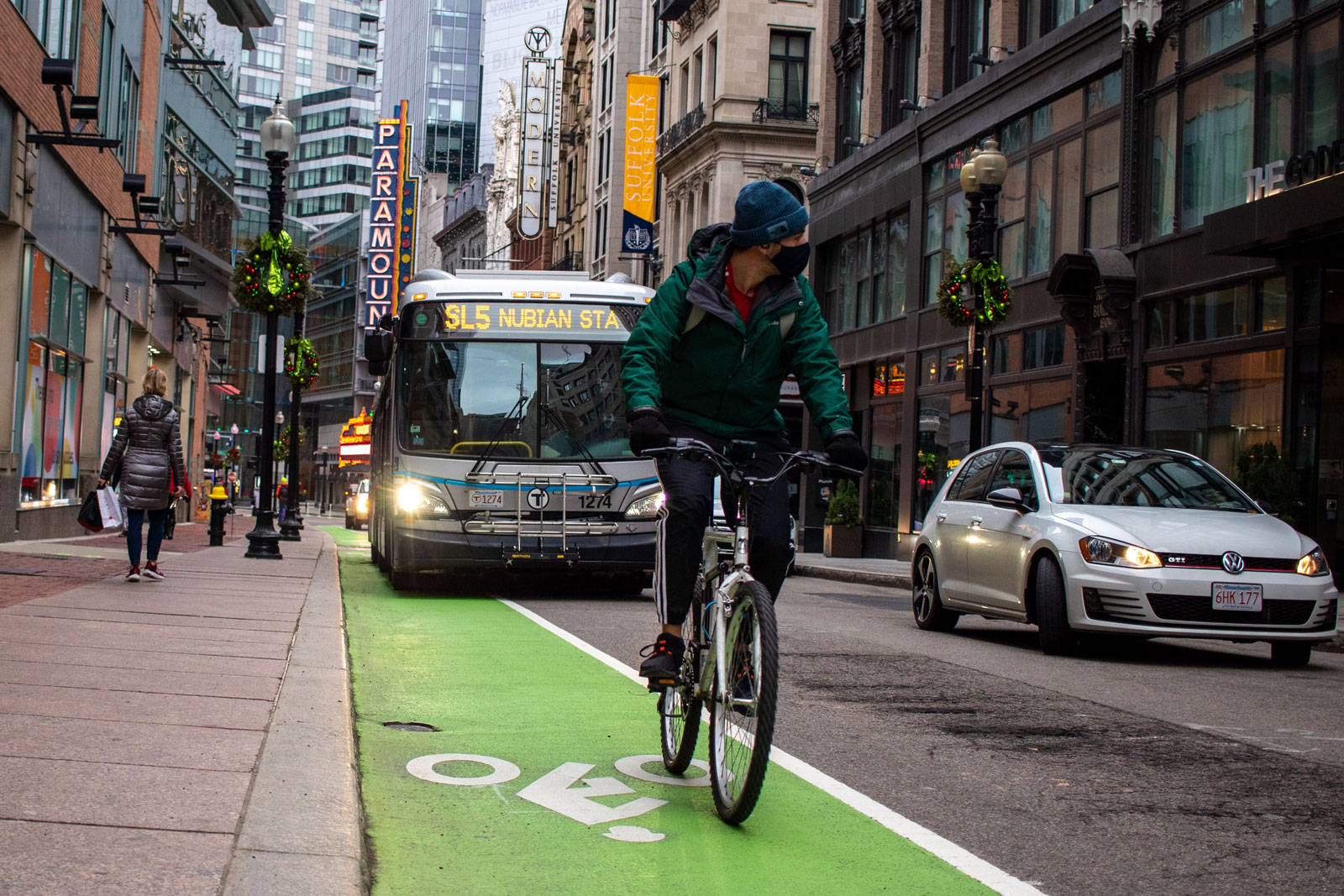 Today, the Massachusetts Bay Transportation Authority (MBTA), or the "T," is one of the largest transit agencies in the U.S., is the largest in the country to use electricity produced solely from renewable sources, and serves close to 200 cities and towns on buses, subways, ferries, and commuter rail.
The T continues to evolve to the changing and growing needs of the region, and the MBTA and the City of Boston have recently made some changes that make commuting by transit even more attractive.
Fare-Free Routes
Commuters along Blue Hill Avenue in Mattapan, Roxbury, Dorchester, and other connecting neighborhoods are now benefiting from fare-free buses. Free buses have proven to increase ridership, and free buses remove a significant barrier when it comes to commuting to a workplace. Without the need to pay a fare, you can board these buses with any door, which simplifies and speeds up the process of getting on the bus, making the ride more efficient for everyone on it.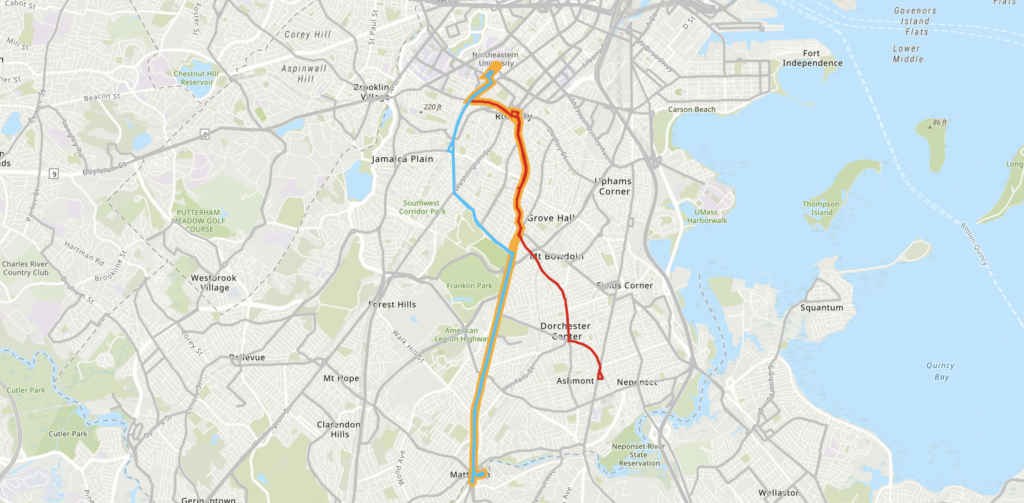 Routes 23, 28, and 29 have some of the highest ridership in Boston, and Route 28 specifically, since free-fares were implemented, has now become the most popular route in the city. These routes travel through and along Blue Hill Avenue, which is prioritized for further improvements in the Blue Hill Avenue Transportation Action Plan.
Dedicated Bus Lanes
Over 24,000 commuters ride along Washington Street in Roxbury and the South End. Today, dedicated bus lanes provide faster and more convenient trips. Six months after the center running lanes were installed, NBC10 Boston's Jeff Saperstone checked in, and the results were overwhelmingly positive. Video below:
A survey conducted in December 2021 (PDF) with the LivableStreets Alliance and the City of Boston showed 74% of riders said they had a faster trip, and that the real-time bus arrival signs are by far the favorite new feature. There are now plans to extend this project as well as apply it to other routes.
Green Line Extension
The Green Line Extension (GLX) expands service on the northern end of the Green Line from Lechmere to Union Square in Somerville and College Avenue in Medford.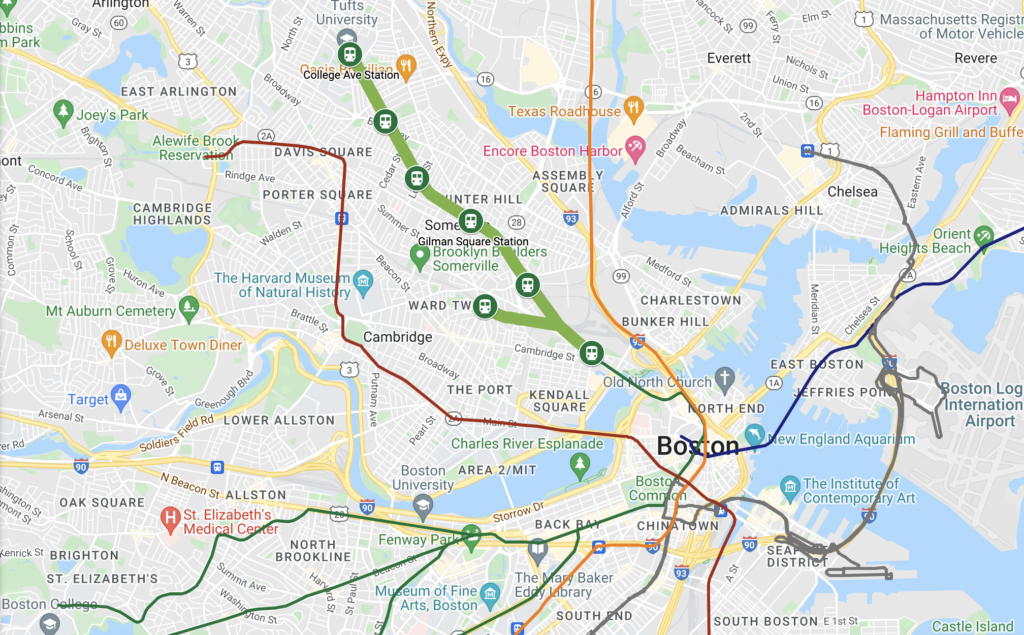 The Green Line Extension has been decades in the making. The portion to Union Square opened with fanfare in March 2022, and the Medford Branch is scheduled to open in the summer of 2022. This extension adds fast and reliable public transit to areas that have not had it before, and supports an increased ridership of more than 50,000 trips per day.
Transportation Demand Management Professionals
The Boston area is unusually rich with Transportation Management Associations (TMA) with Transportation Demand Management (TDM) professionals helping businesses, organizations, educational facilities, and multifamily buildings help their tenants, employees, and guests get to where they're going in more sustainable and efficient ways.
These associations provide direct assistance for helping plan commutes, facilitating ride matching for carpool and vanpools, promotion and distribution of transit and commuting information, and consulting services to make trips to and from your location as easy, sustainable, and affordable as can be. TMAs can also help larger developments navigate Boston's TDM point system helping encourage transit use and to right size parking.
MassCommute is a coalition of fifteen TMAs in Massachusetts. Over half of them are serving the Boston, Cambridge, and Somerville areas, including but not limited to:
New Trains
The MBTA has been modernizing its fleet. They debuted the first new Orange Line train in 2019, and at the end of 2020 launched the first new Red Line train. The new trains offer more space, wider doors, more handrails, LED lighting systems, greater accessibility, and modern visual and audio systems.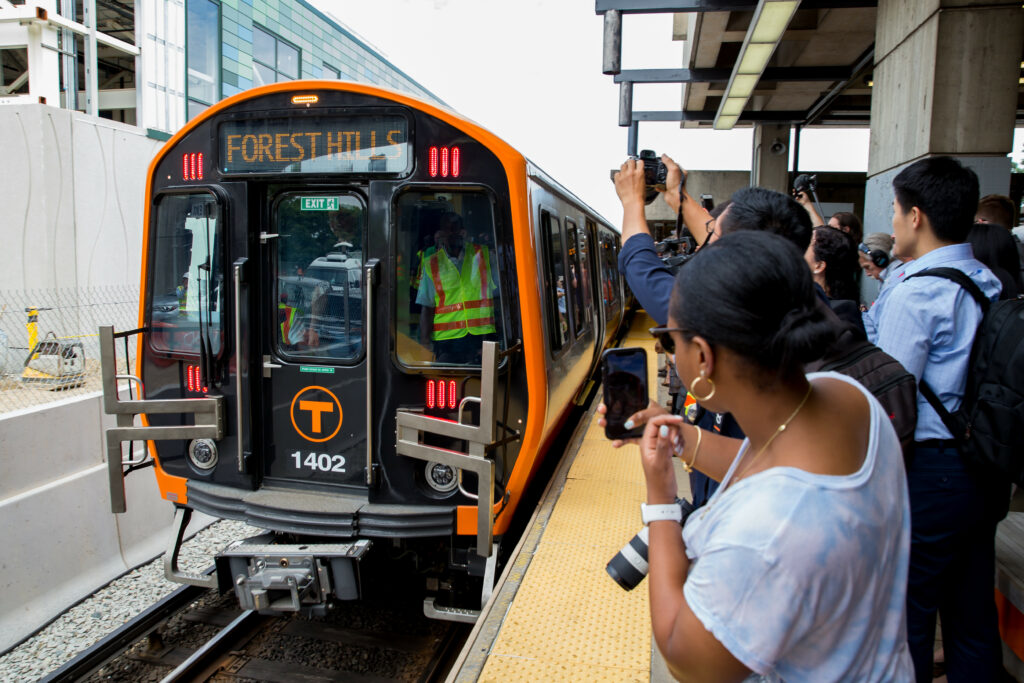 There have been some stops and starts responsive to prioritizing safety with new equipment. When all is completed, 152 new cars will be on the Orange Line by Autumn 2023, and 252 new Red Line cars will be in service by September 2024. Some have described the new trains akin to "riding into the future"!
Go Boston 2030
With the collaboration of thousands of residents and workers, a broad advisory committee, and years of work and public engagement, Go Boston 2030 became Boston's long-term mobility plan. Go Boston 2030 contains a concrete Action Plan with 58 defined projects to improve traffic safety, expand transportation access for every Bostonian, and to reduce the average commute to work time.
As of the end of 2021, more than half of the projects in the Action Plan were already in progress with an additional 11 in a design phase. The plans are extensive and well-documented, from expanding bike share, making neighborhoods more walkable, building out bike commuting corridors, complete streets projects, and making commuting easier and more equitable.
Overall, the Boston region is continuing to create history in transportation from being the first city with public transit to maintaining being one of the most attractive places to commute in North America today.