The holidays are full of food, drinks, and gifts. All hopes are usually reserved for the newest smartphone or gaming console, but outside of big-ticket items, gift giving can be a challenge. Why not give a gift that can be used every day and make an impact? To help with your holiday shopping this year, we have put together the ultimate commuter gift guide.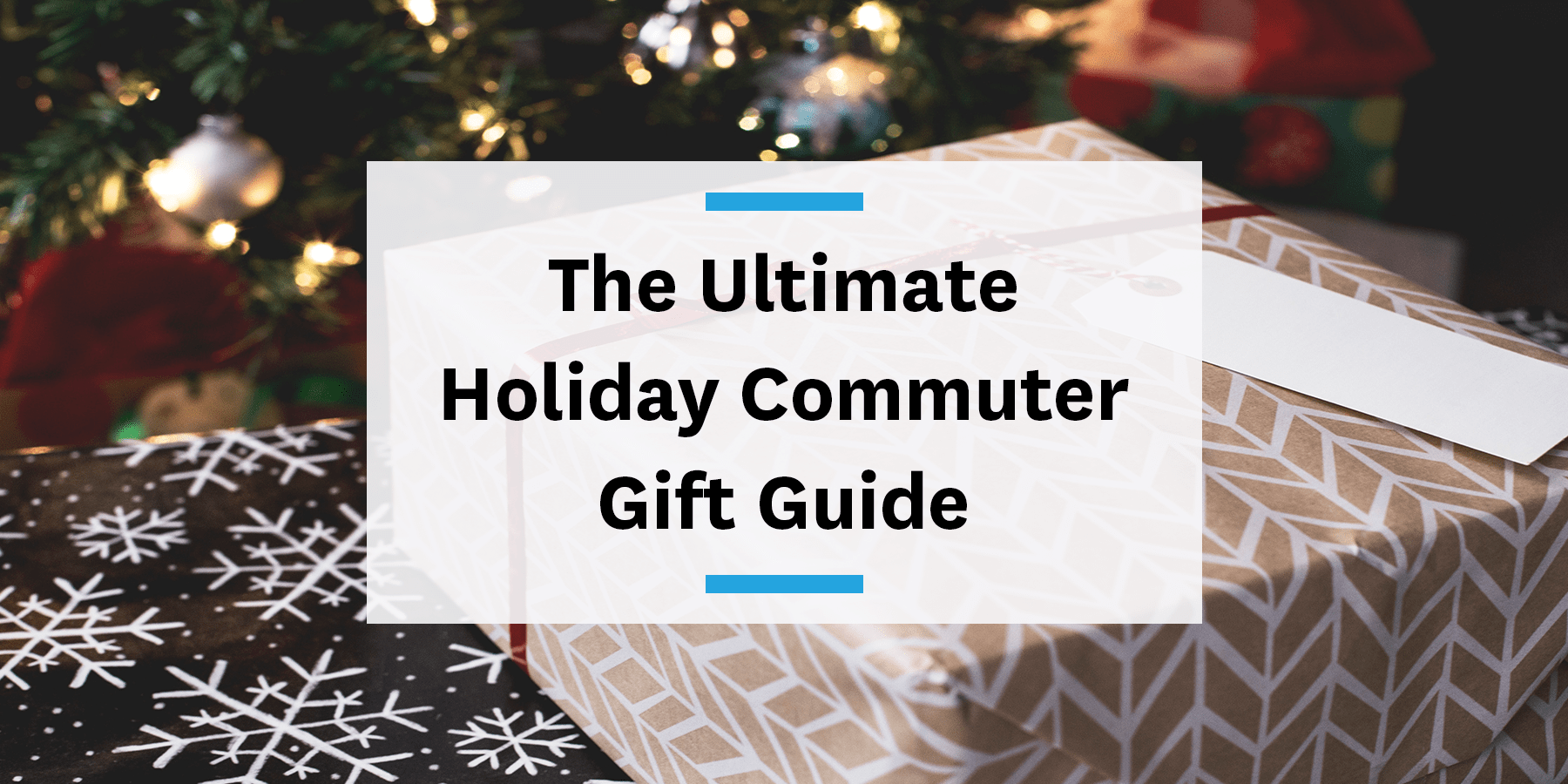 These items are practical, can be used every day, and won't break the bank. Consider one (or several) of these for the sustainable commuter in your life! (If that's you, then go ahead, treat yourself. We won't tell anyone.)
Noise-cancelling headphones
Commutes can get loud – whether it's a car honking through an intersection, general sounds coming from the metro, or that person who thinks it's appropriate to listen to music on the bus without headphones. When you're half awake without any caffeine in your system, these sounds can push you over the edge before you even get to the office. Noise-cancelling headphones can bring you peace and quiet in a hectic commuting world.
We know we said these gifts won't break the bank — depending on your budget, noise-cancelling headphones don't have to. Prices can range from around $35 to as much as $400. While quality usually comes with price, there are still options that aren't outrageous. An added bonus with over-the-ear headphones? They keep your ears warm during the winter months!
Smartphone gloves
A pain point that comes with wearing gloves is the inability to use your smartphone. Having to take your gloves off every time your need to answer a call, text, or email is extremely frustrating – especially during your commute. Smartphone-compatible gloves are the perfect compromise.
Cheaper options are available, but as we mentioned before, quality usually comes with a heftier price tag. But even the upgraded versions aren't going to ruin your bank account, running around $45. To add a nice aesthetic, leather smartphone gloves provide convenience while simultaneously upgrading your winter wardrobe.
Washington Nationals World Series SmarTrip card
While this isn't a universal gift, the Washington Nationals World Series SmarTrip card is a collectible item for devoted Nats fans. Coming in at a cool $10, this is the perfect stocking stuffer (or night six Hanukkah gift). Plus, the card comes with $8 for the Metro preloaded on it – so it really is the gift that keeps giving.
Weatherproof backpack
There are few things worse than leaving work and being caught in the middle of a rainstorm. If you're like most of us at TransitScreen, you probably have your laptop in your bag with a few other valuable items. You might be thinking, "Why don't you just open your umbrella?" Sure, that's a good point, but when you're in a location such as Washington, DC, predicting when it's going to rain is almost as hard as guessing the right lottery numbers.
A weatherproof backpack can ensure your belongings are  safe in the event of a torrential downpour. There are quality backpacks all over the internet, but this one is our pick.
Drink tumbler/water bottle
Making coffee for your commute is a great way to save money, but only if your coffee is still hot (or cold)when you're ready to drink it. A drink tumbler will be your best friend – other than the coffee itself! These cups will keep your coffee hot until you're ready to drink it.
If you want to think ahead, an insulated water bottle is another perfect gift for commuters. When the summer hits, having one of these with you on the way to work can help keep you cooler. Plus, a reusable insulated water bottle prevents the use of plastic bottles — win-win for a sustainable commute!
Winter face mask
For committed cyclists, winter weather conditions aren't enough to stop them from opting for a two-wheeled commute. In order to brave the drop in temperature, almost every inch of their body needs to be covered, including their face. A winter face mask is lightweight but still warm, making it ideal for winter commutes. 
Sometimes a full mask is too much, or it won't fit under your helmet. That's where a snood can be a perfect compromise. Your nose, ears, and mouth are the most important to keep warm — and snoods have them covered, literally.Then, there's the gaiter. This is a hybrid between the face mask and the snood. A hooded gaiter can cover your entire head, your nose and mouth, or just your neck. A gaiter is versatile for when the temperature drops a little lower than usual or if it's a little warmer on your afternoon ride home.
TransitScreen staff pick
We have given you the truly essential gift items for commuters, so now it's time to give you a TransitScreen marketing team favorite. Sometimes you just want to keep your nose warm without covering your entire face! We give you: the cozy nose warmer.  You can keep your nose from turning Rudolph red, while keeping your face from getting too uncomfortable. If you're biking fast enough, nobody will even see you.