In June, we spoke with David Allen of Bikes Make Life Better about what the future of biking to work will look like. To gain more insight about overall post-COVID commuting, we caught up with Bobby Lauterjung of Beeline Mobility. Beeline Mobility works with employers to build commuter programs tailored specifically to their company and employees.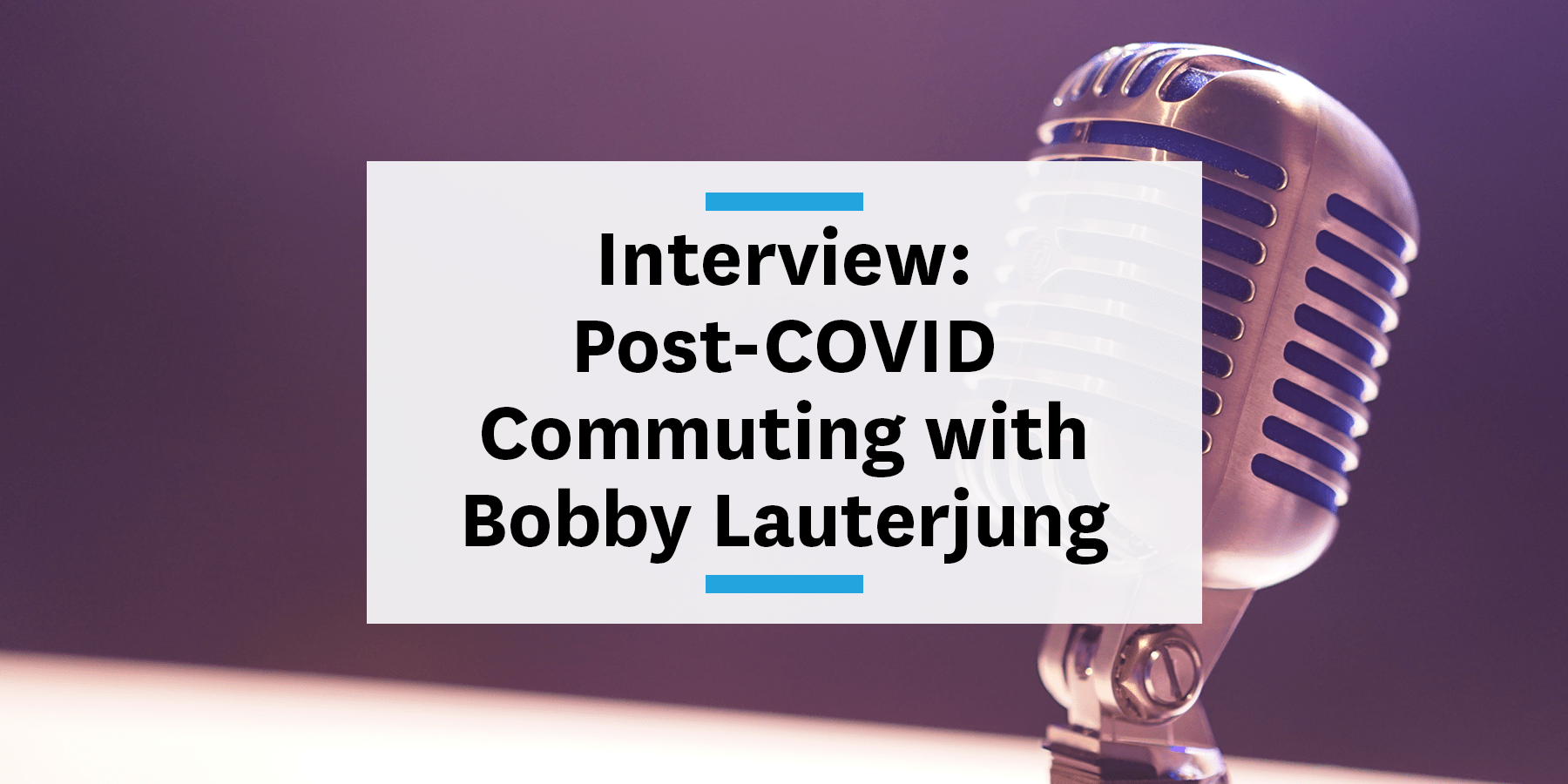 What is the biggest commuting challenge companies will face when their employees return to the office?
Managing success. Without a doubt. Okay, can of worms but…I think that we are on the precipice of a major corporate real estate shift that will have massive economic ramifications. With that shift in the economy can also come incredible innovation and rebirth for companies. We are about to enter into an era of workforce flexibility like we've never seen before. Personally, I'm stoked! While some organizations will choose to resume business-as-usual at their centralized headquarters others will move to a more modern and agile distributed offices model.
I'm convinced that we have a once-in-a-lifetime opportunity to shake things up. I believe in a world where you can get to and from your workplace in under 15 minutes. What would that mean to you if you could walk your dog to work or spend that extra hour with your kids each day? Why sit in traffic when you could be working, sleeping, running errands, volunteering in your community, taking the dog for a walk, spending that extra hour with your kids, or doing a million other things? Let's stop waiting for things to "go back to normal" and instead look forward towards a more healthy, productive, and flexible lifestyle.
Small, strategically placed and managed satellite offices are the future. But there's a catch. How does an organization effectively measure productivity and success for each employee when they are all working with different schedules, work habits, tech issues, and the list goes on. Measuring employee's KPIs, goals and targets, and duty fulfillments could potentially be a challenge.
Alternatively, if your organization plans to bring the majority of its employees back to the office within the next year, you're likely to experience an unprecedented parking challenge. People won't be utilizing public transit en masse like the olden days and will instead return to their cars to drive in. And I think we all know what happens to parking lots and garages and streets when there is an influx of cars on the road…
How can having an outsourced commute program manager help a company through this time?
In the current climate, Program Managers are a vital component for organizations to remain agile and adaptable with their workforce. The physical workplace itself is changing (and likely will continue to), as are the commute solutions offered to get them there. Program Managers enable organizations to pivot more quickly, while helping ensure that you are considering all of your employees from an ADA compliance perspective, servicing all locations, etc. Thanks to data-driven decision-making, the C-suite can make more confident decisions that increase ROI and limit wasted investments.
What should be an organization's number one priority when it comes to returning to the office and commuting?
My Co-Founder, Michael Rogers, always says "it's typically the people closest to the problem that are most likely to know the solution." I'd say that the number one priority is for organization's to communicate with their employees. Listen to them. Hear their needs and ideas and be responsive to them.
What is the biggest opportunity employers will have for return-to-the-office commute plans?
I'll circle back and say that I believe in the power of a flexible and active workstyle that has short-distance access to a satellite office. That said, this is generally a really great time for organizations to redesign their programs from the ground up to be more cost-effective, sustainable, and flexible for all while at least sustaining productivity.
Are there any new commuting trends you've noticed or heard about for return-to-the-office plans?
Certainly parking demand will increase for employers planning to bring their employees back to a centralized headquarters. And, I believe that shuttle programs will become smaller and more efficient, leveraging forwarding-thinking technologies that have more effective routing algorithms.
Also, I think we're going to see a large transition away from shared micromobility (Lime, Uber, Et cetera) to personal micromobility. For example, Bird has launched a product line for purchase. You'll begin to see an entire micromobility market emerge for accessories, enhancements, and more. In the same way that people outfit their cars.
Fortunately, there are solutions like TransitScreen that really focus on the education, engagement, and communication pieces of building a daily commute. I think that solutions like CommuteWise are already becoming a pocket commodity as we prepare to come out of our pandemic caves.
More about Bobby Lauterjung
Bobby Lauterjung is Co-Founder and Executive Director at Beeline Mobility where he leads a team of commute program architects specializing in the data-driven design, implementation, and management of modern mobility programs.
Previously, Bobby worked at Ford Smart Mobility company, Chariot, where he was a dedicated Program Manager operating shuttles for one of the big 5 tech companies. Today, Bobby and his team are working to increase accessibility to modern mobility programs for corporations and communities alike by using forward-thinking technologies such as autonomous shuttles.
Bobby is dedicated to making a positive impact on behalf of the TDM community. Most recently, Bobby volunteered to lead one of several C-19 task forces spun up by the Association for Commuter Transportation in order to research and compile CDC guidelines and best practices.