Working on your return-to-the-office plan? You'll need to take into consideration both in-office operations and commuting safety. We've said this before, but no two employees have the same commute. This will be especially true when companies return to the office.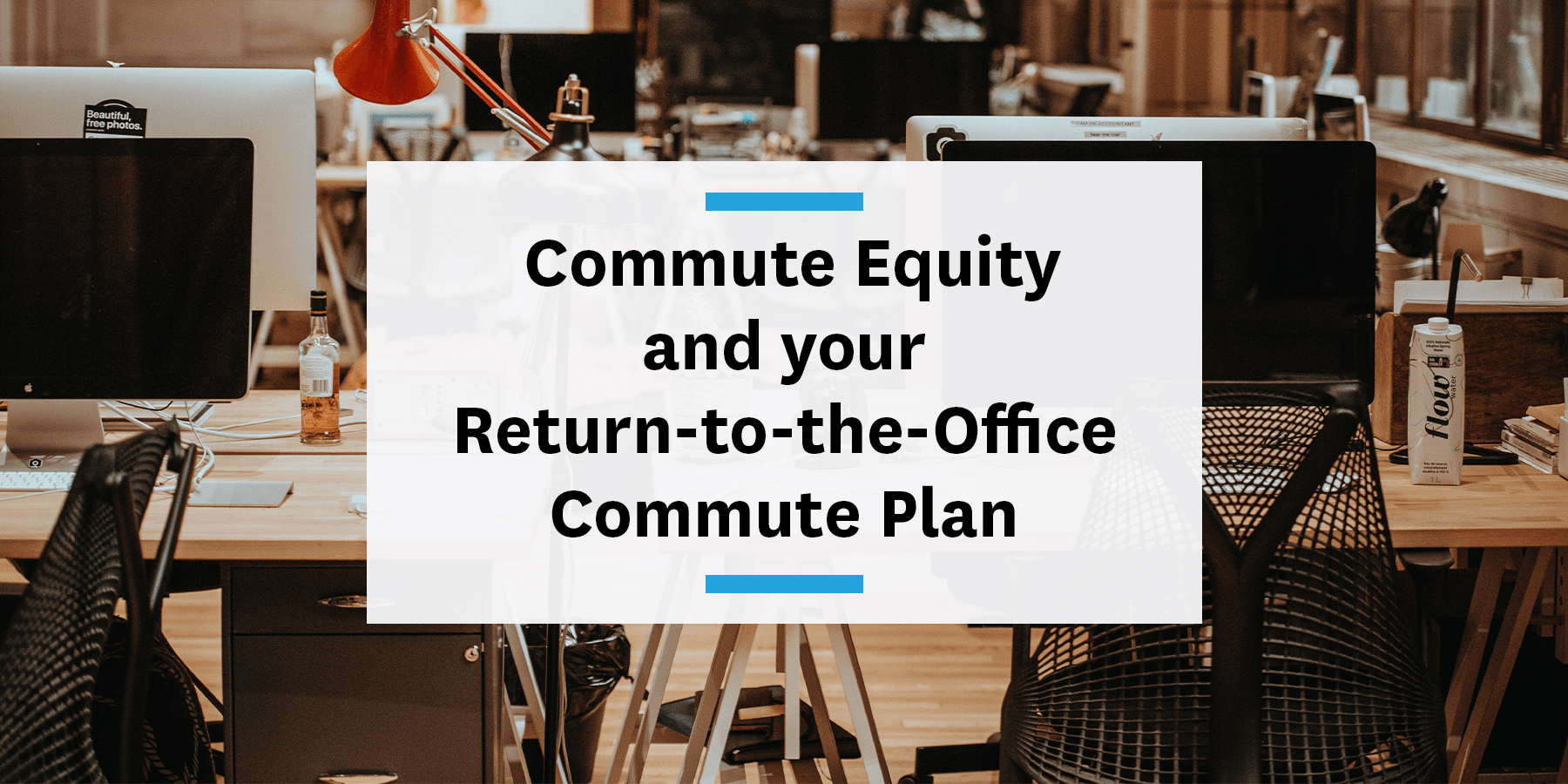 Creating an inclusive and equitable commute management plan for your company's return to the office is a must. Some employees may decide to work from home more permanently, and others may need to choose a different commuting mode. However individual employees decide to commute, you need to ensure you're assisting them.
What is commute equity?
Commute equity is offering equal and fair benefits and assistance to employees who have different commutes. So if one employee drives and parks in a $200 per month parking spot (that you pay for), then employees who bike deserve to receive a similar benefit value.
Why it's important
For the average American worker, commuting was not a positive experience before COVID-19 hit. Those who drove alone to work were sitting in record-breaking rush-hour traffic jams. Employees were leaving jobs because commuting was getting so bad – nearly 25 percent of employees, in fact. Even worse, 60 percent of employees felt their employers were doing nothing to help. Unfortunately, COVID is going to make the situation even more perilous.
Commuters have already expressed other concerns for returning to the office post-COVID. Nearly 20 percent of adults who regularly rode public transit said they won't anymore, and 28 percent said they planned to ride less often, according to an IBM study. While this doesn't make us (or other transit-oriented teens) happy, it does present an opportunity for employers.
Now is the time to offer new types of commuter benefits and explore creative solutions to ensure employees don't end up driving alone.
Creating a level playing field for your employees ensures they will have the resources and support to either adopt or resume sustainable ways of commuting. Simply offering the same benefits as you were pre-COVID won't suffice; the current situation requires much more effort.
For non-car owners
Giving in and offering free parking to employees who own cars is an easy fix. You are letting them drive alone and have an isolated commute. The reality is, though, not every employee owns a car and will need help with clean, safe commutes.
These car-less employees will need extra benefits and help. Whichever solution you find needs to equal the cost of a parking spot in money and convenience. We did some math to give you an example to show the difference in price of helping an employee buy a bike and paying for a monthly parking spot.
Let's say a sturdy, dependable bike is $1000, and the average annual cost to commute by bike is $350 per year. So the upfront cost and annual maintenance of commuting by bike is roughly equal to paying for a $200 a month parking spot for seven months.
The more than fair thing to do (in our eyes) is to help an employee buy a bike and help cover the annual maintenance costs. We're not saying you necessarily have to give them $1400 upfront, but definitely do it if you can. If you can't spare the full cost right now, which is completely understandable, you can pay an employee a little more per paycheck to help them pay off a bike. Maybe $200 per month, or the cost of one parking spot.
This is just one example of how you can fairly assist employees who drive and don't drive. If you need more help or inspiration, check out our current state of TDM blog for more commuting options you can offer.
For drivers
What if your employees do own cars, but you can't accommodate more drive-alone commuters? Well you could help them find another way to commute, like we showed you above. Or you could pay them not to drive.
Including a parking cash-out program in your return-to-the-office plan gives your employees incentive not to drive, while saving you money.
First, let's cover what parking cash-out is. Parking cash-out is simply offering your employees who drive a monetary incentive not to do so.
What you could do is add 75 percent of the cost of a spot to an employee's paycheck per month. So if you're paying $200 per month for one spot, you can offer an employee $150 in cash per month. If you want to go a step further, you can offer a transit or bikeshare subsidy to give a little help in the change.
There will still be people who have to drive to work, of course. But employees who drive just because they have a guaranteed, free spot may change their minds.
Work from home
Returning to the physical office will be a reality for some of your employees, but not for others. Those employees who continue to work from home more permanently deserve commuter, or non-commuter, benefits as well – even if it's only a few days per week. The goal of offering benefits for alternative commuting methods is to lower drive-alone commute rates. Not driving to work does just that, and needs to be rewarded equally.
Work-from-home benefits are another form of commuter benefits. We're not going to tell you what you need to offer them, because there are so many routes to take (yes, pun intended). But if you offer free parking for employees who drive, or subsidize metro passes for you employees, you should offer equal benefits for employees who stay home. These benefits can come in the form of:
• A home office stipend
• Noise-cancelling headphones
• A productivity stipend
• A second home monitor
You don't have to help your employees build a state-of-the-art home office, but these employees are making a decision that's best for them (and your company).
Making benefits known
The next, and one the most important steps in your return-to-the-office plan, is effectively marketing the benefits you'll be offering. Creating a commute management plan is best maximized when your employees are aware and taking advantage of it. You need to make the effort to inform, help, and guide your employees in the right direction to ensure they're using the best benefits for them.
---
Sign up for our newsletter to stay in the know!