Actionfigure® Transportation Data Solutions
Actionfigure®, the developers of TransitScreen® and MobilityScore®, provides solutions for commercial real estate and employers. Actionfigure unlocks value in real estate, and is the key for people to see their transportation choices.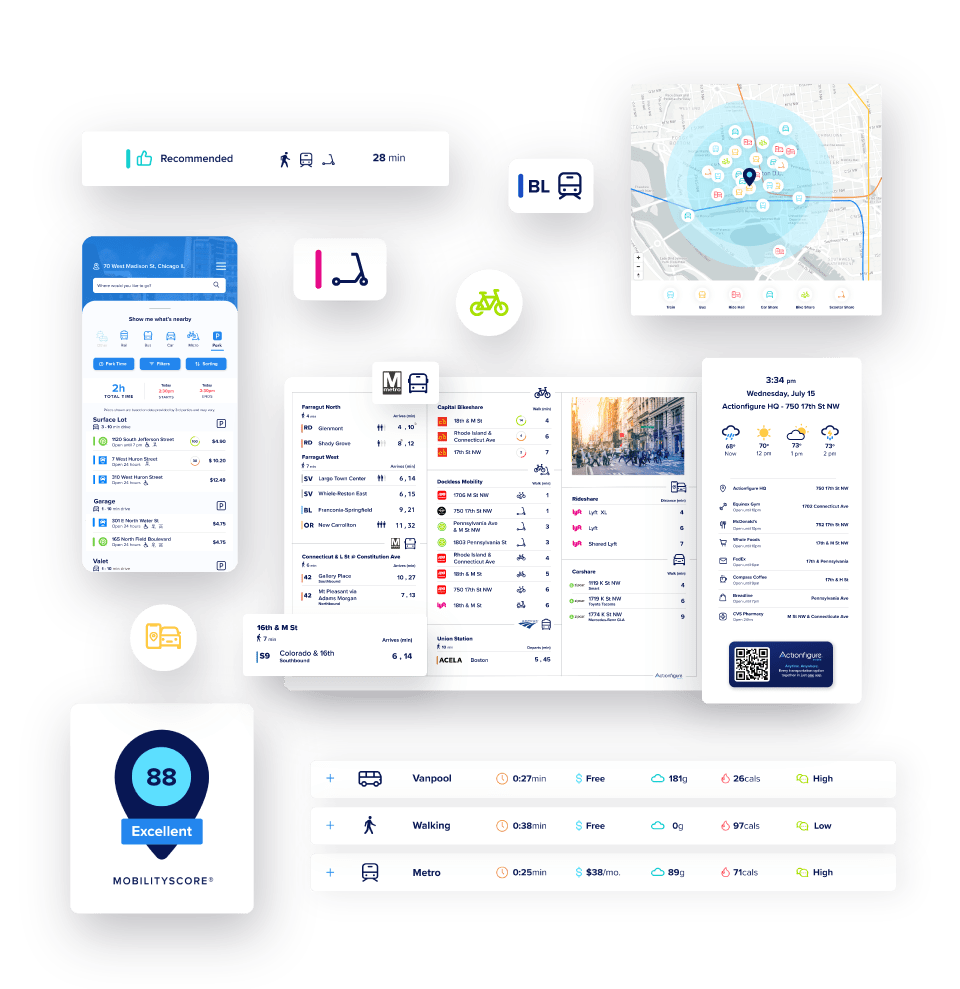 Actionfigure created the gold standard in real-time transportation screens: TransitScreen®. Finding the next bus, train, subway, bike, car, scooter, and more has never been easier. Actionfigure Screen exceeds TDM requirements, assists in meeting LEED goals, and is your tool to keep people informed.
Actionfigure's mobile app and trip planning solutions help employers and commercial real estate attract people to buildings, overcoming transportation and commuting challenges. They encourage positive engagement and make getting around easier and more comfortable.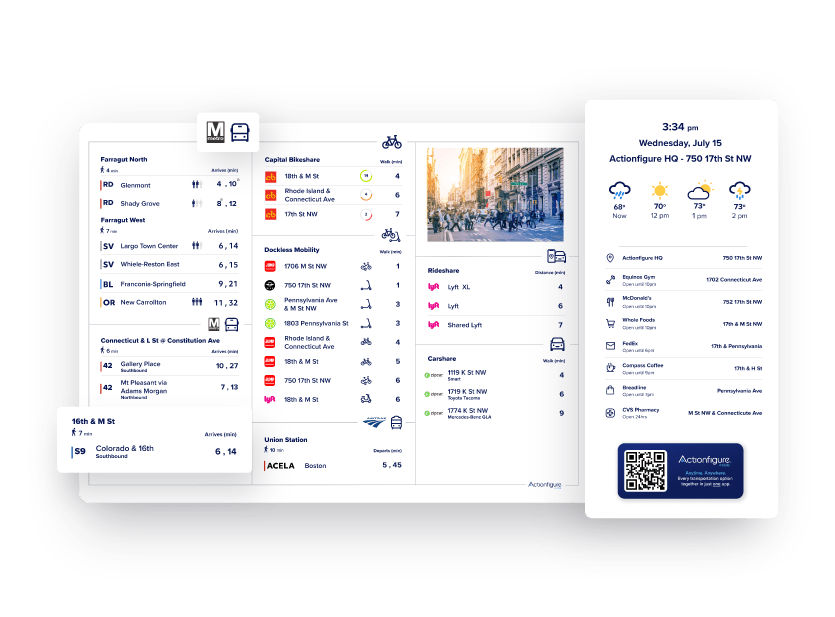 Nearby transportation choices in one glance, including buses, subways, ferries, and shared cars, bikes, scooters, mopeds, and more. Tested for maximum usability, and designed to delight.
Tenants and employees choose where they live and work with their commute in mind. Screen makes your location's transportation choices more attractive, and builds confidence in using them.
Actionfigure Screen exceeds TDM requirements, assists in meeting LEED goals, and integrates with your building with your logo, your messages, your video, and your content.
From MobilityScore® to powering tenant experience apps, from customized trip planning solutions to enhancing real estate listings, Actionfigure's global transportation data can be used in a wide variety of applications and integrations.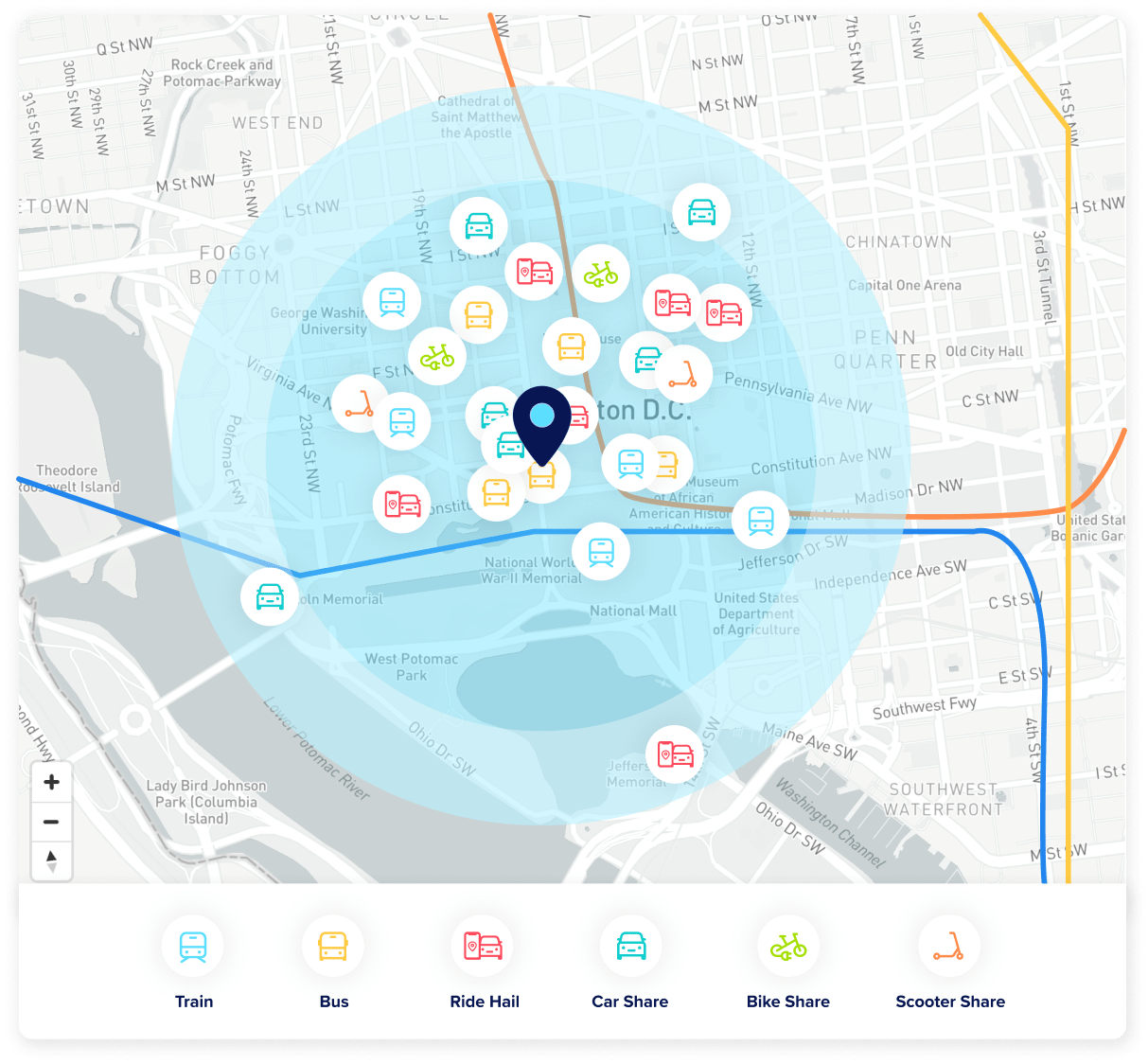 While we were first known for TransitScreen®, our transportation data solutions go far beyond.
Take the power of Actionfigure to-go. Now with built-in trip planning, Actionfigure Mobile shows your true transportation choices in real-time, building comfort with nearby options. Mobile includes a messaging platform to keep your people informed.
Actionfigure Insights, is the most comprehensive, door-to-door trip planning solution that provides employees and future tenants with best-fit commuting choices, including cost, travel time, wellness, sustainability, benefits information, and more. Bad commutes are the top reason people leave, and Insights helps people find better, happier, and healthier commutes.
MobilityScore® is the definitive metric for transportation access. Using data from Actionfigure's industry-leading public and private transportation platform, the patented MobilityScore algorithm goes beyond measuring access to nearby mobility options: it evaluates how long it takes to get to them, their schedules, and performance. MobilityScore provides a true understanding of the value of a location as it relates to its transportation choices.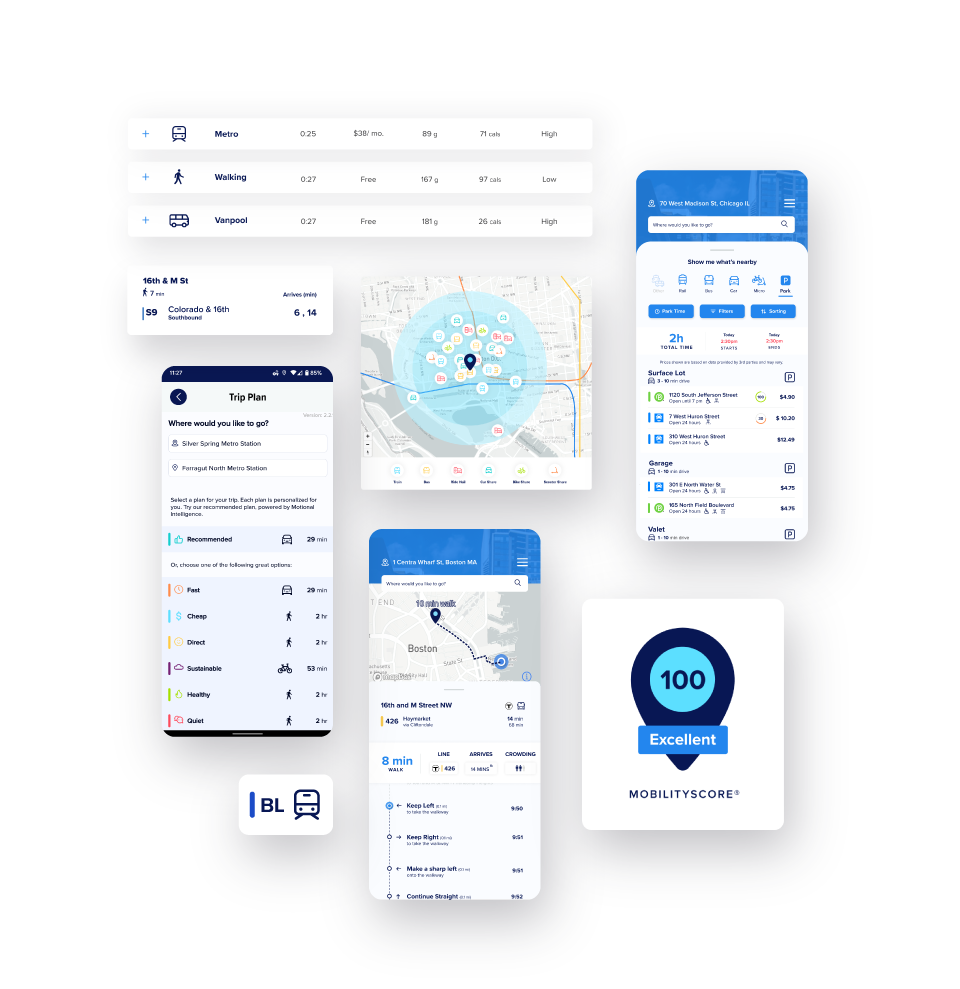 Hear What Our Customers Think
"We select only best-in-class partners like Actionfigure which provides the premier transportation technology for our tenants. Actionfigure Mobile and Screen are populated with real-time information about multiple modes of transportation, enhancing the trip to and from our properties, which is critical post-pandemic."
Catherine Kucsan
CPM, RPA, LEED Green Associate at Brookfield Properties
"Within the first 20 minutes of the day we launched Actionfigure Screen, we had several residents tell us, 'This is the coolest thing ever!' "
Allison Schumer
Greystar Assistant Manager at Zig Apartments
"This was a good way to educate students about the shuttle and make it easier for them to catch it."
Carl Amritt
Special Projects Coordinator at American University
"This 'flipped the script' for us, going from using Actionfigure as a project requirement and now using Actionfigure to bring untapped value to developers and their tenants."
Courtney Menjivar
Principal with Wells + Associates
"Daily commutes take up a lot of headspace for anyone living in London - how to get somewhere, how soon they can get somewhere... A lot of our members are new to London, and TransitScreen is a big help when you're on your way out the door. You can easily see how to get around."
Olivia Plumer
Partnership Manager at The Collective
"It's one of those 'wow' type things, 'I never thought I could have this readily available to me' kind of amenities."
Angel Cardoso
Manager at The Asher Apartments
"TransitScreen is something that helps set us apart and provide additional value."
Alexis Tsonos
VP of Marketing at Van Metre
"Actionfigure has helped us by providing one platform for all our transit information."
Keith Wexelblatt
Associate General Council & Compliance Officer at Reebok
Commuting and transportation choices dictate where people choose to live and work. Explore a few examples on how Actionfigure has helped ease commutes and made nearby transportation choices more attractive.
Multifamily
Commercial
Workplace
Multifamily
BNE Real Estate Group
After implementing Actionfigure Screen and Mobile, BNE was able to increase accessibility to shuttle information, helping residents catch it with ease and ensure their return on investment, a win-win for management and residents.
Commercial
Workplace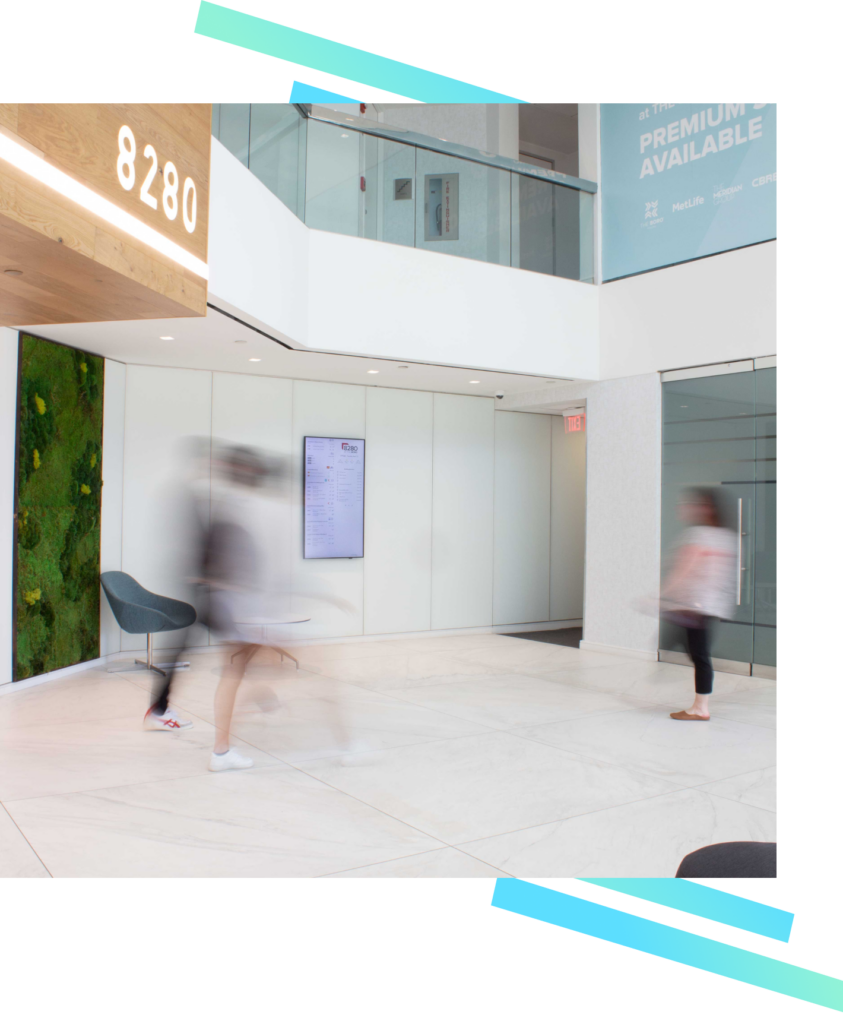 If you'd like a demo or to learn more about Actionfigure's offerings, use this form to get in touch with our sales team.
If you have questions about your existing solution, select support to reach out customer success team.