You've already decided to provide commute-based office amenities for your employees — now you have to decide what you're going to provide. Like we said, it's important to pick what is best for your office, your employees, and your location.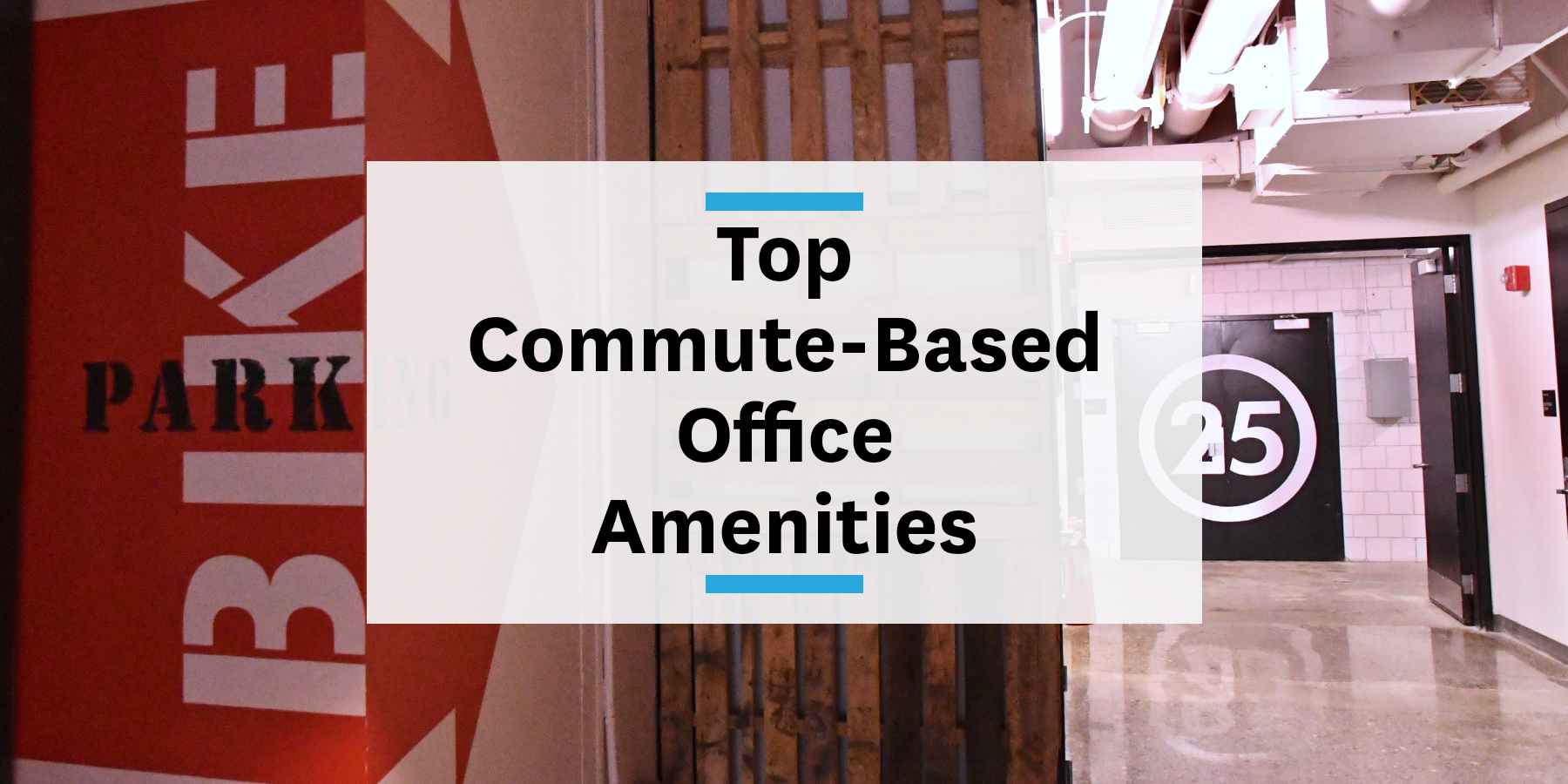 To ensure most employee commutes are represented, it's important to employ amenities to accommodate multiple commuting methods.
Bicycles
Secure bike parking
One of our favorite amenities for cyclists is a secure bike room. Cyclists aren't just concerned with their safety while biking to work — once they arrive, they want to be sure their bike is safe and sound throughout the day for their ride home. Aside from the safety of biking to work, the safety of their bike over the course of the workday is a concern for cyclists as well. You can provide relief to your employees throughout the day with a secure bike room.
Sometimes having a dedicated bike room isn't possible, especially if you're in an office or building in which you don't have complete control over decision-making processes regarding the facility. Working with your property management company to establish a designated area in the parking garage for bicycle parking is a valid compromise. The purpose of secure bicycle parking for your employees is to encourage and assist them in changing their commuting habits.
Bike repair station
Bike repair stations provide another level of commuting security for your employees. Unexpected circumstances regularly occur during commutes, and nothing can ruin your employee's day more than screwing up a tire or bike chain. You can help your employees breathe a little easier when they know they can fix an issue if one arises.
Public transit
Real-time transit information
Anyone who rides public transit on a daily basis knows that getting to the metro platform or bus stop a second too late is less than ideal. When employees know when their desired ride is arriving, they can schedule their time better. Access to real-time information, as well as distance to the closest stops or stations, helps people choose the best option.
People inherently opt for what is familiar to them — it's called cognitive bias. Psychologically speaking, it's difficult for people to try something new based on fear of the unknown or an unpleasant prior experience! But, when someone knows exactly where to go and when they need to be there, an entire layer of fear is removed. That's why providing real-time transit information for your employees is essential to enabling more sustainable commutes.
Driving
Carpool parking
The goal of commute management and TDM is to encourage your employees to not drive alone to work. Carpooling is a way for employees to change their commuting habits without completely giving up driving. To encourage employees to carpool, you can offer free, discounted, or preferred parking. Preferred parking might not be a huge perk, but it can be enough to change an employee's mind at least a couple days a week.
Free or discounted parking for carpoolers is a more significant offering. The cost of parking for you and/or your employees adds up month after month. If you offer a parking spot monthly, this means you can have a more meaningful impact on their decision-making process.
Micromobility
Scooter parking station
Micromobility options have changed the way people commute, especially in cities. As the micromobility landscape continues to evolve and expand, it's important for you to keep up with what that means for your company and your employees.
Swiftmile is a company leading the charge on making electric mobility options more accessible for commuters. Their docks provide parking for electric scooters and bikes, while also charging the vehicles, which reduces the need for chargers to pick them up as frequently. We also partner with Swiftmile to bring real-time transit information to their charging stations. Access to this information will help your employees know when and where the next bus or metro will be coming once they arrive at their destination.
Bikesharing docks
Bikesharing docks are also great features to have at or near your building. We know you can't just add one by yourself, but you can request a dock from your local provider. As cities implement more bike lanes, it's going to become increasingly necessary for employers to keep up. Requesting a bikesharing dock close to your office provides a level of convenience for your employees, while taking most of the burden off of you.