Evolving employee schedules, organizational sustainability goals, and regulatory requirements are all reasons to develop a commute management plan. For any organization that recognizes employee commutes impact retention, health, and wellness, a commute management plan can make relieve pain points in going to the workplace and mitigate employee turnover.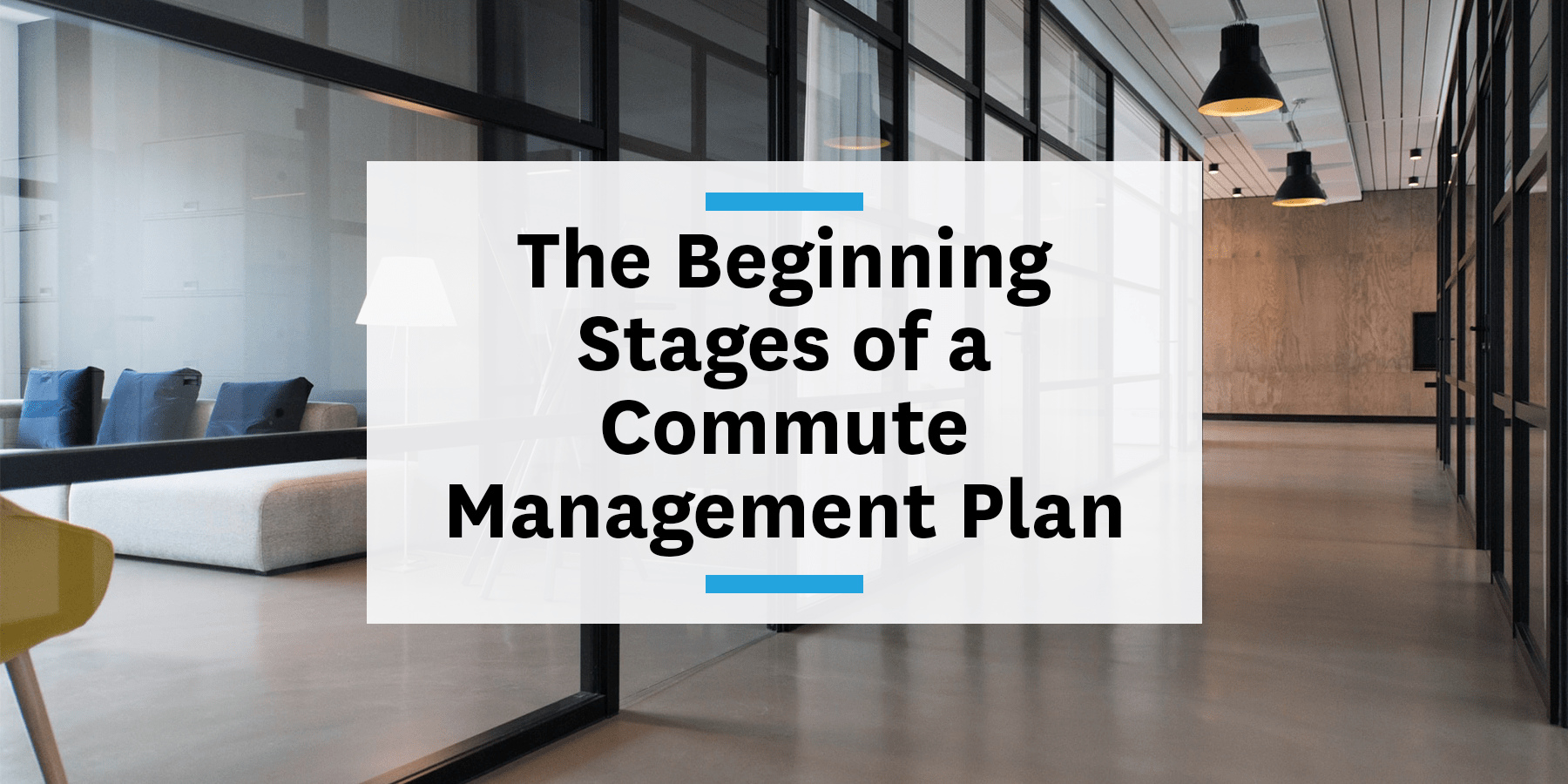 Gather Information
Before you start making any concrete plans, you need to get a heat check of your employees. This is one of the most important steps in putting together any company-wide plan. You need to know how your employees will feel comfortable commuting, where you can change behaviors, and what you need to offer.
This is also the time to assess which available options would be best for you to offer subsidizing for your employees. Offering benefits for every commuting method under the sun (and available in your city) looks great on paper. But if your employees aren't open to using something like vanpool, for example, why offer it?
You also need to consider how to collect your information. It's hard to read the room right now, since we're all literally in different rooms. You want your employees to be both responsive and honest. If you send out too many emails or ask too many questions, you could lose employee engagement and you'll start missing out on the information you need.
Surveys
Surveys are a tried-and-true form of communication. You can reach a large audience and gather a good amount of information all at once. You can also begin to see trends in your employees' commuting behaviors, mindset, and willingness to return to the office (for the time being).
As useful and effective as surveys can be, you want to be careful. Sending too many or asking too many questions can lead to a decrease in employee engagement. Once you're back in the office, a quarterly survey gives your employees time to try different benefits offered or change their commuting schedules. Before then, you may want to check in monthly, especially if the question is about comfort levels and perceived safety.
Interviews
As we mentioned above, surveys are great for collecting a lot of information and reaching a wider audience. Once you have your information, the next step could be employee interviews.
These can be one-on-one interviews or a group interview. The goal is to get more in-depth information about your current commuter benefit plans, what your employees think, and opportunities to add or subtract from your offerings. You can't build an effective commute management plan without having consistent and open communication with your employees.
Research
The next step requires you to conduct a little bit of research. With fewer drivers on the road, cities have added bike lanes, altered street use, and opened more space for pedestrians and cyclists. Public transportation agencies have also changed their schedules. These are just a couple of examples, but you need to look into what your city has done to make transportation easier.
Some cities and states have TDM and commuter benefits regulations you may need to follow. You're probably aware of them, but it's also helpful to brush up and review to make sure you're in compliance.
You will also want to keep up with what private mobility companies have to offer. Micromobility is changing fast, with companies entering and leaving markets constantly. It's helpful to be aware of which companies are operating in your city, the safety precautions they encourage, and how you could partner with or simply include these options into your commute management strategy.
Exploring commuting options
Okay, now that you have an idea of what your employees want and don't want, you can begin exploring commuting options This is the time to see how you can customize your employee commuting experience.
Carpooling
If you have employees who drive, it may be hard to get them to choose to bike or take public transit, especially immediately upon returning to the office under current circumstances. But if you have several employees who live near each other and all drive, you can try to implement a carpool program. If you pay for three parking spots for all three drivers, that can add up quickly. Cutting out two spots with a carpooling program will save your company money, and take cars off the road. You can also use money saved to offer a gas incentive, or just give your carpoolers a cash bonus.
Parking cash-out
Speaking of, that brings us to a different way to change commuting behaviors: parking cash-out. Parking cash-out is pretty much what it sounds like. You pay or incentivize employees to give up their parking spot. You can pay them directly for giving up their spot, or offer another incentive of equivalent value, like a free bicycle.
Bicycles
Bicycles have seen a sharp increase in popularity – both traditional pedal bikes and ebikes. That means there is an opportunity to encourage your employees to bike to work. That means possibly installing bike parking, or increasing the bike parking you already have. We have also seen companies who have implemented their own bicycle rental programs for employees who might not want to buy their own bike right away.
There are a plethora of options available for you to implement. The most important thing is to choose meaningful and useful benefits. If you choose to incorporate newer benefits – like a bike rental program – you don't have to commit to it until the end of time. Commute management is not a one-and-done task! You should try new tactics, but make them calculated. If you try something new, and you get feedback on your next survey that shows something isn't working, no big deal. You are supposed to change and adapt your benefits and offerings.