The growth of a company is largely categorized into five stages. Progressing from the developmental stage, followed by the startup stage, into growth, then expansion, finished with the maturity stage. A sign of company growth – aside from revenue and profit – is the size of your workforce. The more success a company has, the more the need for hiring employees grows. One of the most important things you can keep in mind during company growth is employee commutes.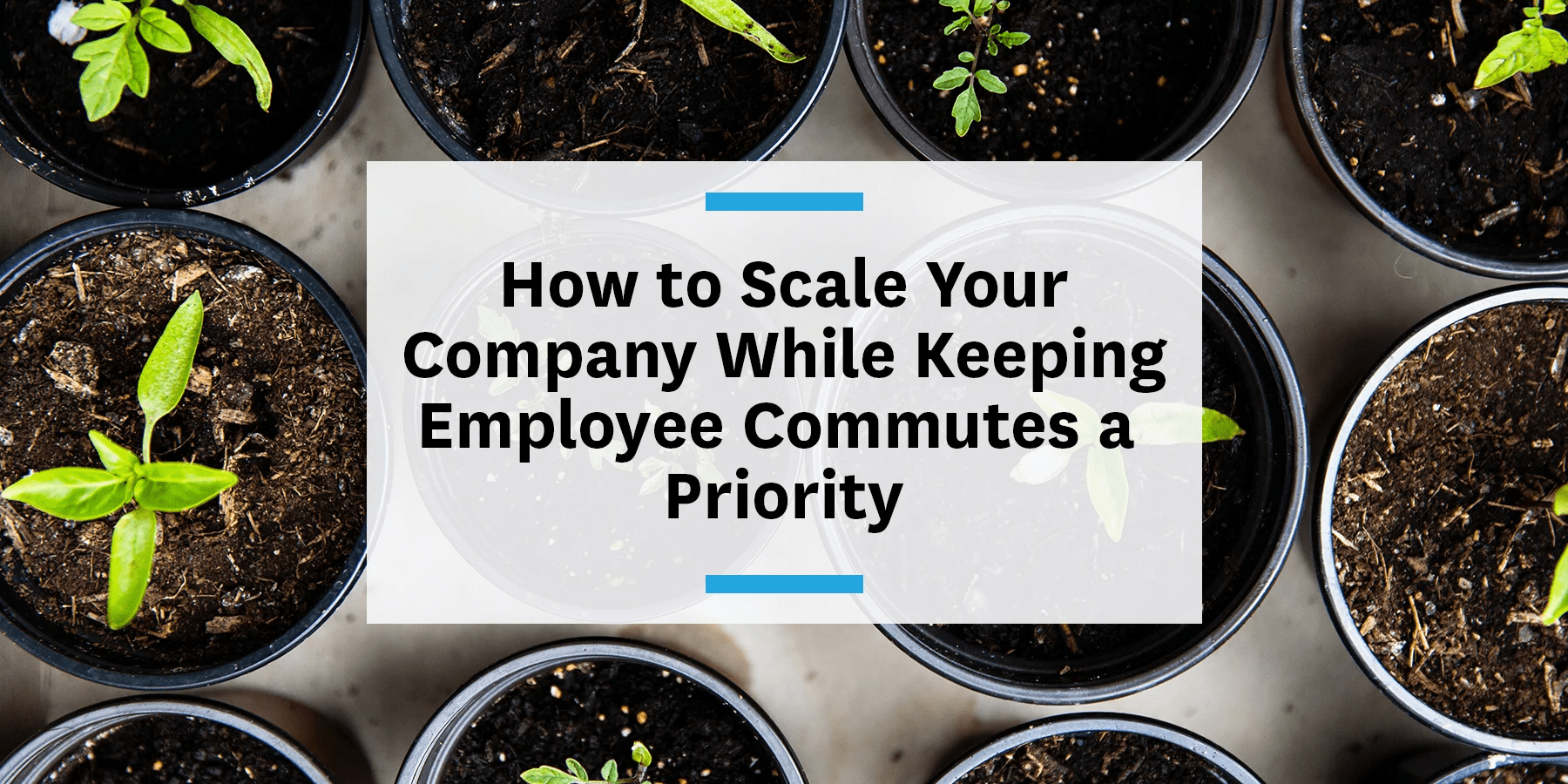 Bad commutes account for nearly a quarter of employee departures in the United States. Growth is a great thing, but employee commutes can fall through the cracks as the size of your workforce increases – which can be bad for business.
Pre-tax benefits
There are many ways to battle lousy commutes, and one of the easiest is to offer commuter benefits. Every year, more and more cities are requiring employers to offer some kind of commute assistance for their employees. This can come in a range of benefits, but a popular route taken is subsidized transit passes.
Most – if not all – transit agencies offer some sort of discount program for corporate accounts. These accounts let both employers and employees save money on monthly commuting costs. When employees have pre-tax money taken out of their paycheck on a monthly basis, they can save as much as 30% on their monthly commuting costs. Employers in turn save money on payroll taxes. The IRS raised the month pre-tax deduction to $270 per month in the beginning of 2020 to help with commuting costs.
Depending on the size of your company, offering these benefits can be done directly through the transit agency. In Chicago, employers can set up corporate accounts through Ventra. Employees can then add money to their Ventra cards and access the L, Pace, and METRA. These accounts are perfect for companies in their growing stages who still want to assist with their employees' commutes.
For employers in the later stages of their company growth, third-party HR management providers allow for more extensive offerings. You can easily provide access to corporate memberships for bikesharing and carsharing through services like:
Offering corporate transit accounts to your employees allows them to choose how to get to the office, no matter the size of the company. Most rail and bus systems extend beyond just city limits, reaching employees who live around an entire region.
Company shuttle service
When your company reaches a certain size, deciding whether you should implement a corporate shuttle program should be top of mind. There are many ways to use a shuttle program, and depending on the size of your workforce and where your employees live in relation to each other, there are many avenues you can take.
If several employees live in close proximity to each other, setting a centralized pickup point can lead to a high ridership rate and an efficient route, as opposed to picking up employees individually. Even if they have to drive a few miles, it's better they drive to a point outside of a downtown area rather than them sitting in traffic and then trying to find a parking spot close to the office.
Another effective use of a corporate shuttle service includes transporting employees to and from their preferred transit stops. Not only does this ease the stress of hailing an Uber from the metro or bus stop to the office, but it saves employees time and money from an extra ride.
To get the most out of any shuttle program, consider providing real-time information. It will improve employee experience by leaps and bounds. Not only does this relieve the stress and headaches of commuting, it gives employees time back in their day. If your employees know when the next shuttle will be at the office, they can finish their last task without having to sprint to catch it. Even if they're running on a set schedule, roadblocks and delays are inevitable, and the access to real-time information eliminates the guessing game.
Moving offices
As companies move through the growth stages, moving offices is part of the game. Whether you're in a coworking space, in your first real office space, or continuing the climb, employee commutes should never be sacrificed.
As a growing company ourselves – in the commute-assistance business – we moved offices in the fall fo 2019 to accommodate our growing workforce. When looking for new space, the top priority was accessibility to public transit and other mobility options. With none of our employees driving on a consistent basis, keeping our employees' commutes as continuous as possible was a must. We were also able to find a new office with a perfect 100 MobilityScore, meaning we're surrounded by mobility options.
For a company with more than 35 people, moving offices is a little more of a challenge. When Reebok moved their main headquarters from a Boston suburb into the Seaport district downtown, their employees' commutes changed drastically. With only 140 parking spots for 700 employees, the Reebok team had to get creative in order to make this move as seamless as possible. In order to accommodate employees coming from all over the region, they implemented an extensive shuttle service, while also selecting a location with access to the Silver line, as well as paying for half of their employees' monthly transit costs.
The last stage
Companies continue to grow, move, and expand, and keeping employee commutes a priority throughout a company's lifecycle is a must. When employers make the effort to actively think about and improve the commute experience, employees will be more productive and engaged at work — a real win-win-win situation.