Boston has one of the oldest transit systems in the world. Starting in 1897 with only a mile-and-a-half streetcar line, their metro system now has nearly 80 miles of track running on five different lines. Even with a robust transit system, however, Boston commuters still face some of the worst traffic conditions in the nation.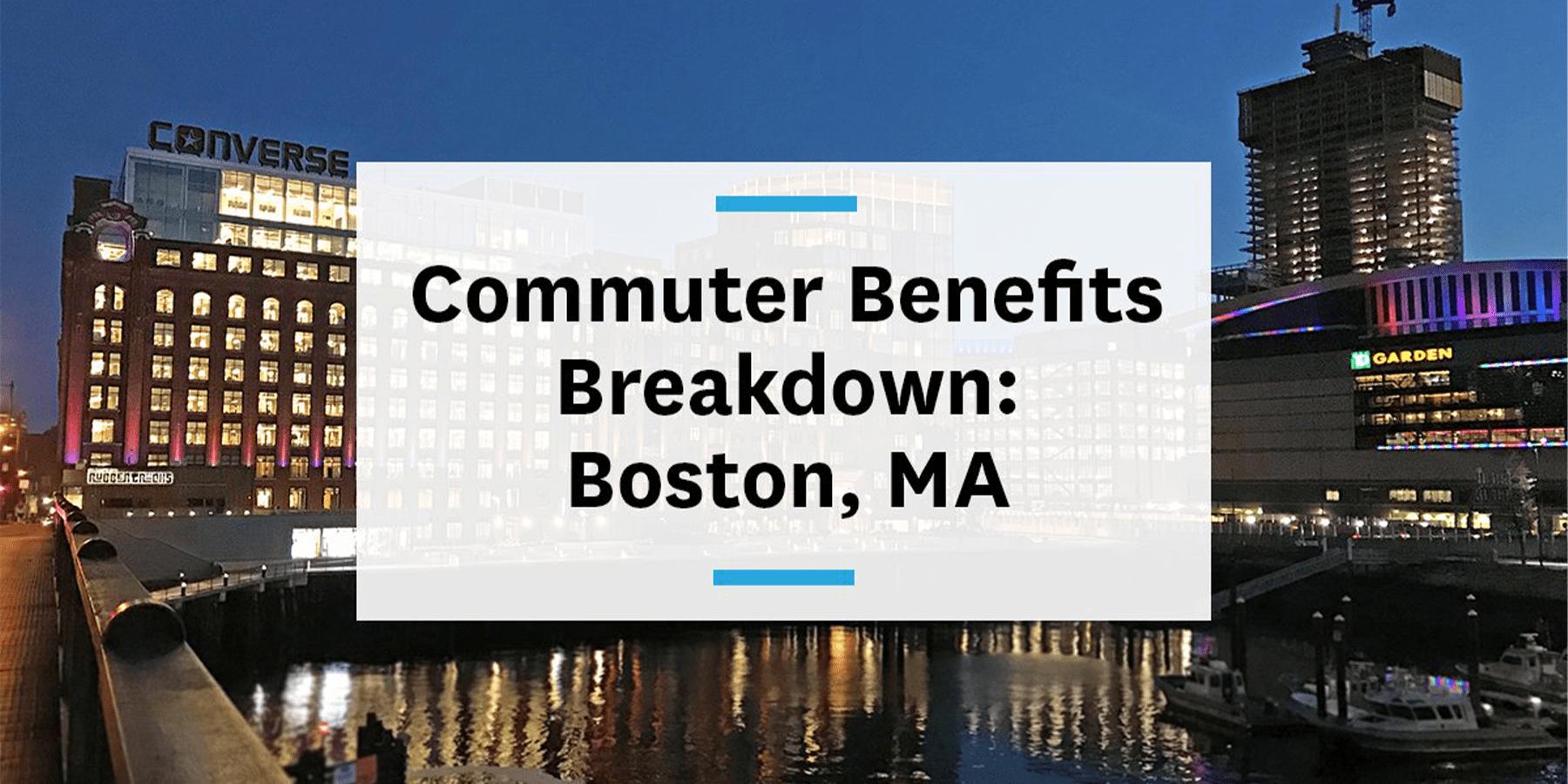 Although there's not much employers can do to add more transit infrastructure, they can do their part to change the way their employees commute. Offering commuter benefits can be the difference between employees choosing the Green line over driving alone to the office. Even though Boston doesn't currently require employers to offer commuter benefits, that doesn't mean you shouldn't do it anyway!
What are commuter benefits?
Let's run through a quick refresher on commuter benefits before we dive in. Commuter benefits are employer-based offerings to assist employees getting to the office. These include pre-tax transit passes, subsidized vanpool or shuttle services, or corporate bikeshare memberships.
The IRS is increasing the amount of pre-tax dollars employees can put towards transit to $270 per month in 2020. Pre-tax money is just deducted from an employee's paycheck to be used toward their commutes, saving money for both employees and employers themselves.
Boston's transit infrastructure
With employees coming from all over the region, providing individualized options specific to each employee would be impossible. Registering and managing these accounts alone would take a full-time team. Luckily, there are a few options that cover most of the greater Boston area to get your employees to and from the office happily.
The Massachusetts Bay Transportation Association (MBTA) specifically designed the Perq for Work program for employers to be able to assist employees with their commutes. This pass can be fully or partially subsidized by a company, saving money for both parties — the employee has to spend less, and the company spends less in payroll taxes. Perq passes can be used on all MBTA-operated lines including the T, commuter rail, buses, and ferries.
There's no required number of employees in order for a company to qualify for the Perq program. Employers just need to fill out the registration form by providing basic company information. To make the process easier for employees, companies can offer Perq passes directly through third-party HR management systems like JustWorks or ADP.
Some employees may have the luxury of living close enough to the office that a commute via public transit isn't necessary. To accommodate these shorter commutes, providing employees with a corporate bikeshare membership can be the perfect solution. Bluebikes offers four corporate membership levels to accommodate employers of all sizes. Not only does this save employees from driving or calling an Uber, but it gets them commuting outside, which is proven to lower stress and depression.
Communicating available benefits
Providing commuter benefits is exactly what you need to get employees to change the way they get to the office. In order for them to actually take advantage of the benefits offered, they need to know what's available and how to use it.
The number one thing employers can do to spread the word is include your commuter benefits program in your onboarding process for new employees. Not only does this set employees up for success in changing their commuting habits, it can lead to higher retention rates. Nearly a quarter of employees cite their commute as a major reason they leave their job. What's worse, nearly 60 percent said their employers haven't done anything to make commuting better. By including commuter benefits in onboarding processes, employers establish that employee commutes are a priority from the very beginning.
Taking the time to walk employees through the process of setting up commuter benefits accounts can go a long way. Whether they don't have time or don't know what to do, employees can't use a corporate bikeshare membership if they never sign up! Going above and beyond in this process will ensure employees at least have they ability to change their commuting habits, which is the first step.
Notable commuter benefit programs in Boston
To make the transition as easy as possible for their employees, commuter benefits and transit education were a main priority. In order to account for commutes from all over the region, Reebok subsidizes half of the cost for their employees' public transit passes. In addition, they offer a robust shuttle service to and from transit stops, as well as offering a corporate bikeshare membership through Bluebike.
Getting started with commuter benefits can be challenging if employers are unaware of what their options are. Sometimes the best way to get the ball rolling is to base programs off of employers who are already doing it well. Reebok, which recently moved about 700 employees from Canton, MA, to the Seaport District downtown, only have about 140 parking spots to offer. Needless to say, the leadership team had a big task at hand.
As part of their effort to educate their employees on available mobility options nearby, Reebok installed two TransitScreens in their new office. For employees who were used to driving to work every day, knowing how many transit options were available downtown quickly became a necessity. By providing tools to effectively educate their employees, Reebok was able to make the office move as seamless as possible.
Get started
Being required to offer commuter benefits is one thing, but offering them on your own accord to ensure the success of your employees is another. Employees are leaving their current jobs or making decisions about new positions because of commutes, so just because Boston doesn't require employers to provide these benefits, the job market does. Getting started is the hardest part, but it's the most important step!